The ability to tackle Conflict and Resolve it is a daily grind for Real Estate Professionals. Inherent in a Real Estate Transaction is Conflict, and our agents must learn certain techniques that help not aggravate such situations. - #KeySuccessIdeas - Why do I say that Real Estate Transactions are prone to Conflict? Well, because it involves people; lots of people. You Have the Sellers and their Agent and Broker; You have the Buyers and their Agent and Broker; then add Home Inspectors; Appraisers; Mortgage representatives for both sides; Insurance companies; Lawyers; Title Companies; Stagers; Movers; and I can keep going…  
The biggest escalator of Conflict is "Ego" or for the most part "misplaced ego." The glue to the transaction are, first and foremost, the Real Estate Professionals - and that's where usually weaknesses or strengths are uncovered. If the two primary agents representing the Buyers and Sellers communicate well conflict is for the most part avoided - if not, oh my… unfortunately some agents process transactions with their ego and think that finding faults and errors in the other agent is their job; they start speaking in legalese terms like they have spent 50 years as lawyers and judges on the bench. Some of the notorious ones find pleasure in demeaning the other side of the transaction, and believe that they are doing their job properly. 
Many wonder why our industry tends to have a higher than normal number of such agents and the fault resides with weak brokers who are not true managers of their offices; they are themselves agents who spew negativity about other brokerages which ends up creating toxic office environments for all involved.  
So what do Experts in Conflict Resolution suggest one does in such situations? De-escalate! The idea of fighting fire with fire only ends up hurting your clients, so look to de-escalate by not taking the bait of throwing your ego into the mix. The second remedy that may cross your mind is to try to be "Brutally Honest" with the person giving you grief. You see this is a form of escalation, consider instead Honesty without Brutality. Stay grounded in your intention to find a win-win for all parties involved and then you can talk about the conflict without resorting to name-calling. Starting with statements like: "You know if we put our heads together we can resolve this little hiccup…" It is a form of de-escalation and reaching out to the other party to participate in solutions and not on being defensive.  
One of the ways you will become quite adept at Conflict Resolution is to remember that the other participants in the transaction are not trying to do things to you; they are trying to do things for themselves; in other words they are looking for a win for themselves, and if you are the one caught in what they perceive to be a loss so be it. Their strategic approach is Win for Us - "Win or Loss" to the others. You fight that by approaching the transaction with a continued Win-Win Strategy; that is your ace in the deck! 
Consider this insightful quote: "I've learned that people will forget what you said, people will forget what you did, but people will never forget how you made them feel." - Maya Angelou.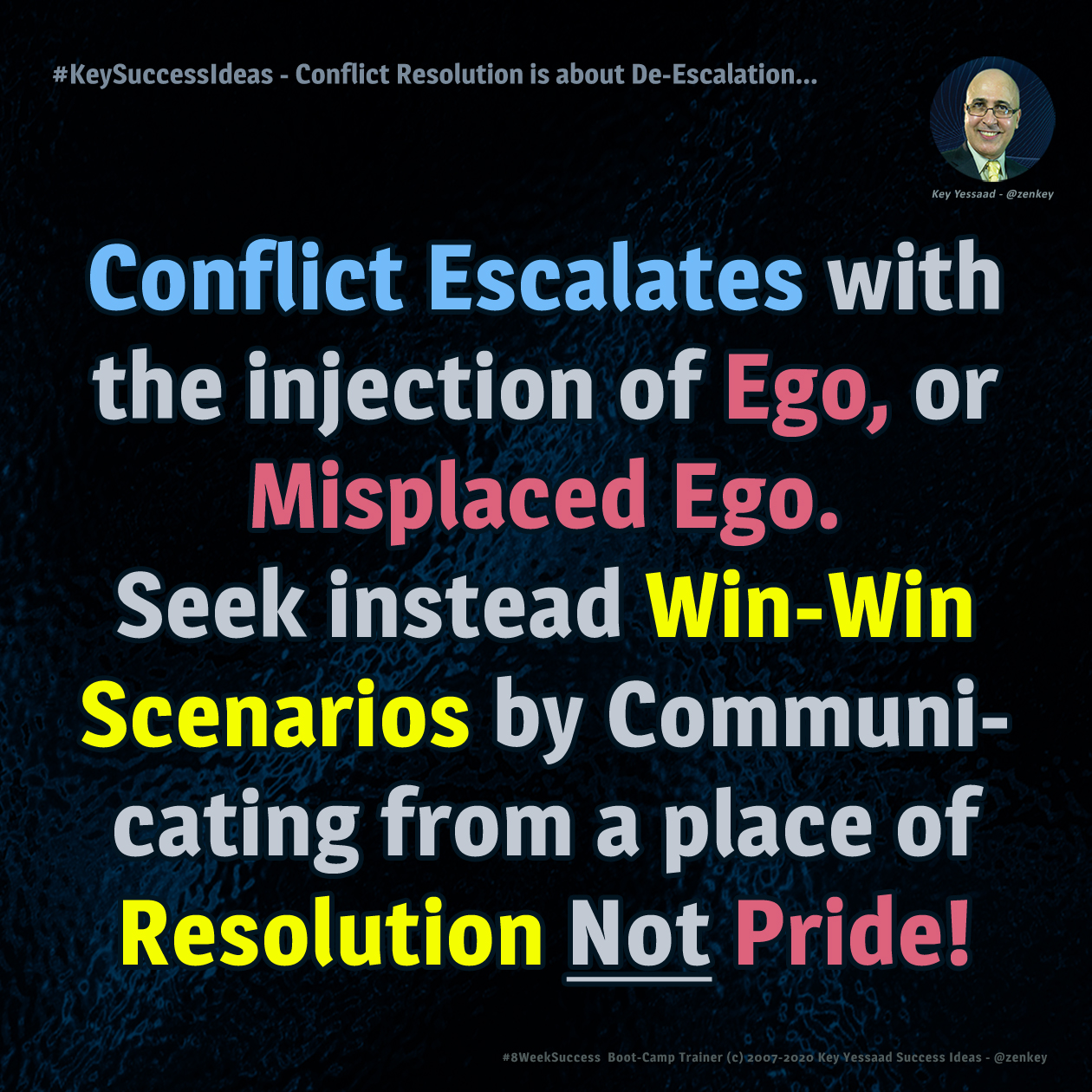 Written and Shared by Key Yessaad. Key is a Real Estate Mindset Trainer, Internet Strategist, and creator of the #8WeekSuccess Boot-Camp Program. Key has been a Trainer and Business Coach nearing 2 decades focusing primarily on empowering Agents develop the Skills and Habits of Prospecting, Web Services, SEO Strategies, Time Blocking, Blogging, Internet Marketing, Lead Generation, and Listing Success. (910) 538-6610 
Related Hashtags: #ConflictResolution #DeEscalation #WinWin #Entrepreneur #KeyWorkshops #20in20 #RealEstateBootCamp #RealEstate #Inspiration #Success #RealEstateSEO - #RealEstateMentoring #RealEstateCoaching #Motivation #RealEstateTraining #KeySuccessTraining #LiveTrainingRE #Agents #RealEstateMotivation #Realtor
Categories: Key Success Ideas, Real Estate Business, Entrepreneurial Reality