Every Real Estate Professional on a journey for long-term Success and Staying Power must develop Grit, Period! #KeySuccessIdeas - Grit can be summed up in this overt statement: "I know you don't feel like working on this right now; but you will Suck it Up and Get to Work!" and this statement is not yelled at you by others; it is you barking those words at yourself. 
Grit, Courage, Backbone, Determination - whatever you wish to call it is a Skill; a Mindset Skill that entrepreneurs work at on a daily basis in order to keep Complacency at bay. You are Not born with Grit; you master it over time, and preferably with the help of a Coach, Mentor, or Success Partner. The essential ingredient for working honestly and courageously with a Success Partner is your Word, or more precisely "Keeping Your Word!" In this Business your Word is your Bond; and when you Select a Success Partner to push each other to take action outside your confront zone; then you report on your results. Honesty is the only ingredient required for this partnership to thrive. 
As an entrepreneur Excuses are all around you, but you must not be tempted by their seductive words - you must start your day with a plan, and in that plan are Prospecting Activities. You make time to make calls looking for those who are thinking of Buying and/or Selling Real Estate; you mark them properly because you know that you will have to follow up. You make time to follow-up with past clients and recent conversations; and you do the same marking so you can follow up some more. You make time to canvass and visit your local neighborhoods to locate potential Sellers and you do it on a daily basis expecting to hear No, because you understand the 95/5 Rule. 
Some of you may be asking what is the 95/5 Rule - Well, you already know it: it simply says that 95% of the people you Market to are either Not interested in your offerings; Not ready to make a move; or do not have the means to act on their Real Estate Needs - Your Audience is about 5%. This Rule has nothing to do with you; your brand; your marketing Techniques; or your looks. It has to do with the National Turnover in the United States which happens to be about 5%. 
Once you understand the 95/5 Rule you have to develop Grit to sift through the 95 to get to the five; you have to convince them that they should give you an appointment. Think of it this way, for every 20 people you have to go through 19 to get to the one who will chat with you about their Real Estate Needs; and it is your job to convince them you are the "one" they need to talk to. This is what makes Real Estate the realm of the few, and only a few develop the Courage and Determination to stick with it long term. 
Look at yourself this way: "Future You" demands that "Today You" has Courage, Determination, and Grit so your Dreams become a Reality!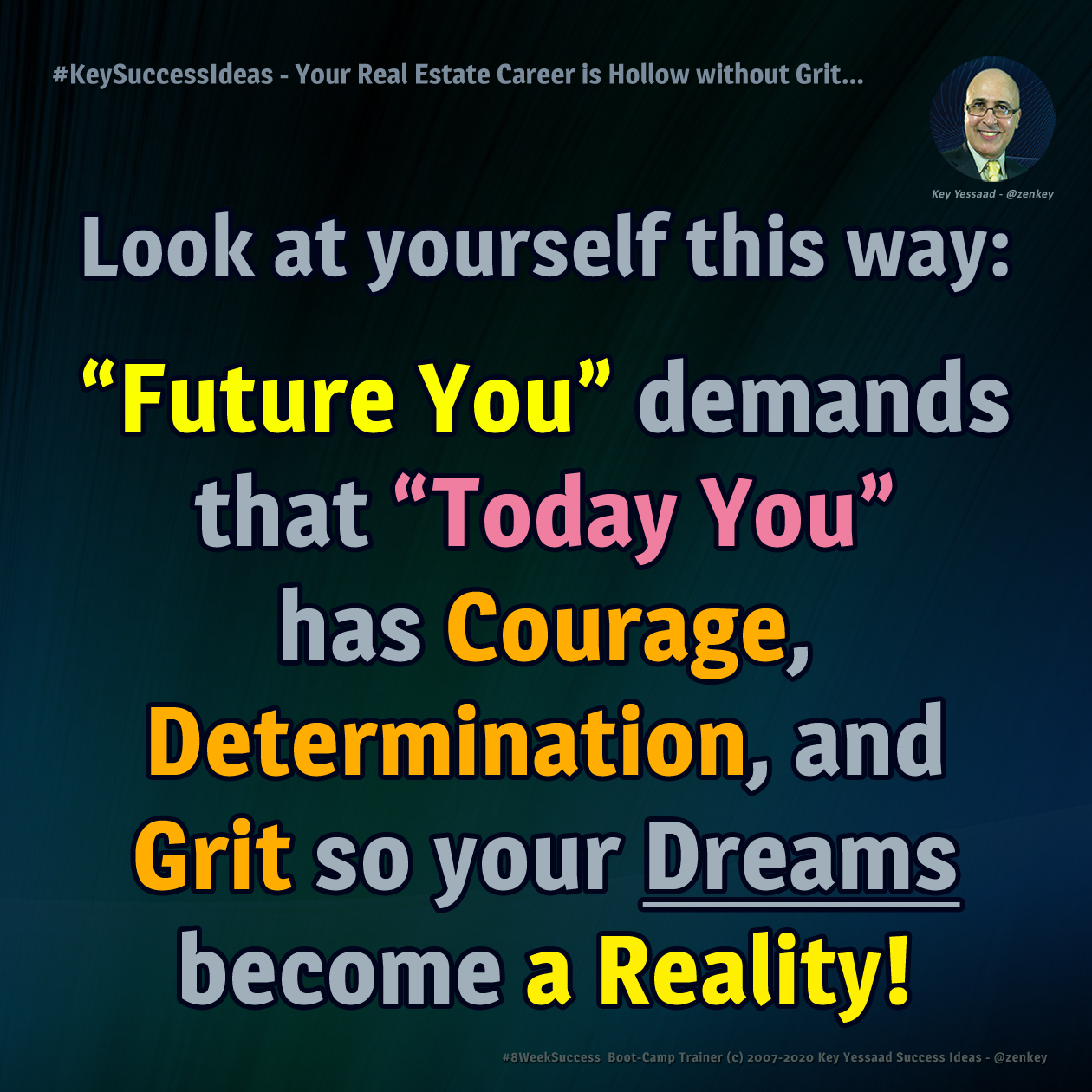 Written and Shared by Key Yessaad. Key is a Real Estate Mindset Trainer, Internet Strategist, and creator of the #8WeekSuccess Boot-Camp Program. Key has been a Trainer and Business Coach nearing 2 decades focusing primarily on empowering Agents develop the Skills and Habits of Prospecting, Web Services, SEO Strategies, Time Blocking, Blogging, Internet Marketing, Lead Generation, and Listing Success. (910) 538-6610 
Related Hashtags: #Grit #Determination #Prospecting #Entrepreneur #KeyWorkshops #20in20 #RealEstateBootCamp #RealEstate #Inspiration #Success #RealEstateSEO - #RealEstateMentoring #RealEstateCoaching #Motivation #RealEstateTraining #KeySuccessTraining #LiveTrainingRE #Agents #RealEstateMotivation #Realtor
Categories: Key Success Ideas, Real Estate Business, Real Estate Prospecting
Comments are disabled.