The best use of Video in Real Estate Marketing is Education NOT Selling. #LiveTrainingRE - Video has come a long way and the internet has embraced it in all its glory; every Social Media Platform offers their version of uploading videos and sharing them with your "friends." Of course I use the word "friends" in quotations to signify that most people we interact with On Social Media are at best acquaintances, and a few a dear friends. 
Does a Video help a Listing sell faster? Absolutely NOT! The Local Real Estate Market forces sell the property; but a good video puts it in front of a lot of potential Buyers - That's the Power of Video Marketing. The second layer of Strategy for the Real Estate Professional is the integration in Listing Videos of the agent themselves - the Age of passive Videos, with audio by generic speakers, and just sliding images of the property is now over - we live in the age of engagement by the listing agent and her local expertise in the market; Think of it this way: We never Market the listing without Marketing the listing agent. 
I can hear some of you saying: but Key we are not allowed in our MLS to include our signs, our pictures, or even mention our names and that is true - but in your blog, in your Social Media, in your YouTube you are allowed to incorporate yourself. There are forces out there trying to push Listing Agents to the sidelines, and these forces are lobbying your MLS's and Local Boards so you are no longer allowed to do any marketing for the listing except in the MLS - and those forces are the Big Marketing firms you have come to see parading as the friends of Brokers and Agents; but their agenda is very clear - GET RID of Real Estate Agents Visibility and replace them with Generic Marketing Apps and AI. Push back and place yourself in the middle of your listings - develop a strong following on YouTube - NOT just on Instagram and Facebook.
The Role of Video in Real Estate Marketing and Branding has been increasing year after year; and yet only a fraction of our Real Estate Professionals are participating; and those that do are limiting themselves to certain topics, gimmicks, or certain Platforms. 
Real Estate Video Marketing is exponentially larger than what is being produced by today's agents; it is not simply about Properties or whether it is better to shoot in 4K or in Full HD mode; it is about telling compelling stories, educating consumers, local market trends, featuring different lifestyles, branding brokerages and Agents, and much more… 
In our Session 11 of the i-FAStTRAC 201 Real Estate Training Program I will discuss all these important ideas, and bring awareness to proper Video naming, tagging, framing, lighting, length, devices, and most importantly Video Topics and various Web Platforms. Remember Engagement leads to Appointments. 
Our Training Program is Live and Interactive; all sessions are 3-Hours long over Live Video Conferencing in each office training room, with Webcams and Special Microphones, and start at 1pm Eastern - Don't forget to download your Handout Booklets and see you all in Class: https://www.liveinteractivetraining.com/  - #RealEstateVideo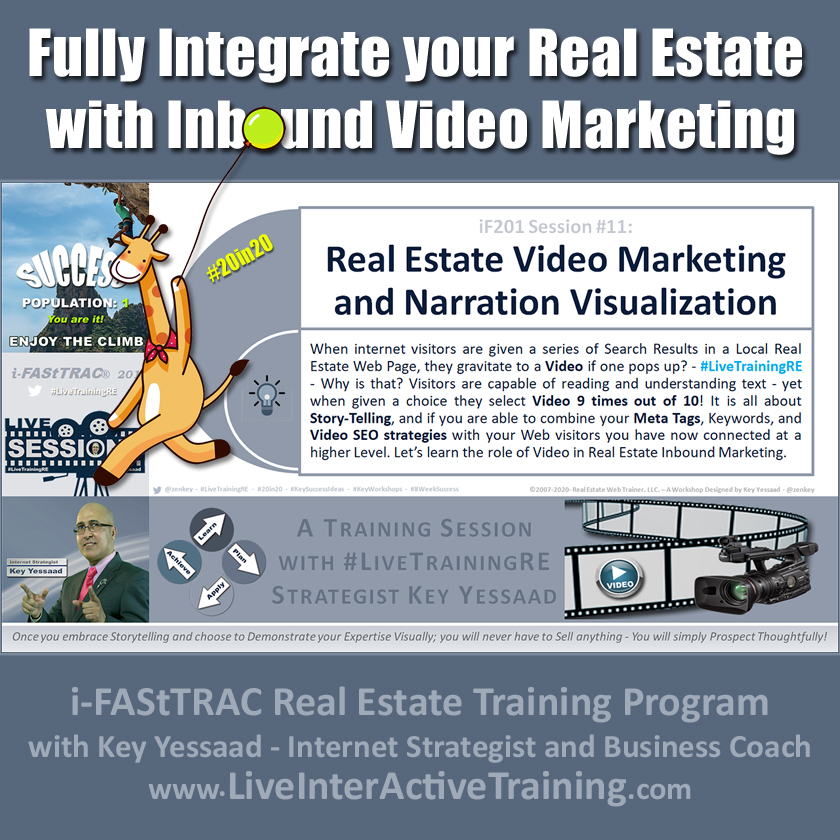 Written and Shared by Key Yessaad, Master Real Estate Strategist, Veteran Real Estate Trainer, Boot-Camp Instructor, Expert SEO Consultant, Internet Marketing Specialist, and Business Mentor/Coach. (910) 538-6610 - https://www.realestatewebtrainer.com/  
Related HashTags: #VideoMarketing #InboundVideo #Engagement #Validation #Visibility #20in20 #RealEstate #Marketing #Realtor #RealEstateMarketing #Success #Motivation #Entrepreneur #RealEstateSEO #RealEstateTraining #RealEstateCoaching #RealEstateSuccess #KeySuccessTraining
Categories: i-FAStTRAC Training, Video SEO Marketing, Real Estate Trainings