Choosing to be an Entrepreneur is the choosing of whether to be "Results Oriented" or "Distraction Oriented" - #KeySuccessIdeas - The Distraction-Oriented individual is always very busy and full of reasons why they can't fit everything in their day. They also will swear to you that the world conspires all day long to throw monkey wrenches in their way in the form of Distractions they can't resist; and that ding or buzz sound from their phone could be the most important client ever, so of course we stop focusing on the task at hand and chase that buzz buzz buzz. 
"Distraction Oriented" Real Estate Professionals also have another Superpower; they multitask better than anyone else, and for many it is a source of pride - Look at me juggling these 15 tasks all at once, none of which will end being done well. This is madness, pure madness…  
Let's look at all the Goodies you get when you are a "Distraction Oriented" Entrepreneur: You are always busy; You never have enough hours in the day; You get to brag to everyone how hard you work; People are always letting you down; You become quite a master at Making Fabulous Excuses; No one can tell you that you don't work hard enough; Multitasking is a skill you add to your Resume; but most importantly no one really understands what you go through.  
Now those who are "Results Oriented" simply focus and get results. 
There is a concept in Zen called "Be Right Here Right Now!" or "Be Here Now!" - It is not profound, and its simplicity is its power. When I am working on this task that takes 15 minutes, it will be with this task for the 15 minutes, and I will let all the other dings, zings, and buzz's be. When this task is complete I will take a few minutes to deal with those distractions; then go on to the next task that takes 20 minutes to complete. I will work on task number 2 for 20 minutes, and stay on it while shutting down the rest of the world. When I am done with task number 2, it will take a few minutes to address my distractions; then go on to task number 3. You can say that the mantra would sound something like this: "I will be Present with each Task Right Here and Right Now!" 
You may ask how would I approach a longer task; - say you have to complete 45 minutes of Follow Up Calls to clients: Well, you open your Database of clients at the designated time; start making your calls and ignore everything else; make calls for 20 minutes; then take a 5 minute break being totally distracted by your distractions; then do another 20 minutes of phone calls fully focusing on each person and the calls. Then you're done and ready for your 5 minutes of complete distraction time! 
I am aware that this description seems too simplistic for sophisticated entrepreneurs who think that getting more done gets you more reward; but are they really getting more done? With this approach there is no drama, no need to resort to Stress; and no reason to complain to anyone about why life is so hard. This simplicity mirrors the meditation process and they do require developing a type of discipline that many will find agonizing.  
Learn to resist the distractions; stop worrying that not attending to them will cause you to miss out on life; and start today and right now. If you are doing the dishes, be with the doing of the dishes; if you are walking your dog, be in the walking of your dog; if you are playing with your daughter, be in the playing with your daughter; add True Being-ness to your existence and life will become a tad more effortless and a little sweeter.  - #8WeekSuccess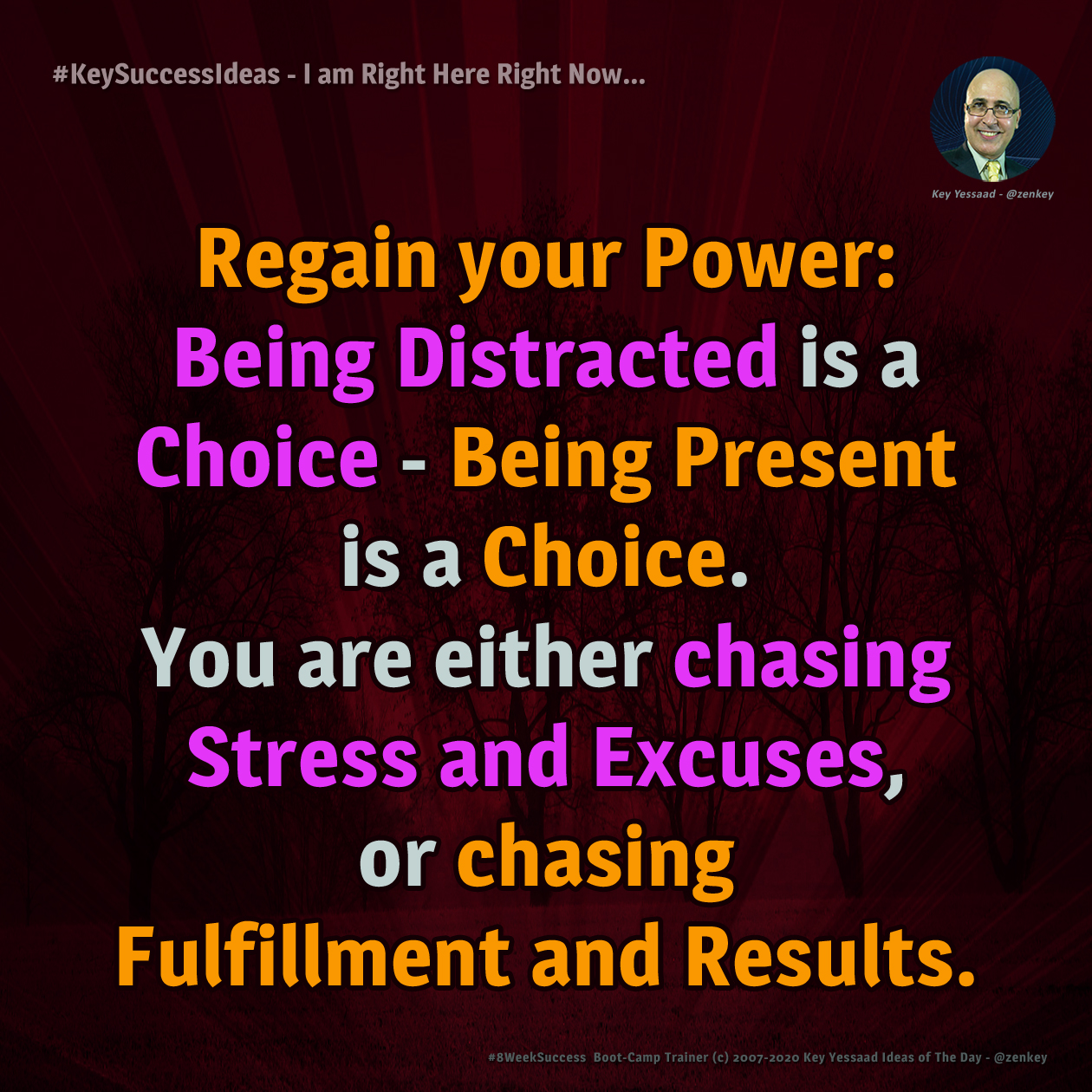 Written and Shared by Key Yessaad, Master Real Estate Strategist, Veteran Real Estate Trainer, Boot-Camp Instructor, Expert SEO Consultant, Internet Marketing Specialist, and Business Mentor/Coach. (910) 538-6610 - https://www.realestatewebtrainer.com/ 
Related Hashtags: #Distractions #Results #BeHereNow #Entrepreneur #KeyWorkshops #20in20 #RealEstateBootCamp #RealEstate #RealEstateMentoring #Motivation #Inspiration #RealEstateBootCamp #Success #RealEstateSEO - #RealEstateCoaching #RealEstateTraining #KeySuccessTraining #LiveTrainingRE #Agents #RealEstateMotivation #Realtor
Categories: Key Success Ideas, Entrepreneurial Reality, Real Estate Business