There is one word, one idea; one way of being that will lift your Business Endeavors to steady production. When you are in its embrace you will know it immediately; people around you will notice it readily on you; and you will look back at the months and years and realize you are now playing a much different game - that word is: Confidence. I want you for a moment to pretend you don't know this word in its full depth; that it is sensation you have yet to fully embrace; humor me... #KeySuccessIdeas 
Confidence is usually referenced as a progressive feeling of having learned something and now being able to apply it; for example Jane would say: "I have attended a couple of Open Houses with Steve and I learned the process; It gave me more confidence to do one alone." In this example of Confidence is an incremental feeling, necessary in the early stages of absorbing a career. Incremental Confidence is what all of us start with and good training and mentoring is essential during this phase. 
One given dictionary definition of Confidence is: "a feeling or belief that you can do something well or succeed at something." I want to give this definition with a slight twist: "a feeling or belief that you perform exceptionally well in your profession; and that you succeed at producing results consistently." You see for me Confidence is not about the amount of money you make; I am sure it is important - rather "True Confidence" stops you from having a foot out. When you have this type of Confidence you perform in your career all in; there is no need to design or even consider a Plan B - the Plan you have now works because you make it work; and it produces Results because how can it otherwise? 
You must admit you don't meet many Entrepreneurs or Real Estate Professionals in this "Zone of Confidence" - This 'zone of being' is your destiny if you choose it to be. Notice this type of Confidence has nothing to do with Arrogance or your Personality Type - it has to do with working your craft over many many hours of repetitive diligent activities until the code is cracked. Repetition is the biggest Confidence Builder - let me "repeat" it so I can make a pun out of it: Repetition is the biggest builder of Self-Confidence. 
You will meet many who desire the feeling True Self-Confidence, but only a tiny fraction of them will commit to doing the necessary work - they want the rewards without paying any dues; I call this "living in fantasy land!" So Put in the necessary work; Give it all you got; Take Training and apply what you learn; Apply and Repeat your Prospecting Activities daily; Be aware of distractions and quash them; Develop Routines that force you to practice your craft; Say Yes to stepping outside your Comfort zone; read good books that force you think and write; and remember this quote by Arthur Ashe: "One important key to success is self-confidence. An important key to self-confidence is preparation."  - #8WeekSuccess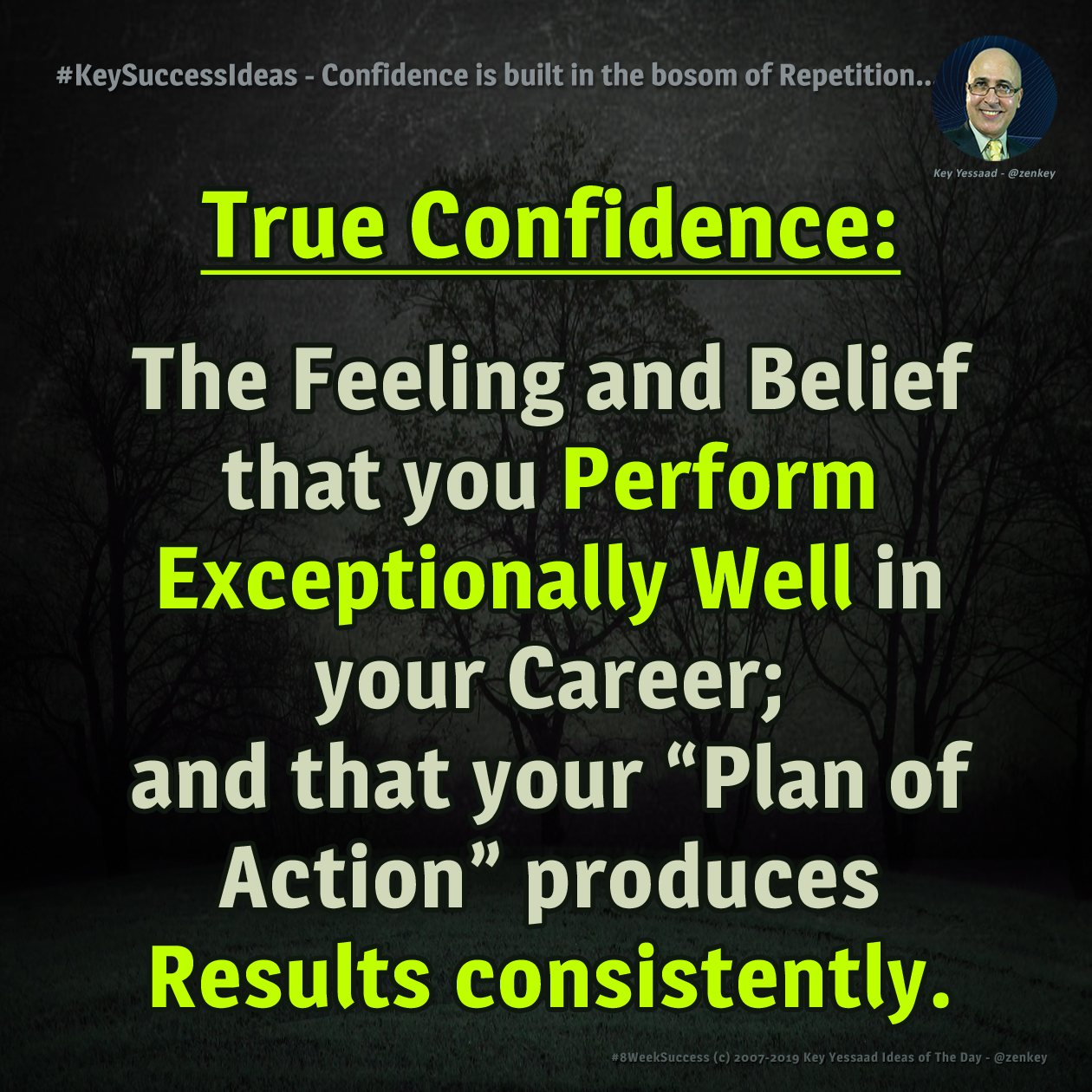 Written and Shared by Key Yessaad, Master Real Estate Strategist, Veteran Real Estate Trainer, Expert SEO Consultant, Internet Marketing Specialist, and Business Mentor/Coach. (910) 538-6610 - https://www.realestatewebtrainer.com/ 
Related Hashtags: #Confidence #Repetition #GetToWork #Entrepreneur #KeyTrainingWorkshops #RealEstate #RealEstateMentoring #Motivation #Inspiration #RealEstateBootCamp #Success #RealEstateSEO - #RealEstateCoaching #RealEstateTraining #KeySuccessTraining #LiveTrainingRE #Agents #RealEstateMotivation #Realtor
Categories: Key Success Ideas, Real Estate Business, Real Estate Prospecting