As you unpeel the layers of successful entrepreneurs you will find many qualities, but there is one that lurks deep in the spirit of those who go the distance: Persistence.
Education, Contacts, and Business Savvy are important qualities but it is what you do to stay motivated when everything around you is not working the way you planned. You will know that Persistence is part of your character when you find yourself hammering away at your dream long after you have convinced yourself that you need to quit, and are surrounded by other who say they understand if you did give up.
You have to make a decision that you will be a persistent person; it is ok if it takes you 3 tries to get something done – convince yourself that you will get it done. Here are others words to illuminate Persistence: Doggedness, Perseverance, Tenacity, Determination, Stamina, Steadfastness, and my favorite Grit.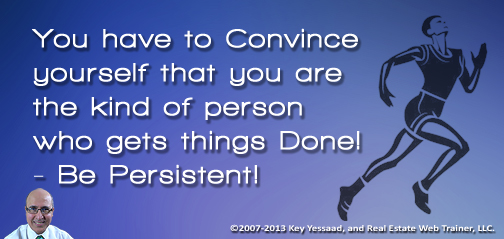 Key Yessaad (@zenkey), Real Estate Internet Trainer – Key is a Real Estate SEO Trainer and Internet Strategist focused on working with Real Estate Professionals and their Brokers to thrive using Internet Marketing. Key and Kevin Ahearn (@LiveInterActiv) started an intensive Real Estate Training Program in 2012 called i-FAStTRAC, with over 75 hours of course material, of which 60 hours are Live – they are interactive with point to point Live Video Feeds. The Program delves into the fundamentals of building your Real Estate Business, Prospecting, Lead Generation, and Internet Marketing with Advanced SEO Learning. Follow us on Twitter: #LiveTrainingRE or Google+: #LiveTrainingRE
Categories: Real Estate Business, Inspirational Posts, Thought of the Day