These are the last ten days recap of my blog posts focused on the Real Estate Industry, with a focus on the thinking of Preparation and Planning for Real Estate Professionals. The main ideas boil down to a central theme of Passive and Reactive Business Engagement, versus the Driven and Planned Business Day. Real Estate Agents cannot truly plan their days until they allow their mind to be purged of broken agreements, forgotten commitments, and the continued feeling of being continuously a step behind their to-do list. These posts were written from August 25th through September 3rd 2012.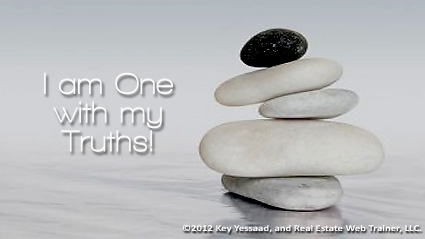 When you Deflect your True Tasks your Business will Suffer
Posted by Key Yessaad on September 3, 2012
There is a simple question that can trigger a torrent of thoughts, emotions, and force you to refocus on your vision. A question that shines on the truth of why you are not producing the results you desire: 'Do you find yourself doing certain tasks in order to avoid doing your most important tasks?' This question is at the heart of you being honest with yourself about your business and its future; it is very seductive to tell yourself I have been working hard...
--
Give your Mind time to Purge itself Daily
Posted by Key Yessaad on September 2, 2012
It is nearly impossible to empty your mind, in fact your brain activity never ceases; this is good news – this means that you can focus on projects and see them through; this feeling of being in the zone is quite fulfilling. The culprit that keeps you from experiencing many more of these 'zone' moments is the same mind of yours; it is always trying to remind you of broken promises, un-kept appointments, unfinished tasks, lies that you must remember, wro...
--
Waiting to be Ready Robs You of your Success
Posted by Key Yessaad on September 1, 2012
This simple quote says it all about being who you are, exactly with the tools you have, and the spirit you currently possess; American Professional Photographer Chase Jarvis was quoted saying: 'The Best Camera is the one that you have with you!' Simply put: If you are a photographer, and in the business of photography, do not wait until you get a super duper camera to start becoming The Professional Photographer you wish to become. You may seek to wait until ...
--
Plan your Day and you will ward off the Unexpected
Posted by Key Yessaad on August 31, 2012
Can you anticipate the unexpected? Well at least the unexpected in your Real Estate Business? I argue that you can! 60 to 80% of most sour deals stem from poor communication; worse communication that could have been anticipated rather than assumed that it would take place on time. The glue to making deals work is the Real Estate Professional; so if an inspector does not show up to do their job, it is always the fault of the Real estate Agent. The Business of Real Estate can ...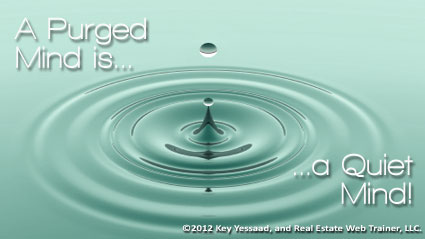 --
Repetition and Diligence produce Success
Posted by Key Yessaad on August 30, 2012
The small tasks that make up your projects are at the core of your daily business growth. When these small tasks have been done correctly and repeatedly a muscle memory develops and you are no longer at the mercy of trying to remember the steps; the steps come to you naturally – much like riding a bike; this is why it is said that we are what we repeatedly do. The diligence you place on taking Superb photographs of your Real Estate Listings; writing rich organic pr...
--
The Ying and Yang of Yes and No for Sales Professionals
Posted by Key Yessaad on August 29, 2012
Why is No so much harder than a Yes? Have you noticed that 20 people can say Yes to you, in other words, approve of you – yet your mind will hone in on the one that said No? The one that disagreed with you feels like an emotional rejection. We must never forget that we are Social Beings who are part of local fabric of family, friends, and business colleagues; when we are affirmed by others a sweetness and energy bubbles up and we feel that our connections ar...
--
Real Estate Business Plans are NOT about Good News
Posted by Key Yessaad on August 28, 2012
A Good Business Plan does not anticipate what is going to go right, it maps out what is going to go wrong and the strength and diligence of your competition. Fools will put down their competition, smart business owners will respect, admire, and emulate their local competitors. The Real Estate Market is fairly predictable; there is a fixed predictable number of listings that a particular community will generate and it is driven by your 'Market Turnover' –...
--
Real Estate Agents fail to Bake Failure in their Business
Posted by Key Yessaad on August 27, 2012
There is never real good news about failure, but it is a fact that it is rampant in the Real Estate Business. The worst kind of failure is 'the perception of failure' and many Real Estate Agents are paralyzed by it – and this fact lends itself to potential opportunities. Take prospecting for example; we know that a typical neighborhood of 500 homes will have a typical turnover of 4% to 6% or 20 to 30 homes per neighborhood. In other words 1 in 20 homeow...
--
Motivate your colleagues with Authenticity not just Money
Posted by Key Yessaad on August 26, 2012
In order to become a successful Business Owner and Entrepreneur you have to master the skill of Motivating your employees and colleagues, and money is not always the main catalyst. Passion for your job, and enthusiasm in your business dealings, are first and foremost; no one wants to work for, or with, a complainer; someone who wants to motivate others but is not motivated and excited about their own business. Let me share one additional idea: Start catching people doing...
--
Be Aware of your Negative Mental Loops
Posted by Key Yessaad on August 25, 2012
Approaching projects and tasks with at sense of irritation and trepidation suggests a buzzing of negativity hovering over one's reality. Take this thought: 'Why should even bother door knocking, I know it is a waste of time, and it never works for me!' This is self-fulfilling negative loop that runs in your mind and absorbs most your potential opportunities. If you choose to nurture one of these thoughts you will notice that similar 'icky' t...
--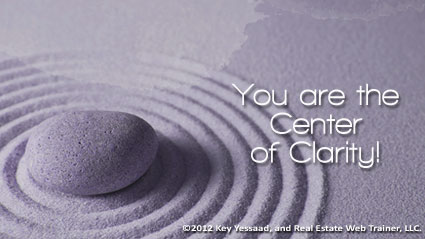 Categories
Categories: Thought of the Day, Real Estate Business, Time Blocking