Working your Business as an Entrepreneur is not always smooth; you have to work on some difficult problems; it is not always Sunshine and Roses - you have to get at the difficult tasks and get them out of the way. - #KeySuccessIdeas - You are not going to always want to wake up in the morning feeling like you are ready to go; but you MUST. You must have Clarity of Purpose as you tackle your business and your life.  
In this short clip video Jordan B. Peterson, Clinical Psychologist, Professor of Psychology, and Author of the book "12 Rules For Life - An Antidote to Chaos" discusses tackling difficulties and getting at our daily problems. He encourages us to get on with it; implement the best plan you have at hand - and like I say to my #8WeekSuccess Boot-Camp Participants: "Make Progress! Don't let Perfection becomes the enemy of your Daily Progress!" Enclosed are also the words of Jordan B. Peterson from the clip: 

You need a reason to get out of bed on a terrible day. Okay, what's that reason going to be? Well, let's think it through. You know, people who can get out of bed on a terrible day. Do you admire them? Yes. What are those people like? Are they taking responsibility for themselves? Definitely! Do they have excess capacity, so they're taking responsibility for other people? Yeah. Are they doing difficult things? Yes; Obviously.  
The more you respect them, the more you also see that they're doing difficult things and doing them well. So what does that mean? Do some difficult things; Do them well. So, pick up your goddamn burden, and walk up the hill. Yep, I get it; and people do get it. And it's not surprising because that's the alternative to hell. Accept the burdensome condition of suffering, voluntarily, and you transcend it.  
You've got a problem with the world; Hey man, no wonder you have a problem with the world; like the world is a pretty rough place, and it could use some work. Have you done all your work? If the answer to that is No, then I would say put in order what you can put an order.  
It's like well, you have a problem, okay; what's the problem? What are its constituent elements? What are the smallest implementable steps that we can take to start to address the problem? Implement the best plan that you have at hand. That's it you'll learn. It won't be won't be the right plan; it doesn't matter. You'll learn by implementing that plan. You'll learn a whole bunch and then the next plan you make will be better. Implement the best plan you have at hand. Don't remain in Stasis.  
You get old way, way faster than you think. Time ticks away man; get at it; get out there in the world; have your adventure. Get the hell out there! Do something! Fail! Fail while you are trying; then you'll learn while you fail; then you won't have to fail again. It's like, aim at something and progress towards it. And you know, be willing to change your aim because what the hell do you know? But aim at something; then at least you are oriented. And you have to aim at something that you believe would be worth trying. So, yeah, get up at it man. Don't waste time.  
Get at It! Aim at Something Worth Doing! 
Say to Yourself:  
I am Intentional! 
I Wake Up with Clarity of Purpose! 
I am Responsible for my Day!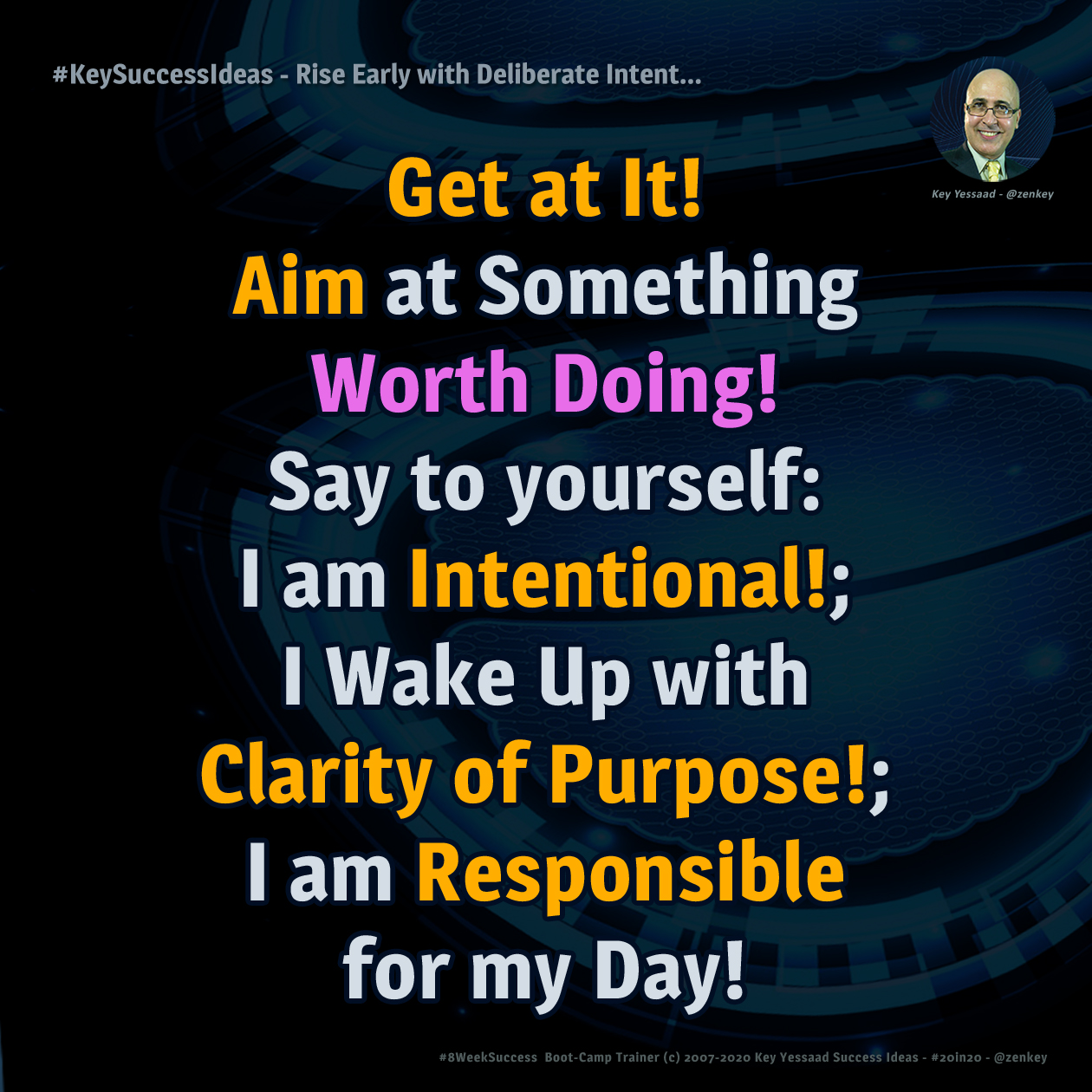 Written and Shared by Key Yessaad. Key is a Real Estate Mindset Trainer, Internet Strategist, and creator of the #8WeekSuccess Boot-Camp Program. Key has been a Trainer and Business Coach nearing 2 decades focusing primarily on empowering Agents develop the Skills and Habits of Prospecting, Web Services, SEO Strategies, Time Blocking, Blogging, Internet Marketing, Lead Generation, and Listing Success. (910) 538-6610 
Related Hashtags: #GetAtIt #TakeAction #Intention #Entrepreneur #20in20 #KeyWorkshops #RealEstateBootCamp #RealEstate #Inspiration #Success #RealEstateSEO - #RealEstateMentoring #RealEstateCoaching #Motivation #RealEstateTraining #KeySuccessTraining #LiveTrainingRE #Agents #RealEstateMotivation #Realtor
Categories: Key Success Ideas, Entrepreneurial Reality, Inspirational Posts