Open Houses in Real Estate have been around since the dawn of time but they are badly misunderstood; - #8WeekSuccess - Most agents think of them as providers of potential Buyers; and that is true - but they are much much more than that; they are a way to take care of the Seller by providing access to the property to create interest; but my favorite is that they allow you to be in the neighborhood mingling with other homeowners who may become future Sellers if you engage them properly. 
There are certain truths in Real Estate that must be re-learned from time to time: "No Homeowner is moving until they are moving!" "No one is Selling until they are Selling!" "The Value of the Home does not matter until it really matters!" "No one needs a Realtor until life happens!" All of these simplistic ideas point to the fact that until "life happens" no one is moving; and Life Happens to all of us - some of it Good, some of it Challenging, and at times downright tragic. Job Promotions, Weddings, Births fit in the category of life happenings with a positive slant; whereas Death, Illness, Financial Challenges are the unfortunate happenings. All of these happenings, at times, cause a Real Estate Decisions to be considered. Agents who are "Top of Mind" get to be picked to service those needs - Open Houses and Local Canvassing create that synergy in an organic way.  
In the second week of the #8WeekSuccess Real Estate Boot-Camp I emphasize the importance of Daily Prospecting; the proper usage of items of Values such as Market Reports; then do a deep dive on Canvassing using Proper Scripts and proper Mindset Approach. Prospecting is NOT about Selling anything - that is the first major distinctions Real Estate professionals must realize; it is about sifting through the noise of Real estate and selecting those you want to work with. Yes, you heard me right, it is about Realtors picking the right clients for them and leaving the rest to works with others in the industry. 
The first step we must take as a group is remove the confusion over what Prospecting is; or worse: the misconception that some are born with the ability to prospect and others are not - Nonsense! Prospecting is a Skill - a learned and practiced Skill. The term skill simply means a series of clear simple activities are taught to an individual, and then they are asked to repeat those steps; and through the process of Repetition the Skill is now forged. Fall in Love with the Repetition of important Skills, that's where the power and confidence thrive. We give our Real Estate Professionals Scripts but we don't help and push them to practice them - what's the point of the script then? In today's Workshop we will learn all the simple steps of getting listings, we will then put them together, practice them in the next few weeks, get better with Repetition, and start producing Results predictably. 
The #8WeekSuccess Boot-Camp is a High Intensity Program that 24 to 30 agents qualify in at a time, and was designed for those who are or plan to be Full-Time in Real Estate and earn no less than $100K in Gross Commission. Measured in time the course spans about 3 months and is meant to build the Business of Real Estate Accomplishments and Success from the ground Up! - #RealEstateProspecting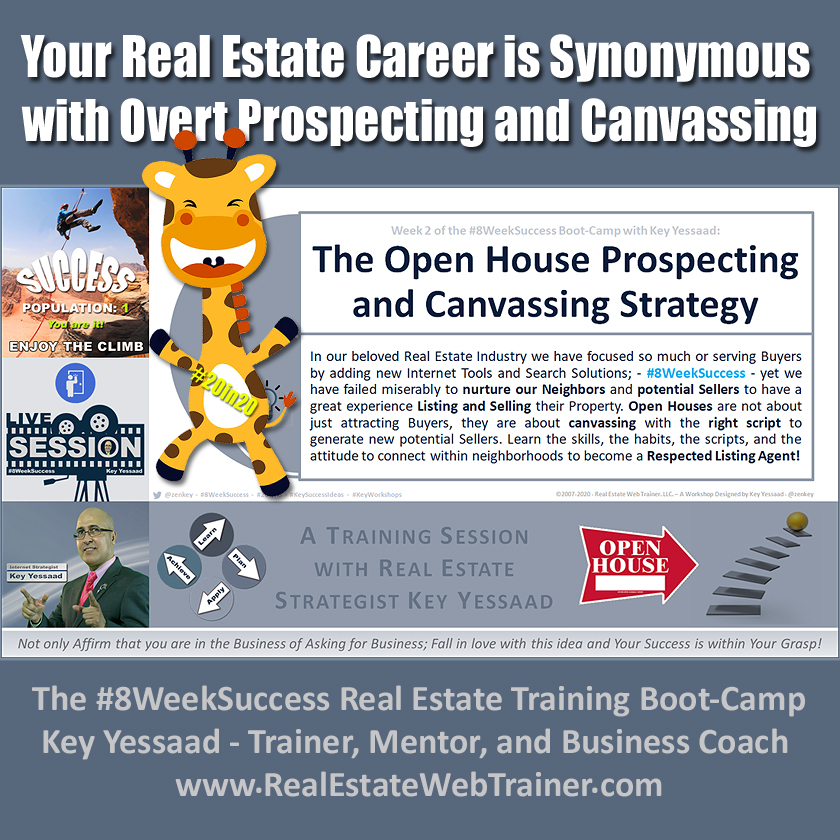 Written and Shared by Key Yessaad. Key is a Real Estate Mindset Trainer, Internet Strategist, and creator of the #8WeekSuccess Boot-Camp Program. Key has been a Trainer and Business Coach nearing 2 decades focusing primarily on empowering Agents develop the Skills and Habits of Prospecting, Web Services, SEO Strategies, Time Blocking, Blogging, Internet Marketing, Lead Generation, and Listing Success. (910) 538-6610 
Related Hashtags: #Prospecting #OpenHouses #Listings #Entrepreneur #20in20 #RealEstateBootCamp #RealEstate #Inspiration #Success #RealEstateSEO - #RealEstateMentoring #RealEstateCoaching #Motivation #RealEstateTraining #KeySuccessTraining #Agents #RealEstateMotivation #Realtor
Categories: #8WeekSuccess Boot-Camp, Real Estate Prospecting, Real Estate Business
Comments are disabled.