Although Social Media Video is the largest growing segment in Marketing, much remains to be attended to by Real Estate Professionals. - #8WeekSuccess - True Educational Videos about the Local Market are far and few in between. Agents think of Marketing their listings, which makes sense, but it is awfully reductionist - meaning that the focus in on the property not the grand picture of lifestyle and neighborhoods. Consumers are not just looking to buy housing - they are looking for a lifestyle. 
The second area with a Big Blind Spot is YouTube - Agents know that they need to grow their following on Facebook, Instagram, LinkedIn, and Twitter - yet they forget that YouTube functions as a Social Media Platform - not just a Video Platform. The number of subscribers is not something they focus on; and that number actually affects the ranking of your video in Search and Positioning.  
Let us dig even deeper on how to wrap Videos with proper text; also called Meta Tags - which are simply good descriptive Titles and Multi-Paragraphed Descriptions of the video being shared. Real Estate Agents put little effort in this area and this is why their videos end up on Facebook, with their hope that their friends will share their videos so they can create a good following. Yes, some videos can be shot on your phone and shared immediately to your Social Platforms – fine… but if you are to play the game of Marketing and Branding in Real Estate 10 to 20 Videos a year must be shared properly with proper Meta Tags so you can benefit from the power of Search and Ranking. 
Today, in our Bonus Session for the #8WeekSuccess Boot-Camp being held in Wisconsin, I will focus our participants on the power of Video Marketing and the use of Narration Visualization. When internet visitors are given a series of Search Results in a Local Real Estate Web Page, they gravitate to a Video if one pops up? Why is that? Visitors are capable of reading and understanding text - yet when given a choice they select Videos 9 times out of 10! It is all about Story-Telling, and if you are able to combine your Meta Tags, Keywords, and Video SEO strategies with your Web visitors you have now connected at a higher Level. Let's learn the role of Video in Real Estate Internet Marketing. 
For a Real Estate Career to become fruitful it must include Deliberate Prospecting, and one of the ways to enhance it is Video Marketing - Our Agents and Brokers are hungry to master Video because they can see how it affects and create engagement - yet we are not teaching them how to properly post such videos; how to Meta-Tag Videos correctly; How to select Organic Video Topics that touch Sellers, not just Buyers; and most importantly how to understand Real Estate Video SEO, Video Blogging, and Video Channel Management. In our Bonus Session of our Real Estate Boot-Camp I will focus on all these topics, and show you how to intertwine them with Prospecting for Listings and Buyers. 
The #8WeekSuccess Boot-Camp is an intensive course that 24 to 30 agents qualify in at a time. It was designed for those who are or plan to be Full-Time in Real Estate and earn no less than $100K in Gross Commission. Measured in time the course spans 3 months and is meant to build the Business of Real Estate Success from the ground Up!  #RealEstateVideo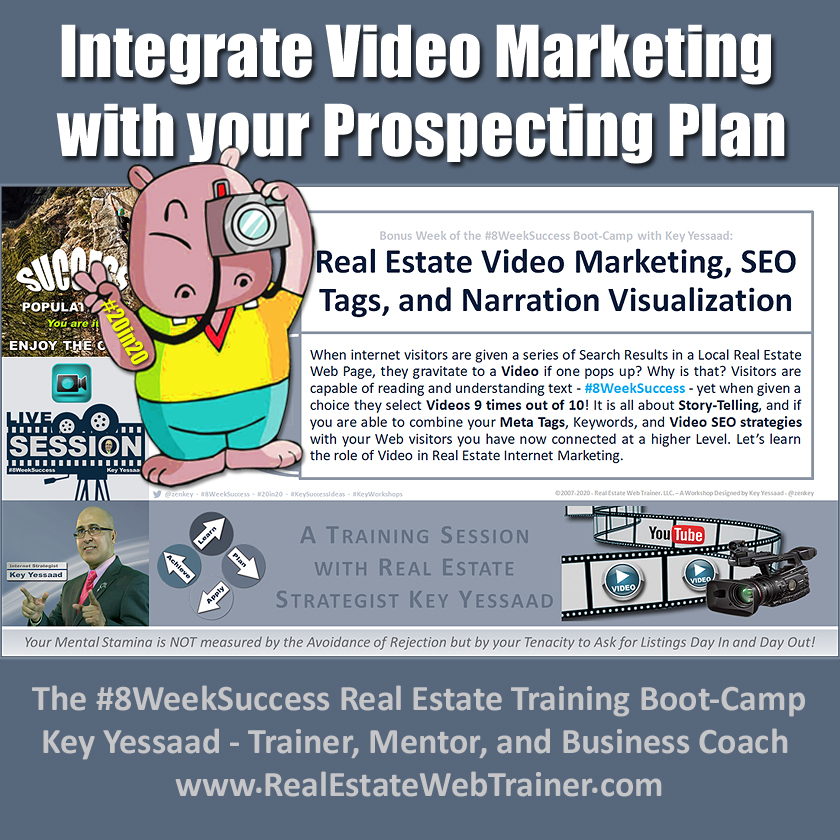 Written and Shared by Key Yessaad. Key is a Real Estate Mindset Trainer, Internet Strategist, and creator of the #8WeekSuccess Boot-Camp Program. Key has been a Trainer and Business Coach nearing 2 decades focusing primarily on empowering Agents develop the Skills and Habits of Prospecting, Web Services, SEO Strategies, Time Blocking, Blogging, Internet Marketing, Lead Generation, and Listing Success. (910) 538-6610 
Related Hashtags: #VideoMarketing #RealEstateVideos #VideoBlogs #Entrepreneur #20in20 #RealEstateBootCamp #RealEstate #Inspiration #Success #RealEstateSEO - #RealEstateMentoring #RealEstateCoaching #Motivation #RealEstateTraining #KeySuccessTraining #Agents #RealEstateMotivation #Realtor
Categories: #8WeekSuccess Boot-Camp, Video SEO Marketing, Real Estate Prospecting
Comments are disabled.