Burnout in Real Estate is very common, especially in the Spring Market; and burnout leads to lack of Motivation or the over-indulgence of food and drinks and major lack of Sleep. - #KeySuccessIdeas - You can prevent yourself from burning out but you must start telling yourself the truth. Some believe that watching 4 hours of TV at night is their way to decompress - I can see how 2 hours of Television can be relaxing, but overindulging in that habit leads to more stress than calm. 
Sleep; Yes Sleep is your friend. 
Do you want to control your business? Control your Morning! 
You cannot control your mornings unless you control your sleep and you need to have good sleep. The closer to 9:30pm without crossing 10pm the better; and get rid of that TV in your Bedroom - your TV belongs in the Living Room; Make your Bedroom a sanctuary for calm, rest, peacefulness, and love - try to avoid overloading your bedroom with electronics. 
How do you overcome Burnout is you are in throes of it? 
Step 1: Adopt a Personal "Me-Time" Routine in the morning; this nurturing routine is designed by you and for you and must not involve Work or Television. Take your dog for a walk; Do some Yoga; Meditate and Pray; spend Time on Devotionals; Exercise; Do your Affirmations; Get yourself ready for work without the TV blaring in the background. It is called "Me-Time" so you can be with your thoughts and spirit; NOT distracted by the noise of Life and Work. 
Step 2: 15 Minutes before you embark on your Workday grab a good business book and your Business Journal and Read and Write for 15 minutes. Example: The Miracle Morning by Hal Elrod or No Excuses by Brian Tracy. Take reading physical books and writing in your journal seriously; they re-wire your brain positively. Listening to Audible books and Podcasts in your car is really great, but do not confuse the effects to match those of reading a physical book. 
Step 3: Right after your reading/Writing send 1 or 2 messages of Positivity and/or Gratitude to a couple of people you care about or work with. Do it intentionally and without a need nor desire for Reciprocity. When you send messages like: "I am thinking about you and wish you a beautiful morning." you are stepping outside yourself and affecting the Universe; you are then lifting the Heaviness of your life off of your shoulders. 
Step 4: Right before you tackle your first task and the avalanche of Emails run an overview of your priorities for the day. Focus first on your Appointments and what early preparation you need for them; and then get to work. Try to work in slices of 30 to 40 minutes with 5 to 10 minute breaks. During your breaks you are allowed to be distracted by your phone; but during your Time Blocks you must focus exclusively on the task at hand.  Don't forget to get up from your desk and walk around - moving during the day is good for you. Finally hydrate often. 
These simple steps truly set the tone for the day and will help you keep Burnout at bay; see how you can integrate some of the ideas shared here and never forget that if you start controlling your sleep you will control your health and your business.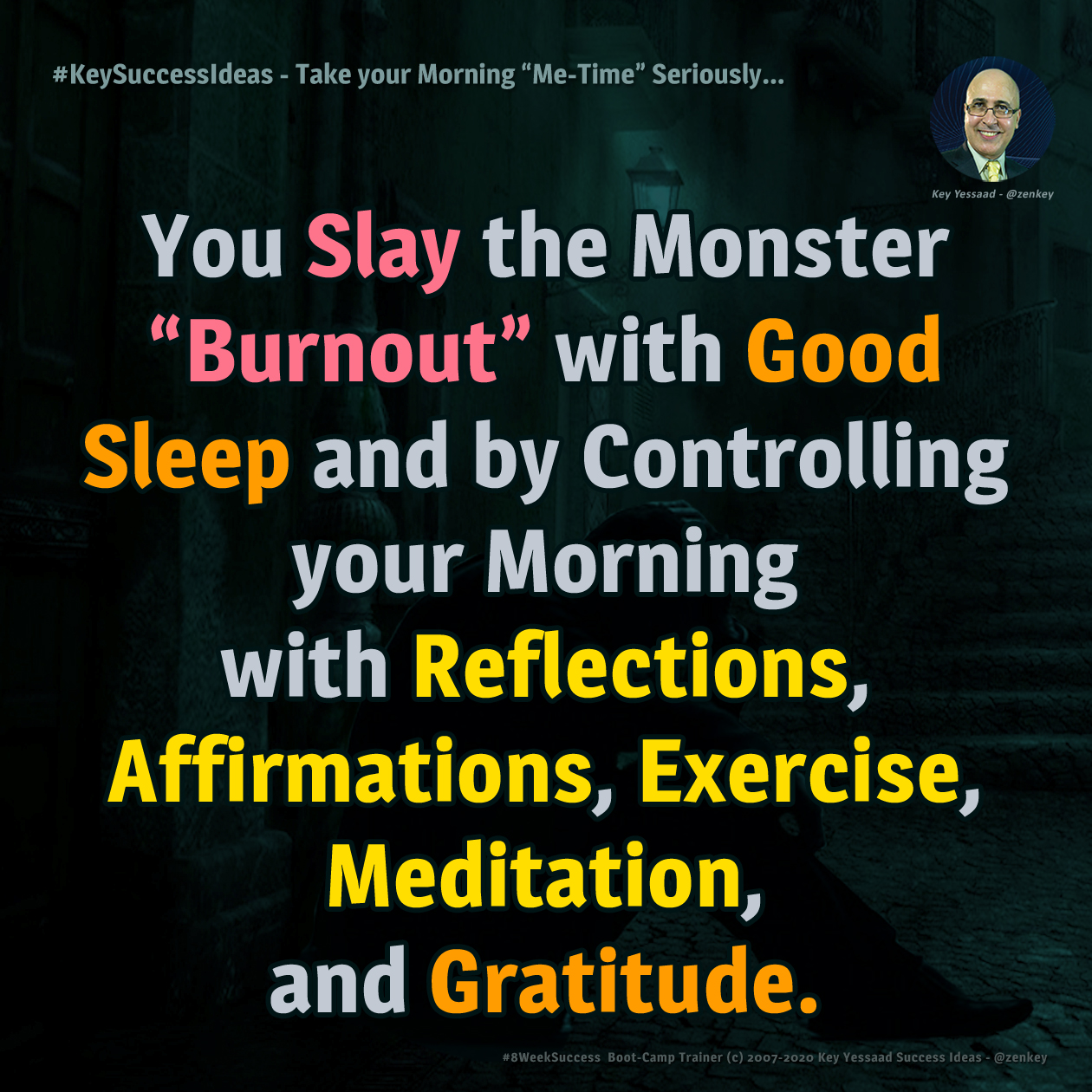 Written and Shared by Key Yessaad. Key is a Real Estate Mindset Trainer, Internet Strategist, and creator of the #8WeekSuccess Boot-Camp Program. Key has been a Trainer and Business Coach nearing 2 decades focusing primarily on empowering Agents develop the Skills and Habits of Prospecting, Web Services, SEO Strategies, Time Blocking, Blogging, Internet Marketing, Lead Generation, and Listing Success. (910) 538-6610 
Related Hashtags: #Sleep #MeTime #Burnout #Entrepreneur #20in20 #KeyWorkshops #RealEstateBootCamp #RealEstate #Inspiration #Success #RealEstateSEO - #RealEstateMentoring #RealEstateCoaching #Motivation #RealEstateTraining #KeySuccessTraining #LiveTrainingRE #Agents #RealEstateMotivation #Realtor
Categories: Key Success Ideas, Time Blocking, Real Estate Business