If you carefully study the amount of time and level of difficulty of your Daily Business Activities you will find that 99.9% of them are very straightforward and easy to complete, and only involve a few steps. - #KeySuccessIdeas - They tend to be intellectually uncomplicated; within the grasp of your abilities; and take little time to complete. Yet the psychological mental ramping up to get going make them look like mountains rather than molehills. It probably takes you longer to get you ready to get ready than to simply doing your tasks; and then the idea of later creeps in: "I'll get it done later," as though later has a special rip in the fabric of space-time that allows you to get more things done. 
These psychological delays have been given exotic names such as: Procrastination, Adjournments, or even Poor Time Management. But let us be honest - these are terms that are used to avoid the recognition that we are choosing not to get going. Procrastination is Choice, and until it is viewed in that proper light very little can be done to make Progress. As an Entrepreneur and Real Estate Professional you can't afford to spend too much with delaying your important business activities - You MUST Get Going. You MUST develop the Brain Muscle called "Do It Now!" I use the analogy "Muscle" to convey the idea that the more you practice it the stronger you become. The Muscle "Do It Now!" requires daily practice and it is simply a verbal command and get going - scream it at yourself if you need to; place reminders everywhere your eyes wander; and maybe get a Giant Sign in your Office that says: "Do It Now!" 
I want you to eliminate the word Procrastination from your life; I want to scrape it off the dictionary; I want our Professionals to be forbidden from using it. When you say you are Procrastinating you are really saying: "I don't feel like it and you are not going to make me do it!" Bring some brutal honesty to your business and things will start changing.  
The Psychological chatter that involves delaying what needs to be done now is useless and does not move mountains - Get into the "Do It Now!" Mode and your Business will start thriving! You don't need to become smarter; more organized; or Go on Retreats to find yourself; Just "Do It Now!" and I mean "Right Now!" - Let's Go! 
Stop talking about it; Stop trying to find reasons why you don't feel like; who cares if you don't feel like it; Stop dancing around your excuses; Stop looking for outs and Just Do it Now! 
Your mind tells you work on the CMA for your clients; okay let's get going - Do It Now! Open your laptop, launch your MLS Software, put in the address and you are now in the doing mode… isn't it nice? You are almost finished, you just started and you already see the finish line - yes, Yes, this is awesome… "You are Doing It Now!" A few more steps and you are finished - By simply Getting Started you see the finish line, and Poof you are done!  
Life is that simple - Take Action; Take Action Now; Quiet the useless chit chat about whether you feel like it or not - just get going! Take Action and Do it Now! And soon you are done… See, No Drama, just Action!!!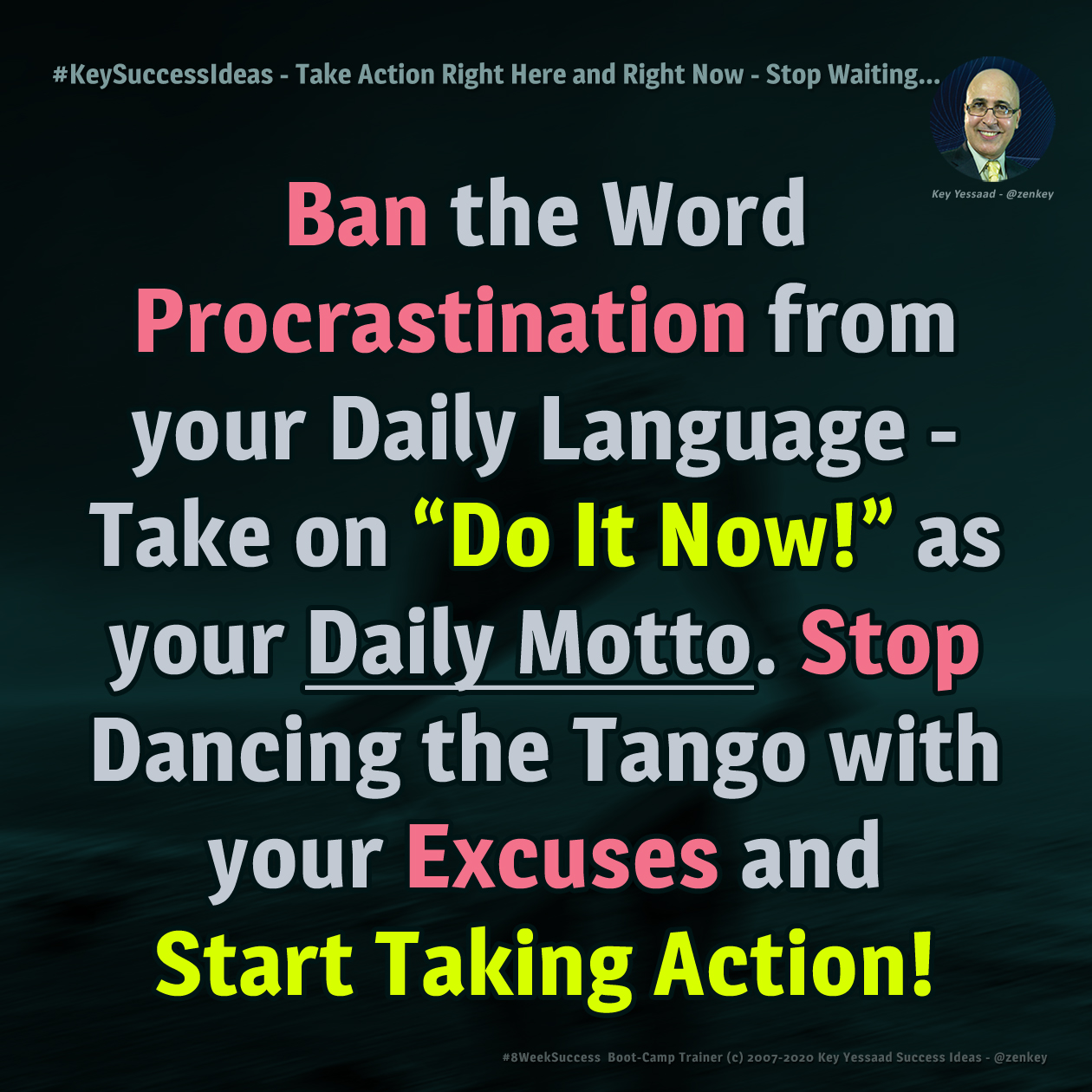 Written and Shared by Key Yessaad. Key is a Real Estate Mindset Trainer, Internet Strategist, and creator of the #8WeekSuccess Boot-Camp Program. Key has been a Trainer and Business Coach nearing 2 decades focusing primarily on empowering Agents develop the Skills and Habits of Prospecting, Web Services, SEO Strategies, Time Blocking, Blogging, Internet Marketing, Lead Generation, and Listing Success. (910) 538-6610 
Related Hashtags: #DoItNow #TakeAction #BanProcrastination #Entrepreneur #20in20 #KeyWorkshops #RealEstateBootCamp #RealEstate #Inspiration #Success #RealEstateSEO - #RealEstateMentoring #RealEstateCoaching #Motivation #RealEstateTraining #KeySuccessTraining #LiveTrainingRE #Agents #RealEstateMotivation #Realtor
Categories: Key Success Ideas, Real Estate Business, Entrepreneurial Reality