Session 1 of the #8WeekSuccess Real Estate Training Boot-Camp in Columbia South Carolina is Friday January 10th, but that isn't the whole story - the Boot-Camp really started 6 weeks ago for the Participants because it was designed for those who must pass two interviews, bookmarked by four (4) Assignments. Each Participant registers 3 to 6 weeks prior to the course and must go through all six steps in order to be invited to participate. They are not asked to pay for the Boot-Camp until a few days before the Official course starts and this is done deliberately. 
Success is Real Estate is not easy and bringing the right commitment to it, and building the right understanding of it is crucial - and I take that seriously. Mass participation is not what I seek; I prefer working with a group of 20 to 30 Agents and Brokers and push them towards their true desired success. This means working with the whole being; you cannot separate a Real Estate Career from your personal life; they are integrated - so habits; Good Strategic Habits become your best asset. 
The biggest conundrum in the Real estate Industry is this fact: The Easy Habits are the hardest to take hold, and when I say easy I mean Habits to do not require Masters' Degrees or 30 steps to implement. It all stems from the freedom Agents feel since they know they truly work for themselves, and the river of Real Estate is full of events, distractions, and fun gatherings. The 20 to 25% of agents who develop the proper discipline of running their days, and do not let them be too distracted, end up gobbling 70 to 80% of the whole Business. 
Let me share a simple bad habit that on the surface has nothing to do with Real Estate: Taking your phone to bed with you, especially since our phones are full of apps and distractions. Leaving the Phone in another room and getting a Good Night Sleep nurtures the Brain and helps with Decision-Making. In a practical manner this is a simple habit to establish; but our agents have developed such an attachment to their Phones, it feels like cutting one of their limbs off if they don't have it with them at all times. 
As the title suggests the first session focuses on Inbound Marketing Fundamentals; Face to Face Prospecting; Real Estate Search Engine Optimization (SEO); and the Essential Success Habits and Mindset Approaches. The session is all day from 8:30am to 5pm with lots of interactions, in-room assignments, and the forming of pods of accountability. I say: take a Hard Working Agent, buttress them with Good Training and Accountability, and you end up with Great Results. 
Here is the official short description of the Week 1: Traditional Marketing and Internet Marketing are not the same! It is this distinction between Outbound Marketing and internet based Inbound Marketing that defines the age of the Internet. The Job of a Real Estate Agent is to understand the Psychology of what Buyers and Sellers are doing online, as well as the role of Search Marketing, Spiders, SEO, and start building a Mindset towards Success. We will also focus on Prospecting Face to Face and How to ask for Business with Proper Scripts. 
The #8WeekSuccess Boot-Camp is a High Intensity Program that 24 to 30 agents qualify in at a time. It was designed for those who are or plan to be Full-Time in Real Estate and earn no less than $100K in Gross Commission. Measured in time the course spans 3 months and is meant to build the Business of Real Estate Accomplishment from the ground Up!  #InboundMarketing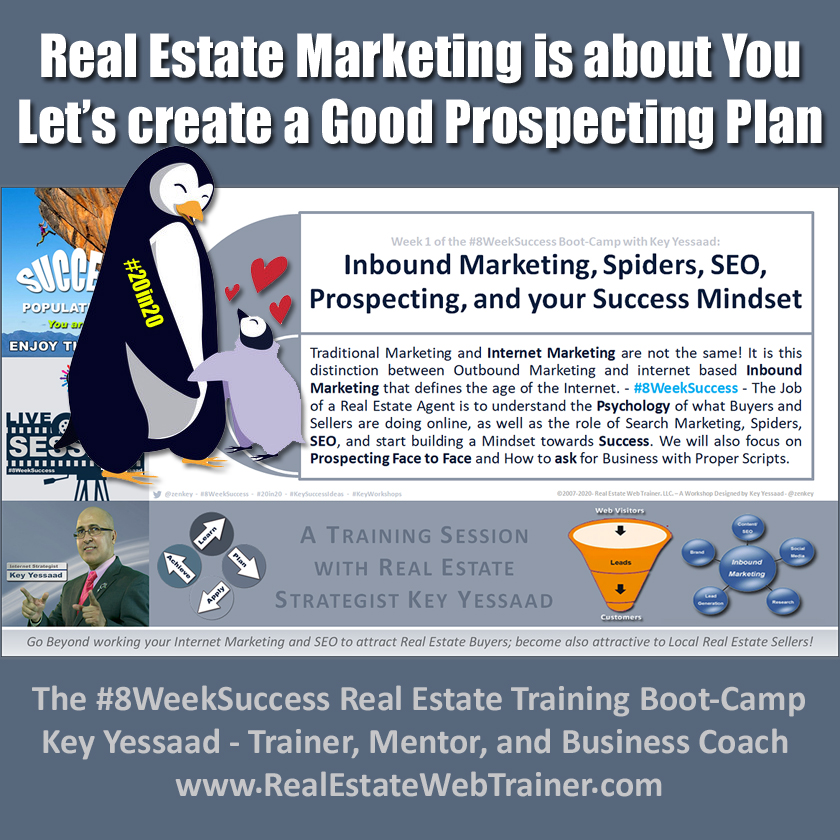 Written and Shared by Key Yessaad. Key is a Real Estate Mindset Trainer, Internet Strategist, and creator of the #8WeekSuccess Boot-Camp Program. Key has been a Trainer and Business Coach nearing 2 decades focusing primarily on empowering Agents develop the Skills and Habits of Prospecting, Web Services, SEO Strategies, Time Blocking, Blogging, Internet Marketing, Lead Generation, and Listing Success. (910) 538-6610 
Related Hashtags: #InternetMarketing #RealEstateWebsites #Prospecting #Entrepreneur #20in20 #RealEstateBootCamp #RealEstate #Inspiration #Success #RealEstateSEO - #RealEstateMentoring #RealEstateCoaching #Motivation #RealEstateTraining #KeySuccessTraining #Agents #RealEstateMotivation #Realtor
Categories: #8WeekSuccess Boot-Camp, Real Estate Prospecting, Internet Marketing
Comments are disabled.