A Real Estate Career is unlike any other; it is an Emotional Career - a Career in which the emotional courage of the entrepreneur plays a big part day in day out. - #KeySuccessIdeas - Many consider the word "emotion" as the opposite of reason which is quite erroneous; emotions and logic live side by side and are not on opposite side of the spectrum. What makes for a great Real Estate Professional is the ability to listen and empathize appropriately with their Buyers and Sellers, and turn those feelings into a plan of action.  
Let me identify the three big areas of a Real Estate Career in which emotions play a big part: 
The Real Estate Professional dealing with themselves: In this career the Professional is an independent contractor, or more commonly an entrepreneur. The Real Estate Agent works for himself/herself and is not paid based on the hours they work, but based on the results they generate. That inner tension between the agent being the boss and being also the implementer of the daily work is fraught with emotions. Self-Discipline plays a big role in succeeding in Real Estate, but to maintain that Discipline requires a strong emotional core. This inner battle never stops and the only way for the Professional to remain sane is to develop Daily Predictable Habits. 
The Real Estate Professional dealing with the Consumer: This relationship is all about emotions; the Real Estate Transaction is Not a logical or financial transaction, it is an emotional transaction; for both Buyers and Sellers. In this area the grounded-ness of the agent is what wins the day. The Realtor must be strong at listening to ups and downs of their customers and translate all of these emotions into an individualized Plan that suits the needs of all parties. This is a crucial skill for agents to develop and they must remain centered throughout the process, and not inject their own emotional ups and downs into it. 
The Real Estate Professional dealing with the Industry: More precisely dealing with their brokerages and with the competition. Real Estate is a very competitive endeavor and each local area has a predictable number of Listings and therefore Sales. In our industry you will encounter a term called turnover; which is simply the percentage of Homeowners a year who will sell their Homes and move in a particular area - it fluctuates from 3.5% to 6.5% in the United States. Think of it this way for every 1,000 homes in the United States about 55 Homes will change hands, and this inventory creates a very healthy completion in each market. Completion not only invites emotions, it also at times creates conflict and Real Estate Professionals must learn to deal with it all. 
These three areas are important to conquer for Real Estate Professionals and it takes courage to stay on top of them; emotional courage - not just mental toughness. This is why I advocate that agents Sleep their 7 hours a night, preferably from 9:30pm to about 5am; to give themselves 1 to 2 hours to prepare for the day through exercise, good reading, meditation, affirmations, and Strategic long-term planning. I also advocate that they maintain healthy habits of daily prospecting as well as eating well and taking a day off a week to be away from this business to rejuvenate. "Just as your car runs more smoothly and requires less energy to go faster and farther when the wheels are in perfect alignment, you perform better when your thoughts, feelings, emotions, goals, and values are in balance." - Brian Tracy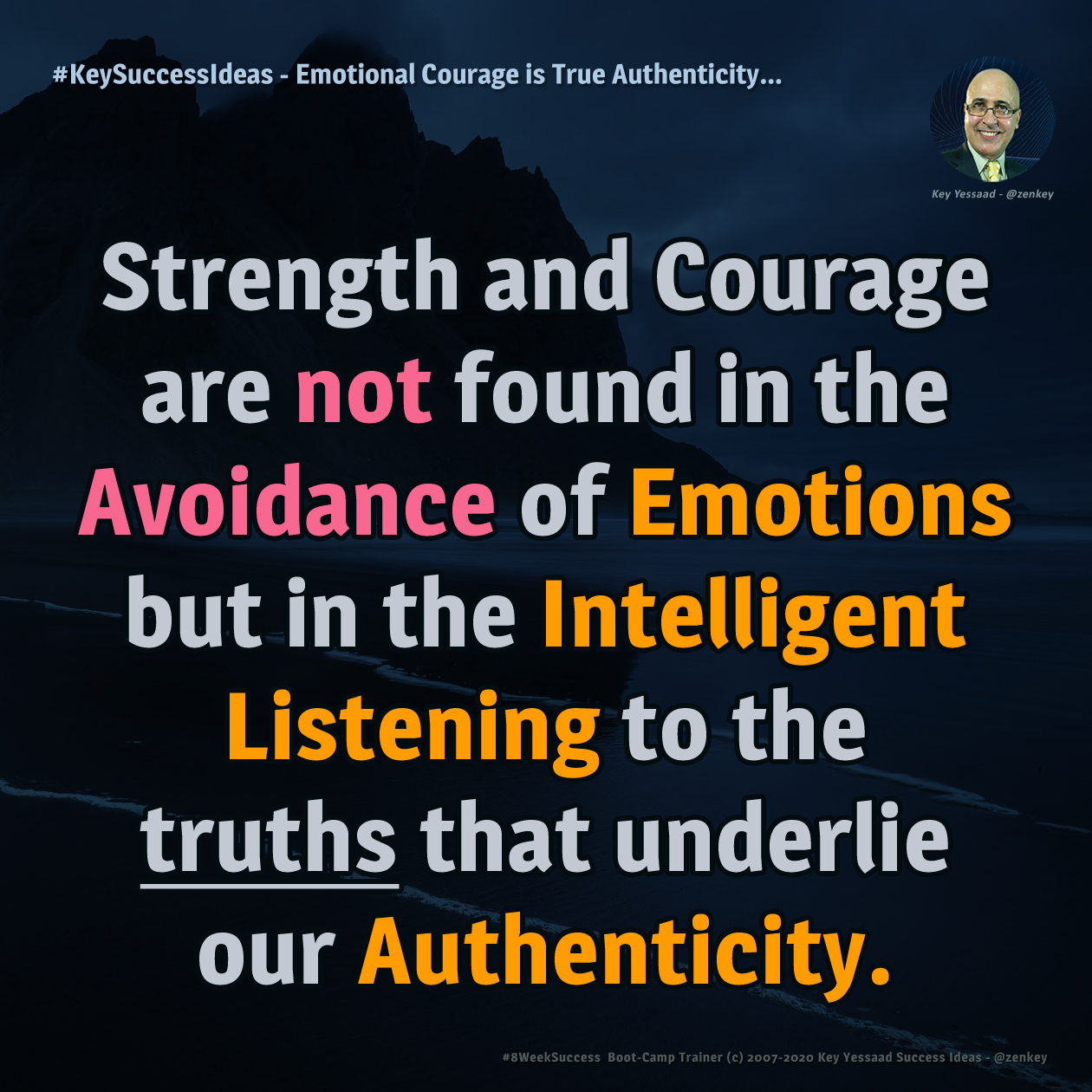 Written and Shared by Key Yessaad. Key is a Real Estate Mindset Trainer, Internet Strategist, and creator of the #8WeekSuccess Boot-Camp Program. Key has been a Trainer and Business Coach nearing 2 decades focusing primarily on empowering Agents develop the Skills and Habits of Prospecting, Web Services, SEO Strategies, Time Blocking, Blogging, Internet Marketing, Lead Generation, and Listing Success. (910) 538-6610 
Related Hashtags: #Emotions #Meditation #Courage #Entrepreneur #KeyWorkshops #20in20 #RealEstateBootCamp #RealEstate #Inspiration #Success #RealEstateSEO - #RealEstateMentoring #RealEstateCoaching #Motivation #RealEstateTraining #KeySuccessTraining #LiveTrainingRE #Agents #RealEstateMotivation #Realtor
Categories: Key Success Ideas, Real Estate Business, Entrepreneurial Reality
Comments are disabled.