Spend time working as an entrepreneur diligently and you will experience a massive breakthrough - your most valuable asset is Time itself; and you already have a bag of it that everyone and everything is trying to gnaw at it. - #KeySuccessIdeas - It takes Discipline to properly protect your time, and to use it as the jet fuel for your career. Everything you do requires a layer of time for it to take shape, yet the biggest complaint you hear is "Bad Time Management!" - I argue that it is a false argument to blame Time-Management, and also an easy cop-out; I think we need to be putting our focus on "Lack of Self Discipline!" 
As a Real Estate Trainer and Business Coach I see this daily: Good People + Weak Discipline = Lack of Performance and endurable Results. Let's start with the obvious; what is a Business Plan? It is a series of Activities that occur within a period of time to produce predictable and measurable goals. A Business Plan without a Time Component is a fallacy; yet in our industry we tolerate our Real Estate professionals to talk about Future Goals and Accomplishments without locking them in a Time component matrix. This is not okay, and I might add quite self-deceitful. 
Discipline is what's missing. 
Watching TV or Netflix until Midnight is NOT acceptable for Entrepreneurs - in bed by 10pm up no later than 6am; many argue that the golden wake time is between 5 and 5:30am; some even go further -they go to bed at 9pm and wake up at 4am; they know that the human body needs about 7 hours of rest to function at its peak performance. But whenever hour you decide to wake up - watching TV until the wee hours of the night is hurting you and your career - going to bed no later than 10pm takes Discipline! 
Be truly honest with yourself - "You may Not be as Respectful of Your Time as You Should be; and this is why your Results may not be as stellar as you want them to be!" This truth hurts, but it also hides your true Super-Power; Discipline your Time and your results will flow. The biggest question is: WILL YOU? 
This is the Challenge of being an entrepreneur; no one can make you do anything; you are your own boss, and you play by your own rules - therefore Discipline cannot be applied externally - it has to be applied internally; this is why it is called Self-Discipline! If your goals are clear but you lack the Discipline of shaping your destiny you may want to consider a business coach in your field, but do yourself a favor be honest with them, and don't sabotage yourself by looking good.  
Let me leave you with a few of my favorites Quotes on Discipline: "Discipline is the bridge between goals and accomplishments." - Jim Rohn. "The pain of self-discipline will never be as great as the pain of regret." - Anonymous. And one of my own: "Your Destiny is shaped by your Discipline NOT your Desires."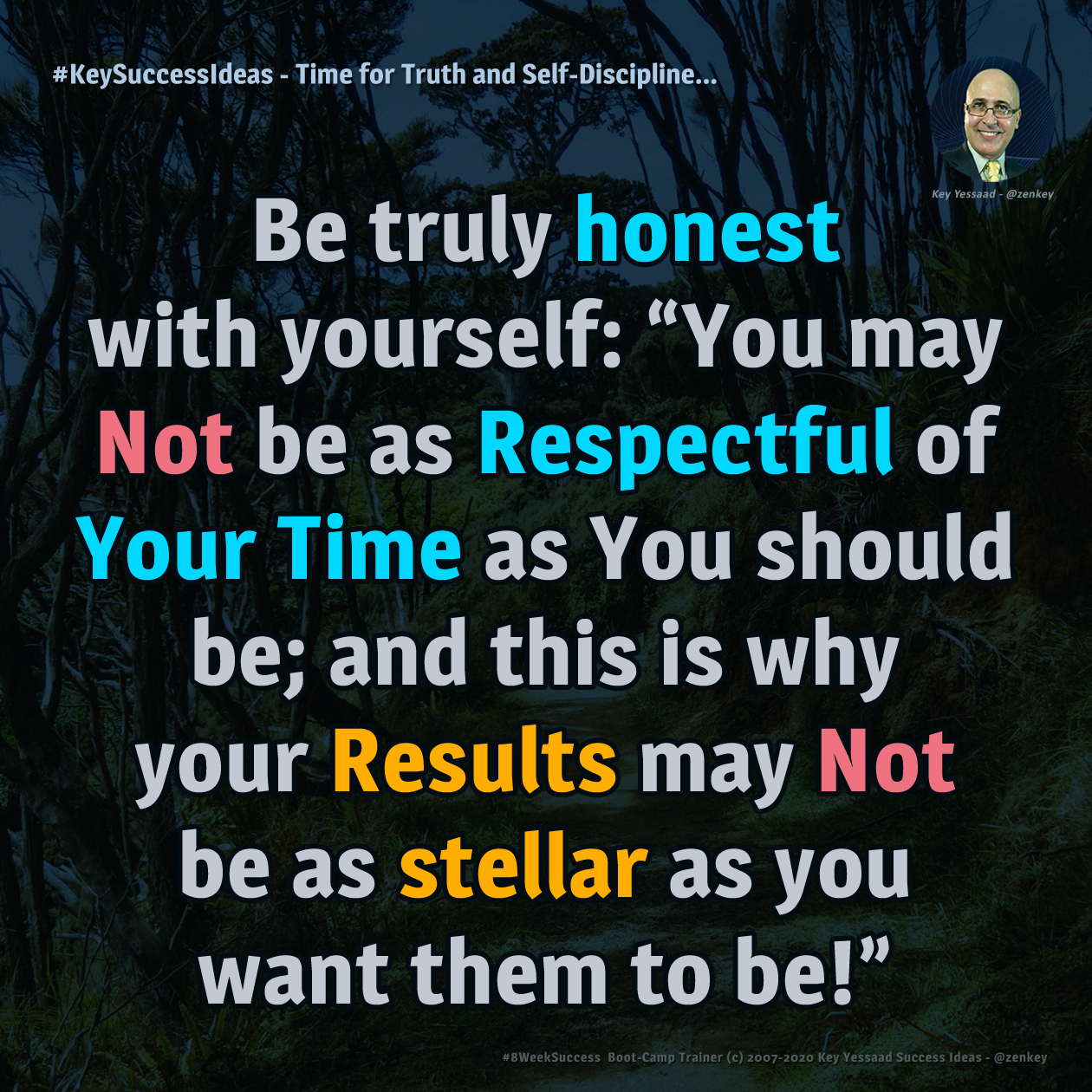 Written and Shared by Key Yessaad. Key is a Real Estate Mindset Trainer, Internet Strategist, and creator of the #8WeekSuccess Boot-Camp Program. Key has been a Trainer and Business Coach nearing 2 decades focusing primarily on empowering Agents develop the Skills and Habits of Prospecting, Web Services, SEO Strategies, Time Blocking, Blogging, Internet Marketing, Lead Generation, and Listing Success. (910) 538-6610 
Related Hashtags: #SelfDiscipline #Time #Results #Entrepreneur #KeyWorkshops #20in20 #RealEstateBootCamp #RealEstate #Inspiration #Success #RealEstateSEO - #RealEstateMentoring #RealEstateCoaching #Motivation #RealEstateTraining #KeySuccessTraining #LiveTrainingRE #Agents #RealEstateMotivation #Realtor
Categories: Key Success Ideas, Real Estate Business, Time Blocking