Time is at the crux of Success of any entrepreneur, yet many have yet to build a wholesome Relationship with it. - #8WeekSuccess - It actually makes complete sense that Time is not cherished properly since it is given to all of us for free. No matter what endeavors you pursue, or job you acquire, or passion you want to nourish you are given 24 hours every single day - not a second less; and no one is given more or less than you. This seemingly fair and free division of Time has humans messing it up when they could be using it to pursue their dreams. 
In Real Estate Time, when used properly, culminates in Appointments. For Agents it is about appointments with Sellers and Buyers; for Brokers it is appointments with other agents and to nurture talent. Yes we must make time to processing and managing our deals, moving them in stages from agreement to closing; but that is not our most important time of the day. The most important Time-Blocks are those spent prospecting to create Appointments; especially Appointment with future Sellers. 
Many Real Estate Professionals mis-prioritize their time when it comes to Prospecting, and put in the front burner the nurturing of existing deals, and if they have time remaining they then will make time for calls and canvassing. This way of working your business is a Career Ending Move - you end up closing deals and going for a long dry spell without any deals to work on; or worse, the deals you were nurturing fall apart through no fault of yours and now you have nothing to show for your efforts. We Prospect for Business every single day and at least 2 to 3 hours daily. Your Calendar must reflect your priorities and the sooner you build this muscle the more your time becomes an investment. 
During Week 8 of the #8WeekSuccess Real Estate Boot-Camp I will focus the first 75 minutes on Time Blocking and Prospecting Techniques; we will learn strategies that have proven to work well in the day running of a Successful Real Estate Career. The two hours that follow will be focused on Real Estate Advertising, or more commonly called PPC Marketing. 
PPC Marketing, or Pay per Click Advertising has been left in the hands of few vendors and is rarely explained to Agents and Brokers; this is absolutely Nonsensical; think about it: Aren't the Brokers and Agents in Charge of Marketing their Listings and their Services? Did you know you only need a few ingredients to launch your own Real Estate PPC Marketing Campaign? We will layout the proper understanding, the Plan of Action, and the Lead Funnel for your Local Real Estate Market – from Ads, to Keywords, to Landing Pages, to bidding…
Let me share a few quotes to illuminate the importance of Time in your Business: "Time is what we want most, but what we use worst." - William Penn. "Never let yesterday use up today." -Richard H. Nelson. "One thing you can't recycle is wasted time." 
The #8WeekSuccess Boot-Camp is an intensive course that 24 to 30 agents qualify in at a time. It was designed for those who are or plan to be Full-Time in Real Estate and earn no less than $100K in Gross Commission. Measured in time the course spans 3 months and is meant to build the Business of Real Estate Success from the ground Up!  #RealEstatePPC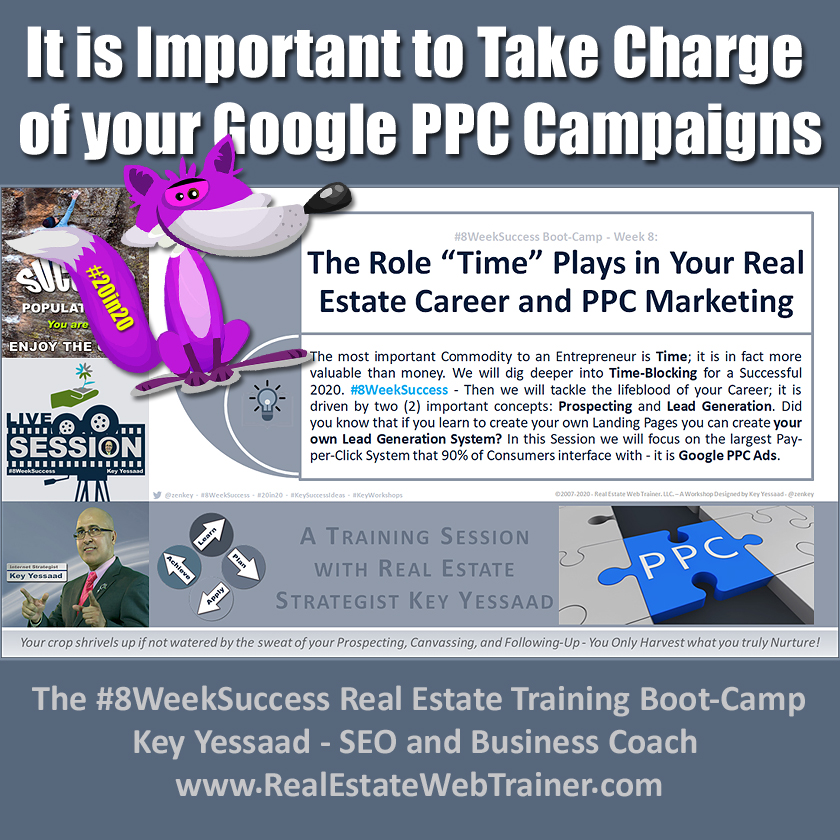 Written and Shared by Key Yessaad. Key is a Real Estate Mindset Trainer, Internet Strategist, and creator of the #8WeekSuccess Boot-Camp Program. Key has been a Trainer and Business Coach nearing 2 decades focusing primarily on empowering Agents develop the Skills and Habits of Prospecting, Web Services, SEO Strategies, Time Blocking, Blogging, Internet Marketing, Lead Generation, and Listing Success. (910) 538-6610 
Related Hashtags: #TimeBlocking #PPCMarketing #Prospecting #Entrepreneur #20in20 #RealEstateBootCamp #RealEstate #Inspiration #Success #RealEstateSEO - #RealEstateMentoring #RealEstateCoaching #Motivation #RealEstateTraining #KeySuccessTraining #Agents #RealEstateMotivation #Realtor
Categories: #8WeekSuccess Boot-Camp, Time Blocking, Internet Marketing