Procrastination, Perfection, Fear, Hesitation, Rejection, Competition, Stress, Excuses, Pressure, are all words that enter and reside in the vocabulary of all entrepreneurs. - #KeySuccessIdeas - I want you to consider two of my favorite words: Progress and Done. Progress is very straightforward - we work each day to make progress not to become perfect. Perfection has a way of becoming a hindrance to Progress, and as you go about running your day, getting a little bit better than yesterday will produce better results for you in the long run. Say you learn a new script to make calls; well, the first few times you use it will not come out as smoothly as you wish; so you practice it and then put it to use - and you will get better at producing results with repetition. Repetition is your friend - Perfection should bubble up on its own. 
But if there is a Cousin Word to Progress - it is "Done!" What a wonderful word! You design in your mind a day made up of small tasks; and complete each task and satisfyingly say to yourself: "Done!" If you are choosing a career as en Entrepreneur or as a Real Estate Professional, you need to know that Success is simply a Checklist; or to be more precisely a booklet made up of many small checklists. You Work the checklists daily and results will appear. Each Small Checklist you taken on and completed for the day, is followed with the satisfying expression: "Done!" 
You see Fear likes paralysis; it wants to stop you dead in your tracks and convince you that going any further is fraught with pain and misery. Fear is scared of the unknown, but there is little progress in your comfort zone. Fear wants to overwhelm you with facts that you are not ready; that you are not up to the task; that others have what it takes, but that you are not capable of reaching success. Fear looks to economize your energy, even though you have plenty of energy. So take fear with you as you work on your career and talk to it; Yes talk to Fear and make her a friend that no longer stops you - let me share a sample conversation you may want to have with Fear:  
"Hi Fear. I see that you showed up, just in time when I am about to make by daily prospecting calls. You have a way of knowing exactly when to make a grand entrance. Well have a sit. I am going to make the calls and I know what you are thinking: some of the people I am going to chat with are not nice and will make me feel small. Yep, that happens from time to time, but I am going to let it go quickly and move on to next call. I know that you want to remind me that some will say No and outright reject me because I am not good enough. You are right that might happen, but I am prepared - I know I am good at my job; I prepared for my calls but some will reject me - I get it. I will suck it up and go on the next call. I know what you are trying to do Fear, you are trying to protect me and I get that. So sit and watch as I make my calls; you will see that I can handle this. I have 10 calls to make in the next 25 minutes - so let's do this!" 
I even encourage to talk to Fear out-loud if you can; you are teaching her to know her place in your business. No one I have ever met has not had "Fear" try to interfere in their business; but they learn to desensitize themselves to it by taking Action. Take Action and when you complete a task say to yourself with joy and satisfaction: "Done!"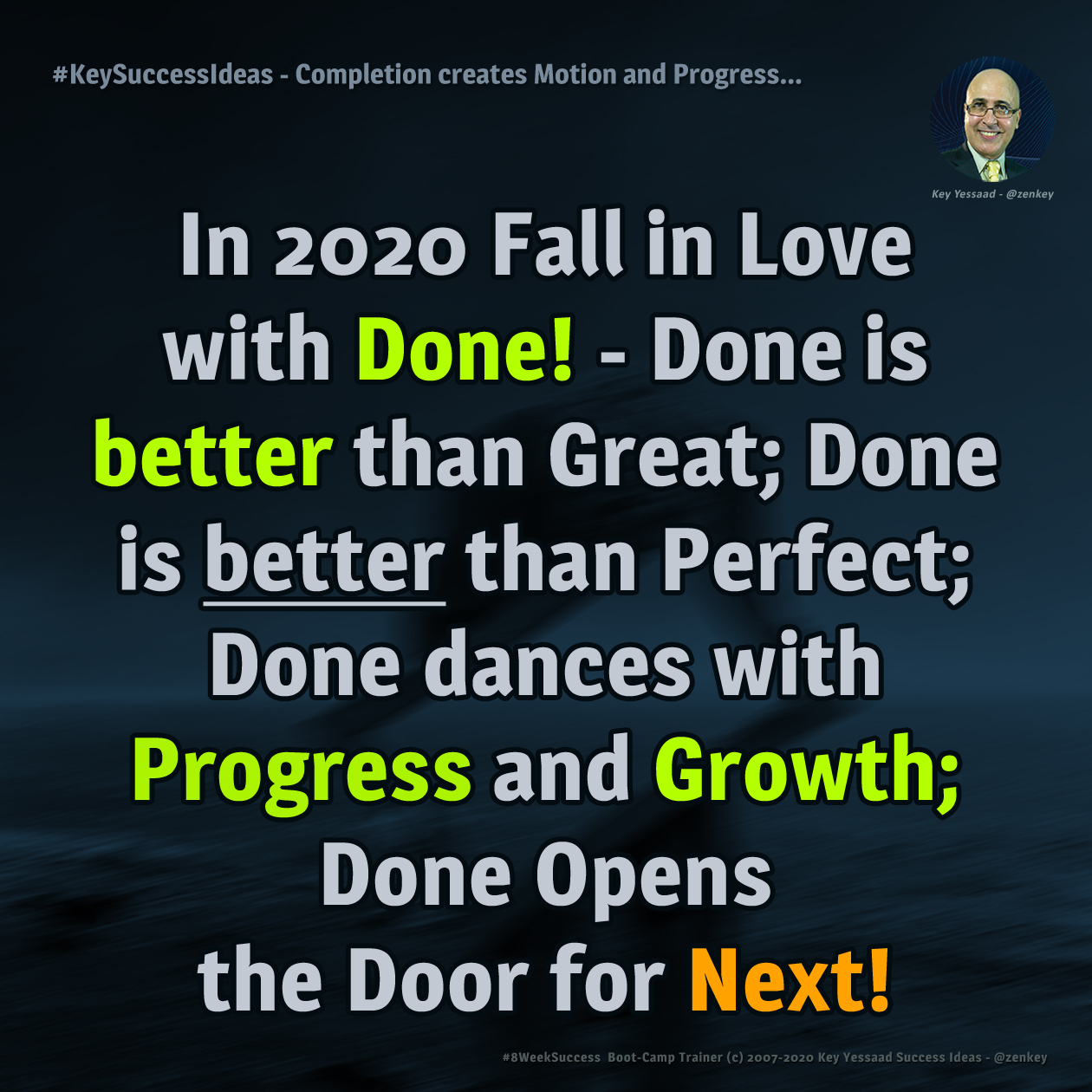 Written and Shared by Key Yessaad. Key is a Real Estate Mindset Trainer, Internet Strategist, and creator of the #8WeekSuccess Boot-Camp Program. Key has been a Trainer and Business Coach nearing 2 decades focusing primarily on empowering Agents develop the Skills and Habits of Prospecting, Web Services, SEO Strategies, Time Blocking, Blogging, Internet Marketing, Lead Generation, and Listing Success. (910) 538-6610 
Related Hashtags: #Progress #Done #Fear #Entrepreneur #KeyWorkshops #20in20 #RealEstateBootCamp #RealEstate #Inspiration #Success #RealEstateSEO - #RealEstateMentoring #RealEstateCoaching #Motivation #RealEstateTraining #KeySuccessTraining #LiveTrainingRE #Agents #RealEstateMotivation #Realtor
Categories: Key Success Ideas, Entrepreneurial Reality, Real Estate Business
Comments are disabled.