Ah the end of the year, in fact the end of the Decade; we are jumping into the 20's with a cool numbered year - 2020; it is a year that sounds sexy; it is a decade that we will call the Twenties, or the 2020's. - #KeySuccessIdeas - The previous decade did not have a name; it was name-wise blah. This one is exciting and it will cause many of us to start the decade right; maybe with some good resolutions to meet this splendid new beginning with courage, stamina, and determination. 
Before I talk about resolutions, being a Mathematician I like to factor numbers; 2020 gives us: 2020 = 2 x 2 x 5 x 101; so it has 3 prime factors: 2, 5, and 101. Does this mean anything? No. I just like to work out the factors of numbers for the fun of it; for example 2019 = 3 x 673 so 2019 prime numbers are 3 and 673. The decade we are entering has 2 years that are prime numbers 2027 and 2029; which means that these numbers are no divisible by any other number other than themselves and 1. Does any of this matter? No. 
But Resolutions or the urge to formulate and try to stick to Resolutions does matter. 
Why the urge to come up with resolutions as we enter a new year? It is almost a cleansing process; a desire to reach our higher self and knowing that some bad habits have accumulated the year prior. None of us want to take habits we are ashamed of into a new year, a new beginning, we wish to discard them and leave them behind. We want to exercise more so we are fit and enjoy life with fewer aches; we want to eat well; we want to drink less; we want to indulge less many of the addictions that afflict us all. All of these urges to welcome 2020 are our way to reach a more wholesome self; one that contributes more and is more centered. 
If you find yourself in that place then let's learn from others who have actually gone from the decision to create a resolution; to accomplishing the goal they wished for themselves. The insights I will share with you come from the Success Stories of my participants in the #8WeekSuccess Boot-Camp - which is, in the grand scheme of things, a Big Career Resolution. 
Step 1: Acceptance - The fact that this Resolution is on your mind means that you are on a journey towards your higher self. You must accept that it will not be easy; and that you will need to put out effort and intention for this Resolution to become part of the "new you" you are constructing. 
Step 2: Get yourself a Journal, Notebook, and/or Diary: A Good Resolution must travel from your mind to your Journal; you must write it down. The day you affirm and step up to take on that resolution you write in your journal what it is about this resolution that you feel so strongly about. You have to add emotion and mental cohesion to the importance of this resolution in "Future You!" Remember a Resolution is a not a punishment of the past but a creative act of a Future You.  
Step 3: Take Action on your Resolution daily and keep in mind that it will take you a minimum of 6 to 8 Weeks of Vigilance for it to take hold. You must write in your journal every single day what action you are going to take and you must have the courage to read the reason you wrote why this resolution is important in your life. This is called priming your mind to stay courageous about the activity. It is a type of Affirmation writing that relates to the goal you have committed to achieving. 
Step 4: Grab your journal and write at the end of the day any progress or setback you had that day. Set aside any judgment, punishment, or apathy. Just be matter of fact. If you experienced a setback try to find the trigger that caused the setback. Be very cautions of Perfection; it is progress that you are seeking - so stay the course even if you experience setbacks. 
Step 5: Finally Get yourself a Posse; a few people who care about you who will support you on this journey. Let them know what your Resolution is; Why this resolution is important to you; Ask for their advice; and Ask for their Support. Trying to do this by yourself can be hard. Also look to support your Posse with their goals and Resolutions - Maybe you talk once a day and see what progress you are making and what adjustments are necessary.  
Know that you can do this! Know that it is important for you to give it your Best! And finally do not be easily seduced by Perfection, seek instead daily Progress. Happy New Year and Happy New Decade!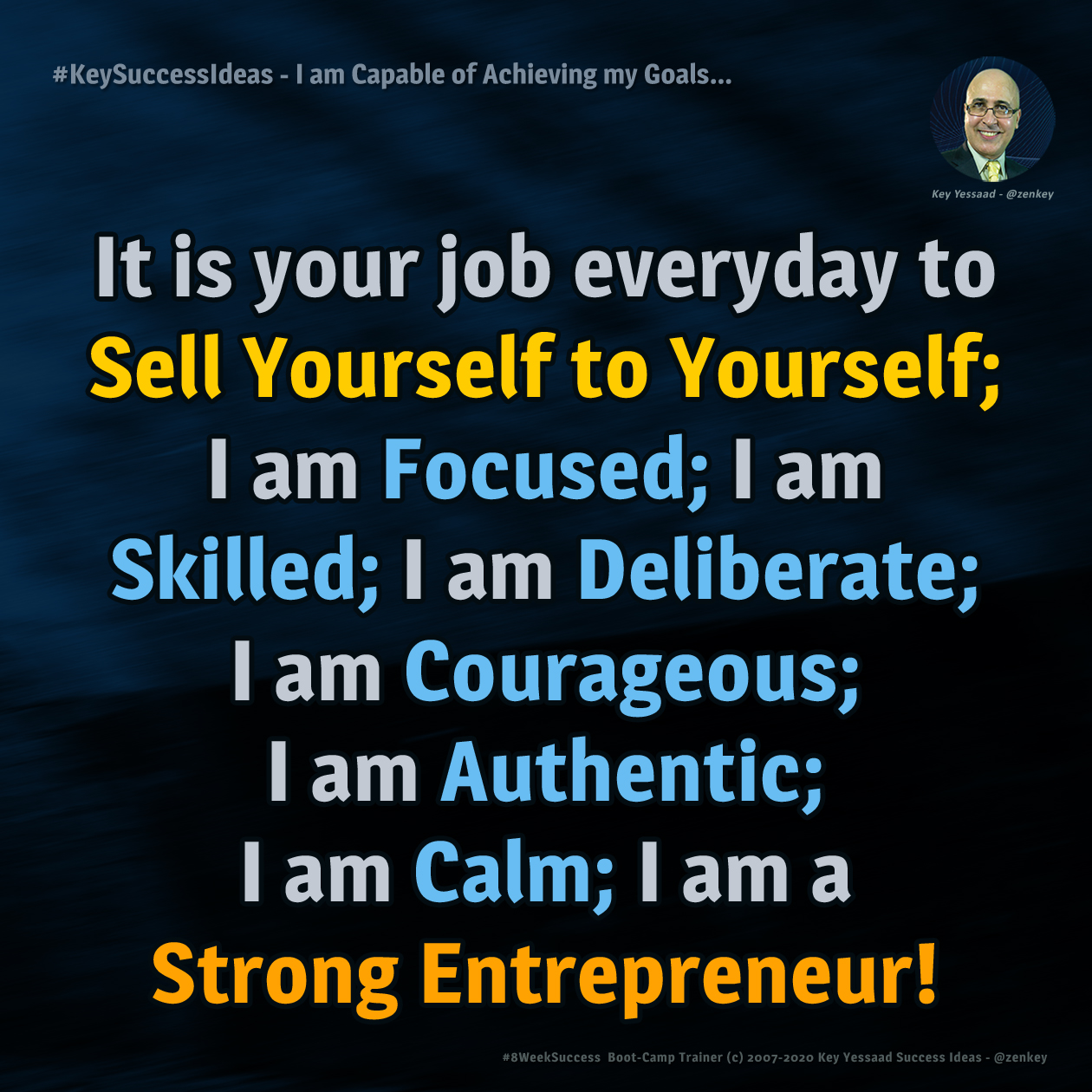 Written and Shared by Key Yessaad. Key is a Real Estate Mindset Trainer, Internet Strategist, and creator of the #8WeekSuccess Boot-Camp Program. Key has been a Trainer and Business Coach nearing 2 decades focusing primarily on empowering Agents develop the Skills and Habits of Prospecting, Web Services, SEO Strategies, Time Blocking, Blogging, Internet Marketing, Lead Generation, and Listing Success. (910) 538-6610 
Related Hashtags: #Resolutions #DailyProgress #Journal #Entrepreneur #KeyWorkshops #20in20 #RealEstateBootCamp #RealEstate #Inspiration #Success #RealEstateSEO - #RealEstateMentoring #RealEstateCoaching #Motivation #RealEstateTraining #KeySuccessTraining #LiveTrainingRE #Agents #RealEstateMotivation #Realtor
Categories: Key Success Ideas, Entrepreneurial Reality, Real Estate Business