The Road to Success is not always about obsessing about how to reach Success, but rather about focusing on the fundamentals of your endeavors and of your career. - #KeySuccessIdeas - This is the time a year for you to have clear goals for 2020 and to visualize them so they are clear in your mind, in fact if would help tremendously if you created a vision board that has a combination of images, numbers, and accomplishments that you place in a conspicuous place so you can see it daily. 
Now that you have your goals for income, for family, for lifestyle clear on your mind, we now have to slice up said goals into the activities components and place them in time; Daily Activities; Weekly Activities; Monthly Activities; Quarterly Activities, and Yearly Activities. You see Success is found in the handling of each activity with care and doing it to the best of our ability. Let us work on an example in Real Estate; each Real Estate Professional learns the importance of farming a neighborhood, and part of building the proper local knowledge is the Local Market Report of Real Estate Activities. A Smart agent generates an updated Market Report every two months for a specific Farm Area and studies it.  
This activity is quite important and must be handled with excellence; it reveals the local price fluctuations; the type of Properties Selling; the local Turn-Over; The Median Home Price fluctuation; The Days on Market; and much much more. So our local marketing Realtor must learn how to generate this report from their MLS Software; she may even have to take classes at the board of Realtors in order for her numbers to be accurate. 
Success in the Career of this realtor is how diligent she is about generating that Market Report; studying it properly; creating a Quick Snapshot of it; and distributing it in her local Farm Area. I can even see her using the power of Social Media to record a video describing to her clients the current Real Estate Market Conditions.  
Success is in essence the thoughtful and methodical approach to the Activities that make up the Goals that were set by the Real Estate Professional.  Many of our Brokers and Agents stop at the Goals and Vision Board stage, and do not dig deep enough in the Activities' Stage and spend time designing a proper long-term plan. Focus on the Mundane, the day to day activities, and do not postpone them - take them on, and work on them properly. Find Excellence in the Process not just in the obtaining of the Goal. 
There is another major benefit gained by working your small activities with deliberate intent - it builds Confidence! In Real Estate Deal-Making and Getting Listings is driven by Authentic Confidence, and your clients are looking for signs of it in you. Telling them you are confident will not get you anywhere; letting them see it in you as you talk about the local market conditions; checking your videos; getting a sense that you are a prepared Real Estate Professional is what you are after.  
Let me share with you 3 quotes that shine a light on Working the Details: "The difference between something good and something great is attention to detail." – Charles R Swindoll. "It's the little details that are vital. Little things make big things happen." - John Wooden. "Attention to detail is not about perfection. It's about excellence, about constant improvement." - Chris Denny.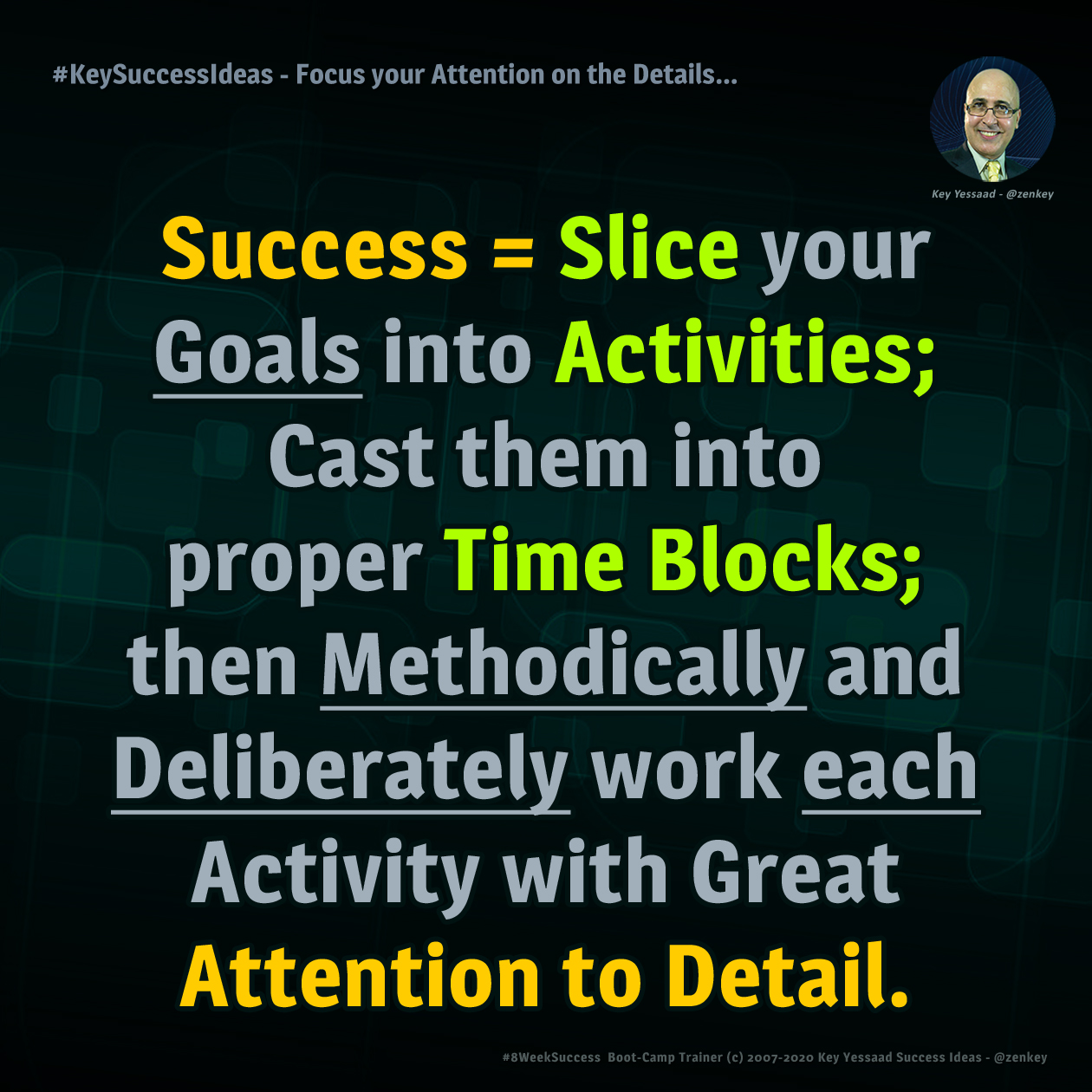 Written and Shared by Key Yessaad. Key is a Real Estate Mindset Trainer, Internet Strategist, and creator of the #8WeekSuccess Boot-Camp Program. Key has been a Trainer and Business Coach nearing 2 decades focusing primarily on empowering Agents develop the Skills and Habits of Prospecting, Web Services, SEO Strategies, Time Blocking, Blogging, Internet Marketing, Lead Generation, and Listing Success. (910) 538-6610 
Related Hashtags: #Activities #Details #Goals #Entrepreneur #KeyWorkshops #20in20 #RealEstateBootCamp #RealEstate #Inspiration #Success #RealEstateSEO - #RealEstateMentoring #RealEstateCoaching #Motivation #RealEstateTraining #KeySuccessTraining #LiveTrainingRE #Agents #RealEstateMotivation #Realtor
Categories: Key Success Ideas, Real Estate Business, Entrepreneurial Reality