When you are new to being an Entrepreneur you want to learn everything, and of course, you want to avoid making mistakes - which is very understandable. #KeySuccessIdeas -There is a lot to learn. Take for example Real Estate as a Career, you not only need to learn how to take a transaction from inception to completion, you have to learn how to go get the business and the clients for whom you are going to service said transactions. It sounds easy but it demands Discipline and Resilience.
Many Real Estate Professionals delve into the transaction handling process, and lots of them become quite good at it, but have a hard time making a living in this industry. Their thinking from the get go is not quite complete; the big picture of their career is not full yet with all the important aspects of their Profession - so let me make it quite clear: The Real Estate Industry does not need more Transaction Processors; Our Industry needs more Prospectors who are skilled at Transaction Processing. It is the Prospecting Side that dictates your success in this business and only a few do take it on. 
People ask me why it is that I allow New Agents in my demanding Boot-Camp Programs; they assume since these individuals are new to the industry they need to learn to crawl before they can run - I could not disagree more. It is much harder to realign the priorities of an agent who has been in the business 3 to 5 years than to start a new professional with the Right Priorities. Let me oversimplify the formula: Prospect, Follow-Up, Service, then Repeat! 
Of course the above formula is an Over-Simplification of a Real Estate Career; but if you truly study the important Money-Making Activities of Successful Real Estate Professionals and wanted a neat simple way to illuminate it, it would be: Prospect, Follow-Up, Service, then Repeat! 
If your focus has not been on Prospecting and wished a better way of understanding that part of your business here is a definition: Prospecting is the Act of Asking for Business. As a Real Estate Professional you are in the Business of Asking for Business. A Negative Way of thinking of your business is: When you Stop Asking for Business your Business dries up. The most important idea to become comfortable with then master is: "Asking for Business is My Business!" "I am a Hunter first and foremost!" "There are No Transactions for Me to Process if I don't first capture clients first!" - You get the idea. 
This is what I would like you to learn and incorporate in your life: Prospecting is not reserved for the few - Prospecting is a Skill! A Learned and Applied Skill! Read Books; Find Coaches; Take Training Seminars; and/or become the understudy of a Prospecting Top Agent. Wake up every morning with Time Blocks set for Prospecting. I hope you are one of the lucky ones who work for a Prospecting Brokerage - this is how you know you do; there are For-Sale Signs all over town with your Brokerage Name on them. Remember this for the rest of your career: You are Responsible for Creating the Conditions of your Success and therefore MUST Prioritize your Prospecting! Happy 2020 - #8WeekSuccess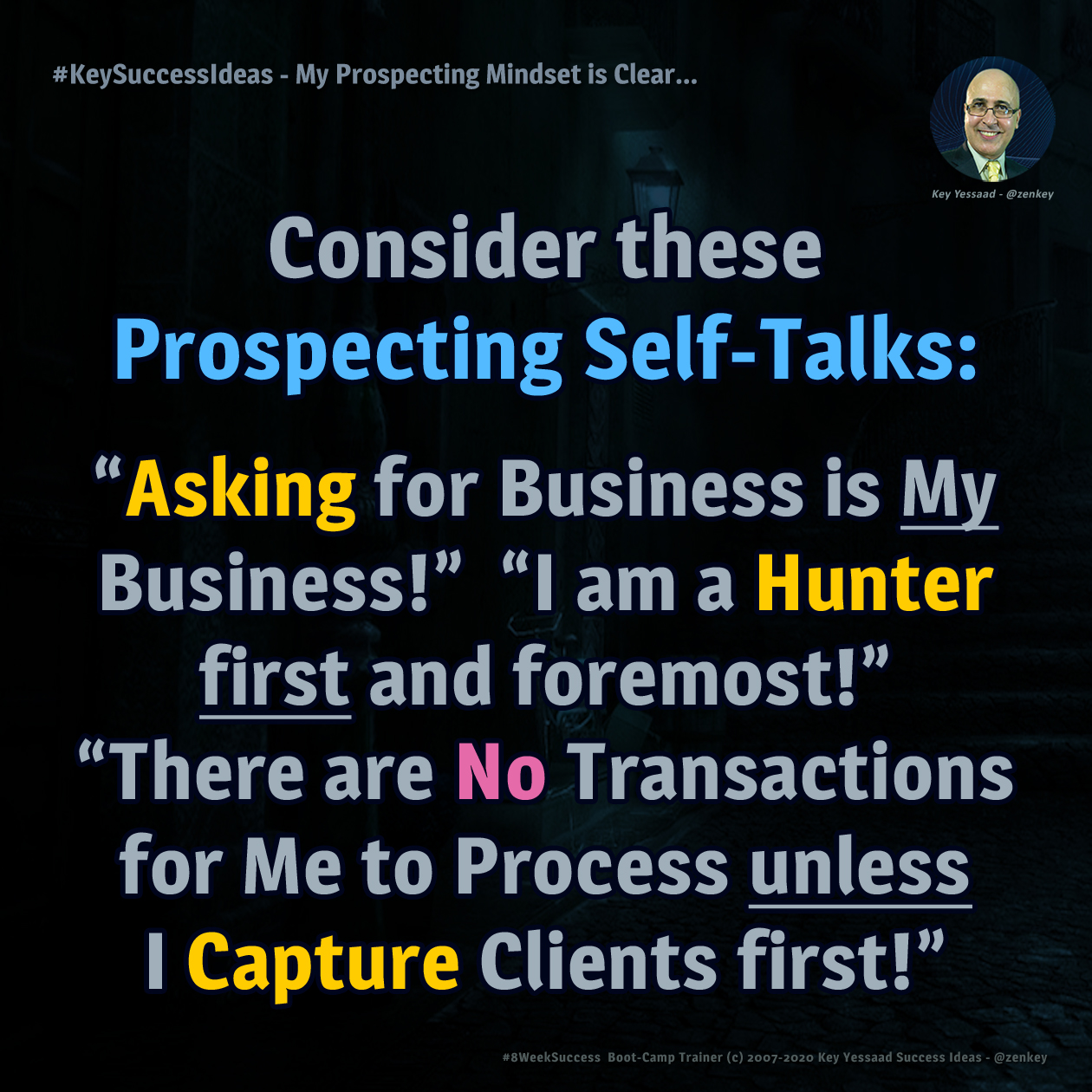 Written and Shared by Key Yessaad, Master Real Estate Strategist, Veteran Real Estate Trainer, Boot-Camp Instructor, Expert SEO Consultant, Internet Marketing Specialist, and Business Mentor/Coach. (910) 538-6610 - https://www.realestatewebtrainer.com/ 
Related Hashtags: #Prospecting #AskForBusiness #Prioritize #Entrepreneur #KeyWorkshops #20in20 #RealEstateBootCamp #RealEstate #Inspiration #Success #RealEstateSEO - #RealEstateMentoring #RealEstateCoaching #Motivation #RealEstateTraining #KeySuccessTraining #LiveTrainingRE #Agents #RealEstateMotivation #Realtor
Categories: Key Success Ideas, Real Estate Business, Real Estate Prospecting
Comments are disabled.