Success is the constant battle between Good Habits and Complacency; it is a never-ending battle. #KeySuccessIdeas - You will not wake up one day having conquered Complacency once and for all, but you can keep it in check by ongoingly designing Good Habits and being mindful of your Daily Activities. Complacency has something going for it and it is inertia, it can sneak up on you and me, but it does not require any effort - all you have to say are things like this: "I don't have to get up at 6am, I will sleep in." "I don't have to work on this now, let me watch some TV." You see no effort; just a surrendering to its seduction. 
Don't kid yourself Complacency is seductive and we are all at her mercy; we have to fight hard to keep her at bay… This is fundamentally true of Entrepreneurs and Real Estate Professionals who are essentially their own bosses. Good Habits, Good Routines, and Positive Checklists are our only hope for making a dent in the corrosion of Complacency and its friends: Procrastination, Indecisiveness, Lethargy, Apathy, Negligence, Indifference, Boredom, Laziness, and the lack of Deliberate Daily Action. 
This afternoon I will be giving a talk on "The 8 Fundamental Success Habits of Accomplished Entrepreneurs and REALTORs®" and nudging participants to develop better daily Routines. I will dig into the details of each of these habits and How Smart Agents leverage them to generate more appointments; more deals; and balance in their Work/Life endeavors. 
Here are the Eight Success Habits:
They Control their Morning… They go to bed early; Wake up early - have time to reflect; then work on a hard important project first.  
They Feed their Mind… They read daily; journal their ideas, fears, and insights; then send messages of Gratitude.  
They Rehearse… They become good by using proven Scripts and gradually adapting them to their own Style. 
They Engage… They block about 2 hours daily to make calls, follow up Calls, and focus on Nurturing their leads.  
They End their Week… They Close out their Week every week and plan the week to come with projects, calls, and Follow-Ups. 
They Walk Away… They take a day off from their business and phone and focus on their family and Well-Being. 
They Systematize… They turn everything they do that is repetitive into a checklist – they do not rely on their memory. 
They Respect Themselves… They learn to say No and are NOT driven by Desperation to grow their Business! 
Let me share a couple of Success Quotes: "Many of life's failures are people who did not realize how close they were to success when they gave up." - Thomas Edison. "No one who achieves success does so without the help of others. The wise and confident acknowledge this help with gratitude." - Alfred North Whitehead. "Success is connected with your actions. Successful people keep moving. They make mistakes, but they don't quit."  - #8WeekSuccess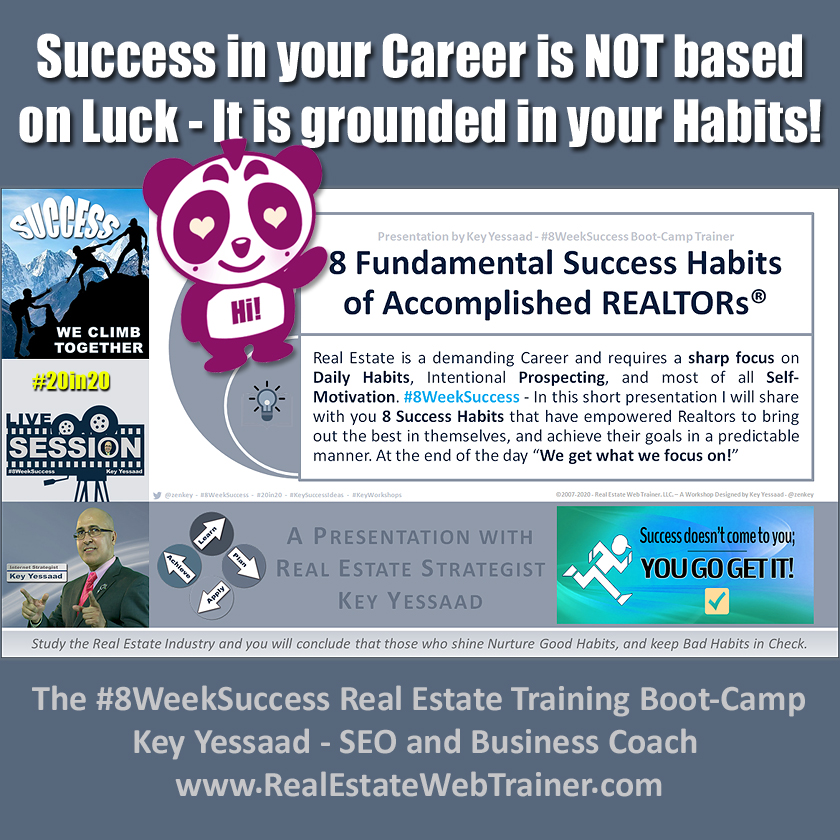 Written and Shared by Key Yessaad, Master Real Estate Strategist, Veteran Real Estate Trainer, Boot-Camp Instructor, Expert SEO Consultant, Internet Marketing Specialist, and Business Mentor/Coach. (910) 538-6610 - https://www.realestatewebtrainer.com/ 
Related Hashtags: #GoodHabits #Complacency #TakeAction #Entrepreneur #KeyWorkshops #20in20 #RealEstateBootCamp #RealEstate #Inspiration #Success #RealEstateSEO - #RealEstateMentoring #RealEstateCoaching #Motivation #RealEstateTraining #KeySuccessTraining #LiveTrainingRE #Agents #RealEstateMotivation #Realtor
Categories: Key Success Ideas, #8WeekSuccess Boot-Camp, Real Estate Business