The most significant hunger for Entrepreneurs is the desire to learn; to absorb ideas and find a way to implement them in one's business. #KeySuccessIdeas - Smart Entrepreneurs know that they are in the business to Personal Growth; they must get themselves in tune with the demands of the marketplace. Personal Development is a daily grind of good habits replacing the bad ones until said Good Habits become wired into the fabric of everything they do. Much like athletes tune their bodies to perform at a high level of performance, so must Entrepreneurs tune their minds to take on the demands of Success.  
One important skill Entrepreneurs and Real Estate Professionals develop is the ability to measure activities; they do not simply engage an activity and see what happens - they also pause and ask themselves: What would be a Good Outcome and what would be considered a Great Outcome? Let's work through an example: The Broker of an Office decides to hold an event in order to showcase how special her Brokerage is, and use it as a Platform to recruit new talent. She sits down with her staff and they agree on the venue, the date, the time, the food, and Guest Speaker. Now that the logistics are set we have to move to the invitation stage - this is the time for them to pause and ask: What would the outcome of this event make it Good? What would make it a Great event? 
If you are not striving for an outcome then you are not really approaching your events as entrepreneurs, but rather as automatons and you miss the opportunity to get better. Our Broker and her team decide that a Good Event will have 10 Guests in attendance and 15 agents from the Brokerage - they call that their base results; or their must results. They also decide that a Great event would be 15 Guests and 15 agents from the brokerage - this is their striving goal and that's what they plan for. So before they design any invitation; prepare any Script; discuss the event with their agents; or even invite the Guest Speaker they agree what Good and Great look like, and design their strategies around them.  
By the way, if this is the first time you are working on such a project, you may have to go to a coach or mentor and ask them what their experience says Good and Great Outcomes look like. Never forget that we make Progress by measuring Progress; if at the end of the day you do not have numbers to measure your day, you are not approaching your business as an entrepreneur; you are approaching it as a game of chance.  
Fall in love with numbers; used properly they validate the truth of your business - so let's talk Real Estate Business. What is a Bad Week? No Appointments; what is a Good Week? One Appointment; what is a Great Week? 3 Appointments, of which 1 is with a Seller. In terms of transactions, what is a Good Year? 1 Closing per month; what is a Great Year? 2 Closings per month. Whenever you tackle a project, especially a prospecting project in your business you must ask yourself: What is a Good Outcome? What is a Great Outcome? Then design your plan of action around those numbers. Work your business with intention and match the actions to serve your intentions.  - #8WeekSuccess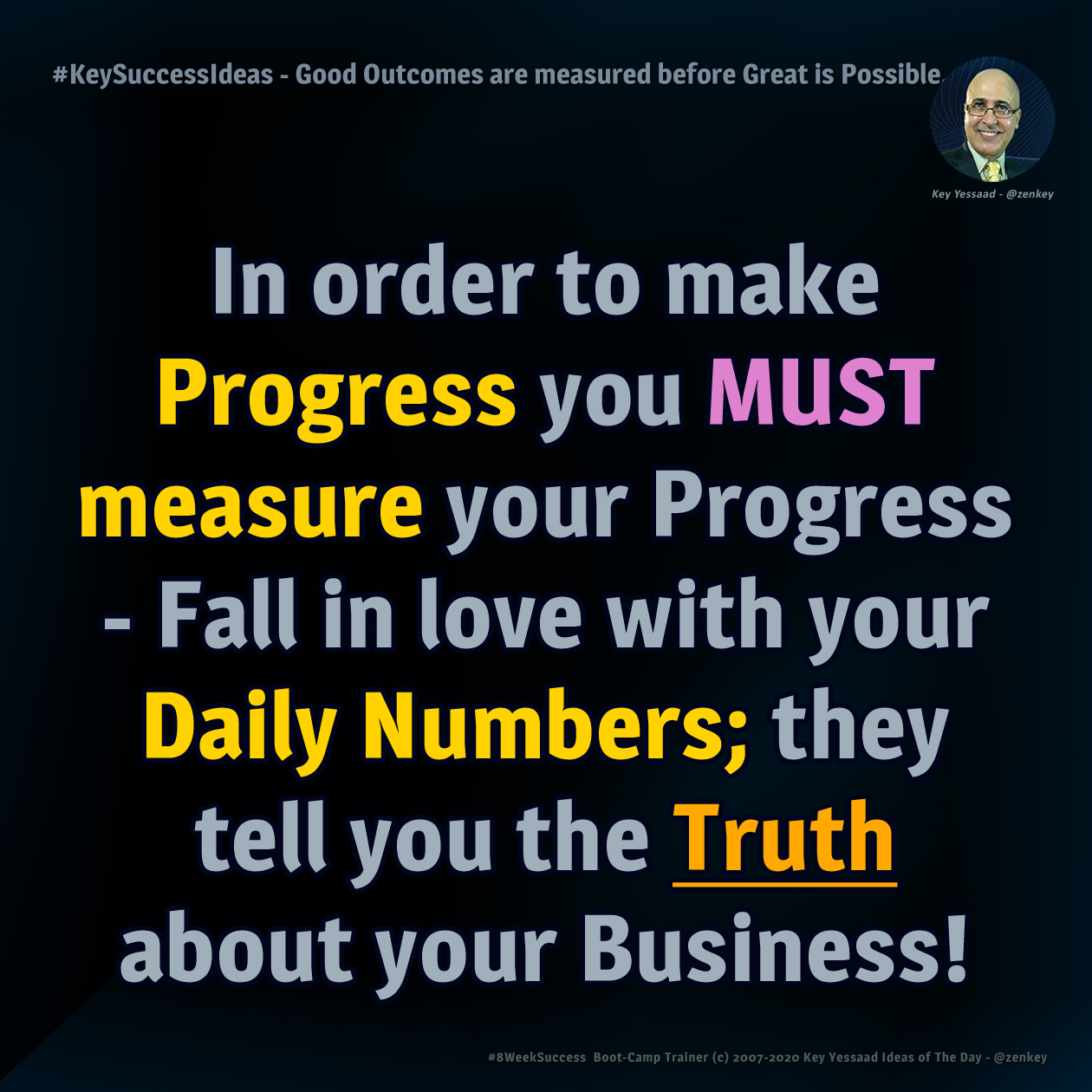 Written and Shared by Key Yessaad, Master Real Estate Strategist, Veteran Real Estate Trainer, Boot-Camp Instructor, Expert SEO Consultant, Internet Marketing Specialist, and Business Mentor/Coach. (910) 538-6610 - https://www.realestatewebtrainer.com/ 
Related Hashtags: #Measure #Outcome #Plan #Entrepreneur #KeyWorkshops #20in20 #RealEstateBootCamp #RealEstate #Inspiration #Success #RealEstateSEO - #RealEstateMentoring #RealEstateCoaching #Motivation #RealEstateTraining #KeySuccessTraining #LiveTrainingRE #Agents #RealEstateMotivation #Realtor
Categories: Key Success Ideas, Entrepreneurial Reality, Real Estate Business