The Forgotten and Overlooked skill of Canvassing in Real Estate continues to be disregarded as an important strategy of growing one's business and the reasons for it make complete sense. #8WeekSuccess - Before we delve into the reasons let's talk about established agents, the ones who have been in the business 5 to 15 years, and have built up a book of business of past clients; they have established a solid referral business. Once you have generated more than 200 Sales you realize that staying in touch with past clients is truly the source of your future business; Real Estate, in the long-term becomes a word of mouth for those who have paid their dues. The Good news is 1 in about 20 Real Estate Agents makes it to this club of well-respected agents, and they themselves become draws to other agents; or sometimes they become Brokers who open their own Real Estate Offices. 
When new agents come into the business, they are of course mesmerized by the success of these top agents, and many of them share what they do daily to grow their business - the problem New Agents have yet to build up their book of business, the only thing they have is their Sphere of influence - friends and family who know that they are a new Real Estate Agent; not yet an established one. Let's give this phenomenon a name - Rookie: New Agents have not worked enough with strangers and convinced them to Buy or Sell in order for them to have a reputation to use for Referrals yet. 
Enter Canvassing! You see Prospecting at the local neighborhoods is about building one's name in order to get listings locally, an activity established agents forget all about because their referral business provides all the business they need – you see, when you start generating 25 deals a year you are earning more than $150K in Gross Commission; it is not that you become lazy and do not want to Canvass - you don't need to do it. New Agents in the first 5 years of their business cannot rely on their Sphere of Influence, but that's what we keep teaching them to do - they need to learn to canvass with local neighbors to build up their inventory. 
Canvassing is a skill, a learned and practiced skill, but very few learn it organically - meaning to canvass without Overt Soliciting. Building your Real Estate Listing inventory early on in your career is the only way to remain relevant in this tough business, and expecting your Facebook friends to send you business is a Wishful Business Plan, it is not a strategic long-term career move. 
In Session 6 of the #8WeekSuccess Real Estate Boot-Camp I will focus our participants on three major areas of Business; the first being the national Statistics of Homeownership and how they affect your future business. Then we will learn the third Canvassing Technique of the course in order to engage Homeowners who are thinking of selling their Homes. Finally we will learn how to approach Social Media Marketing and layer it properly in our daily business.  
The #8WeekSuccess Boot-Camp is an intensive course that 24 to 30 agents qualify in at a time. It was designed for those who are or plan to be Full-Time in Real Estate and earn no less than $100K in Gross Commission. Measured in time the course spans 3 months and is meant to build the Business of Real Estate Success from the ground Up!  #RealEstateSocialMedia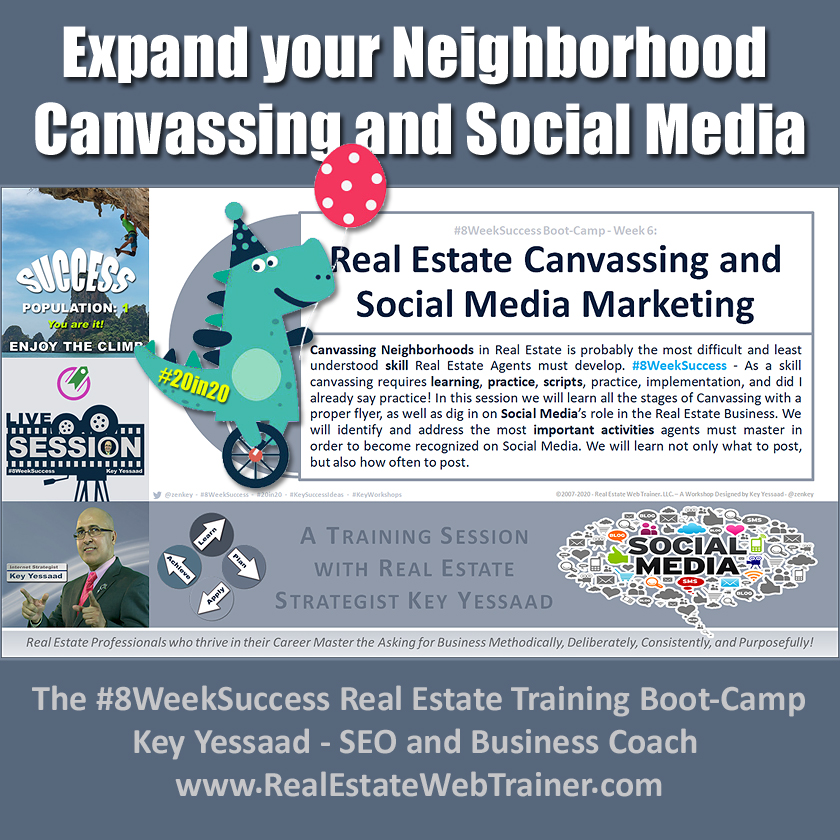 Written and Shared by Key Yessaad, Master Real Estate Strategist, Veteran Real Estate Trainer, Boot-Camp Instructor, Expert SEO Consultant, Internet Marketing Specialist, and Business Mentor/Coach. (910) 538-6610 - https://www.realestatewebtrainer.com/ 
Related Hashtags: #Canvassing #Prospecting #SocialMedia #Hashtags #Entrepreneur #KeyWorkshops #20in20 #RealEstateBootCamp #Inspiration #Success #RealEstateSEO - #KeySuccessIdeas #RealEstateMentoring #RealEstateCoaching #Motivation #RealEstateTraining #KeySuccessTraining #Agents #RealEstateMotivation #Realtor
Categories: #8WeekSuccess Boot-Camp, Real Estate Prospecting, Social Media Marketing