Is there a big difference between boosting an Ad in Facebook/Instagram versus placing an Ad in Google Search? Well Yes! #LiveTrainingRE - I am sure you could see that answer coming a mile away; but let me dig deeper on the essence and meaning of it. When you place an Ad on Facebook, and for that matter Instagram, Twitter, LinkedIn, Pinterest, etc. you are selecting an audience and having your "Ad post" show up in the stream of their friends' posts. You are in essence imposing a viewership of an Ad in someone's stream of connections; much like Newspaper share with you articles and spray ads in the middle of them. This is also the same type of adverting with banners and articles Yahoo uses as well as all News websites on the internet; the biggest difference is with Social Media the audience keeps coming back to check on what their friends are doing. 
Placing an Ad in Search Engine, especially the biggest one on the planet, Google, is totally different; the Search Phrase determines the audience - or in essence the audience does not exist until it decides it has a need. Let me use an example; let us say you specialize is the making of Christmas Sweaters and you sell them directly through your website to consumers; you decide to place an Ad in Google Search so when someone searches for Christmas Sweaters your Ad will appear, then they can decide to click on it or not; and if they do they end up on a page you created that shows them a variety of Christmas sweaters with prices and a way to purchase them. In this instance you were not targeting an audience - you were targeting a need or desire. 
This second type of advertising, called Pay-per-Click Advertising, is driven by the consumer - not imposed on the consumer; this is why in Real Estate it generates more leads than passive Social Media Ads. The marketer decides on the pain point or the opportunity by creating keyword phrases, then bids on them in Search Engine Portals, and waits for visitors with that need to click on their Ads and land in their website. Examples of Search Keyword Phrases in Real Estate are: "Thinking of Selling your Home in Charlotte" or "Homes for Sales in Chicago" or "Ocean View Condos for Rent in Myrtle Beach" or "Golf Course Properties for Sale in Savannah" etc. 
Have you ever looked under the hood of Lead Generation Companies' Websites? These providers are simply Web Providers who attach your IDX to Landing Pages, Select a few Keywords, and buy advertising from Google, Bing, Yahoo, and other Network Platforms to generate clicks; which sufficiently of them will generate registrations. PS: They call them leads - they are simply internet registrations that you need to turn into leads. 
These providers are quite useful for brokers and take on the headache of setting up a campaign, which is not that difficult but convenience helps. But what if you were an individual agent or a small team and you wanted to run your own targeted campaigns - can you do it? Yes you can! In fact you may already have all the ingredients; you just need to understand a few more concepts. 
When we meet at Session 12 of the i-FAStTRAC 201 Real Estate Training Program I will show you all the ingredients you need to launch your own PPC Campaign; but first we must learn what they are and the entire lingo that comes with it. I will also show you how to bid on keywords and how to be highly localized so you don't waste your money.  
Our Training Program is Live and Interactive; all sessions are 3-Hours long over Live Video Conferencing in each office training room, with Webcams and Special Microphones, and start at 1pm Eastern - Don't forget to download your Handout Booklets and see you all in Class: https://www.liveinteractivetraining.com/  - #RealEstatePPC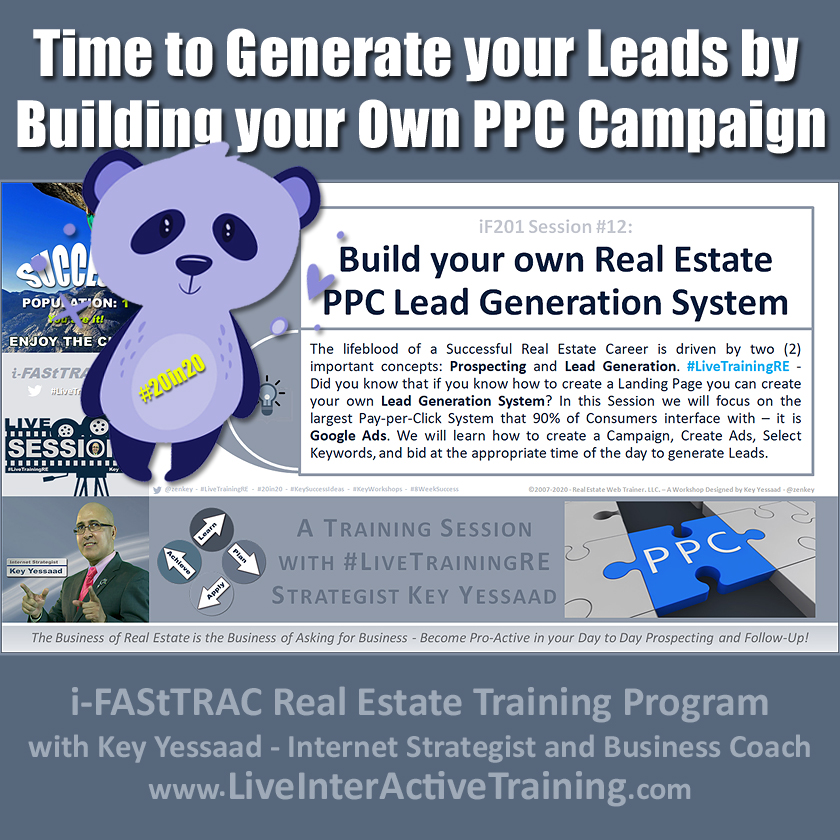 Written and Shared by Key Yessaad, Master Real Estate Strategist, Veteran Real Estate Trainer, Boot-Camp Instructor, Expert SEO Consultant, Internet Marketing Specialist, and Business Mentor/Coach. (910) 538-6610 - https://www.realestatewebtrainer.com/  
Related HashTags: #GoogleAds #PPCMarketing #PayPerClicks #LeadGeneration #20in20 #RealEstate #Marketing #Realtor #RealEstateMarketing #Success #Motivation #Entrepreneur #RealEstateSEO #RealEstateTraining #RealEstateCoaching #RealEstateSuccess #KeySuccessTraining
Categories: i-FAStTRAC Training, Real Estate Websites, Real Estate Trainings