Let me share with you a non-Marketing Definition for Social Media: Social Media is a targeted Audience type of micro-Blogging. That's it! #LiveTrainingRE - The roots of Social Media are Blog Posts and blogging is not limited by Social Media Platforms to an audience they call friends; it is open to all who wish to read them. The reason I start there is because many have reduced their marketing to what they call Social Media; rather than use Social Media as part of their marketing. This is a major distinction in Real Estate since the majority of our clients are not our friends - they are in fact so-called strangers.  
Real Estate Professionals can build a solid business on Referral Leads but it takes a solid decade to get it to that point; and Social Media plays a great role in these instances. But for those who are at the beginning of their Real Estate Careers they have to build the 300 to 500 transactions that create a Solid Referral Business; therefore you have to balance Social Media with Traditional Marketing and Overt Prospecting Activities. 
The Power of Social Media is not as Selling Platforms but rather as Educational Platforms. Think of yourself as the Local Real Estate Advisor and Educator focused on your Local Market. As you know Real Estate is never stagnant, it is always in flux and that gives you an edge if you become the mouthpiece for it on Social Media. But my advice is to NOT ignore your Blog Platform, and to start sharing long form the happenings of your Market in your blogs. You do not have to write a blog a day but 2 to 3 blogs a month would already put you ahead of most Real Estate Agents and Brokers. You See with Blogs you get the benefit of Spiders; the internet Web Crawlers that find content and attach Keywords to them and to the professional sharing it. Social Media Platforms are closed platforms and do not allow Search Spiders in them; and that makes sense for two reasons - one they want only your "friends" to see what you post; and if you want to go beyond them you will need to buy advertising, which they call boosting. 
By virtue of you being a Real Estate Professional you naturally understand that you must create Lead Funnels; in fact many Lead Funnels; and one of them is Social Media. Social Media Marketing is NOT about Selling, it is about opening the door to conversations - in other words engagement. Currently there are five major platforms that agents must embrace properly and each one has its strengths and weaknesses. 
Social Media Marketing is a subset of Inbound Marketing, which simply means it is driven by Customer Needs and Desires - so we are best to use the platforms to Excite; to Educate; to Show you working Real Estate; and to connect at the community level. 
During Session 10 of the i-FAStTRAC 201 Real Estate Training Program I will be discussing the Habits and Methods best utilized on Social Media. I will also provide you with a Plan of Action that will increase your visibility and lead to more engagement with future possible clients. We will also discuss proper usage of #Hashtags, hyperlinks, and end the session with how to develop an Entrepreneurial Mindset.  
Our Training Program is Live and Interactive; all sessions are 3-Hours long over Live Video Conferencing in each office training room, with Webcams and Special Microphones, and start at 1pm Eastern - Don't forget to download your Handout Booklets and see you all in Class: https://www.liveinteractivetraining.com/  - #SocialMediaMarketing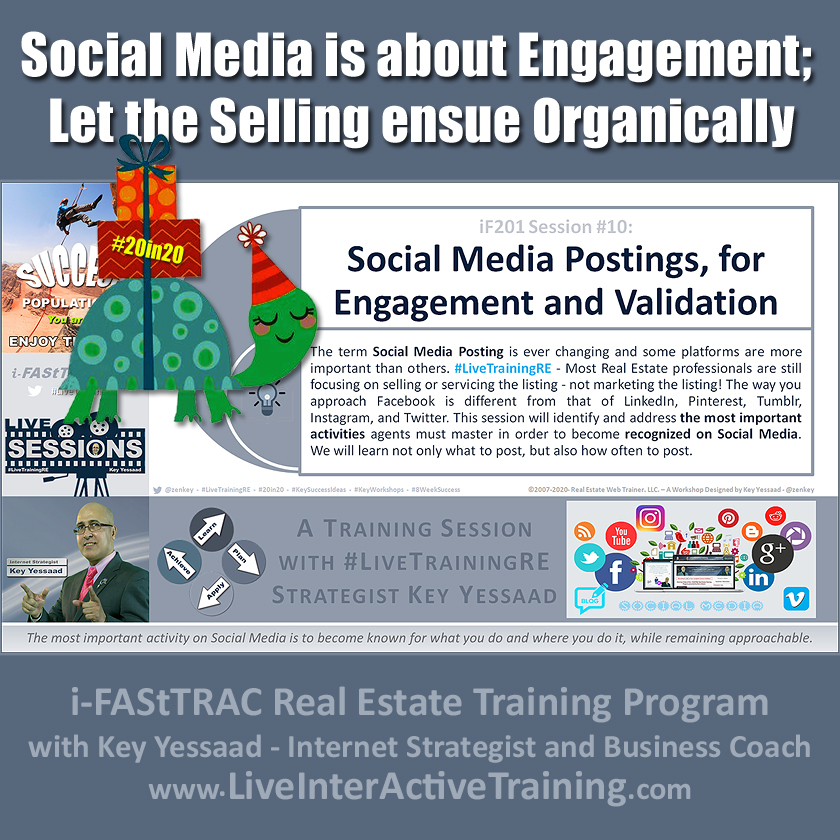 Written and Shared by Key Yessaad, Master Real Estate Strategist, Veteran Real Estate Trainer, Boot-Camp Instructor, Expert SEO Consultant, Internet Marketing Specialist, and Business Mentor/Coach. (910) 538-6610 - https://www.realestatewebtrainer.com/  
Related HashTags: #SocialMedia #SMM #InboundMarketing #Engagement #Validation #Visibility #20in20 #RealEstate #Marketing #Realtor #RealEstateMarketing #Success #Motivation #Entrepreneur #RealEstateSEO #RealEstateTraining #RealEstateCoaching #RealEstateSuccess #KeySuccessTraining
Categories: i-FAStTRAC Training, Social Media Marketing, Real Estate Trainings