Social Media, Video, and Pay-per-Click Marketing are the three big topics of my advanced Training Classes this week in the i-FAStTRAC Real Estate Training Program. #LiveTrainingRE - But before I share insights on those classes let us chat about Homeownership in the United States; or more precisely Homeownership Rates. The tracking statistics we have start in 1965 and at that time Homeownership was shy of 63% and it steadily and slowly grew to a peak of 65.5% in the third quarter of 1980, or close to 1% every 5 years - a very healthy stable clip. Just to give you a sense of how big 1% homeownership rate means, it is the equivalent today of 13.8 Million Units of Housing. Another way to understand this big number is to know that in the U.S. yearly new construction only generates 1.1 Million Units and most of these Single Family Homes are in the $350K whereas the affordability factor based on wages is in the $225K.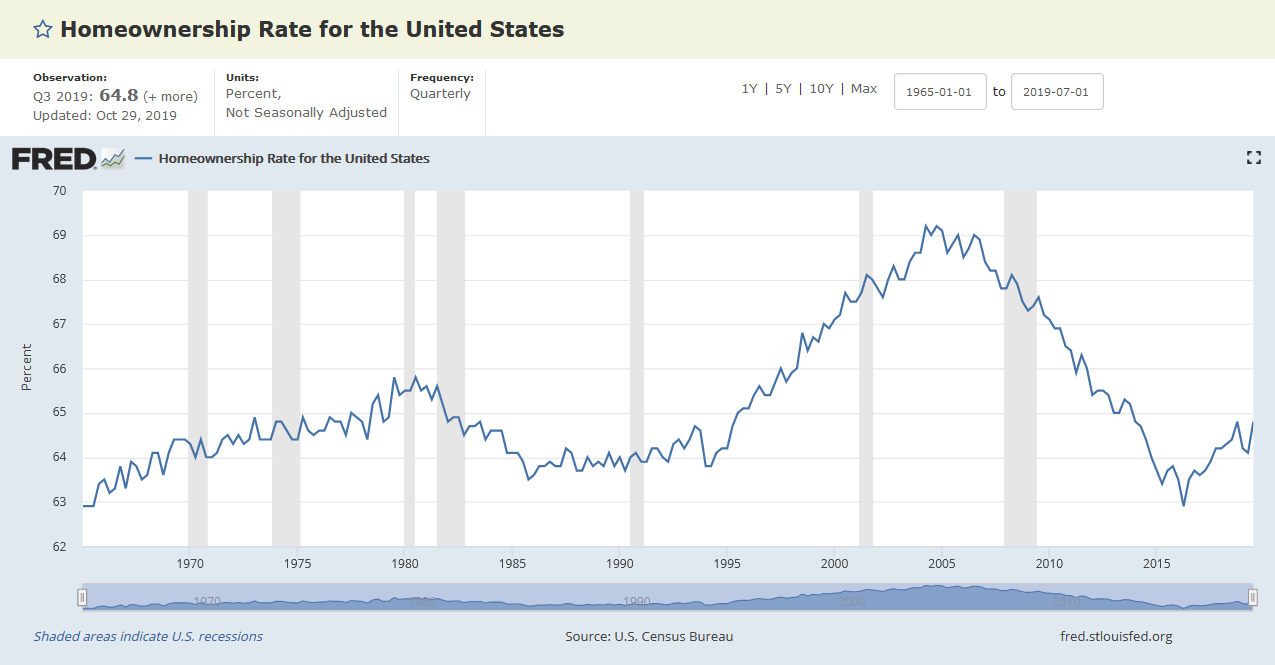 Then during the recessions of 1980 and 1981 through 1983 the rates dropped again to 63.5% and meandered there until the second quarter of 1994; meanwhile home prices continued to steadily rise, pricing out more and more families out of ownership. Then came the easing of lending standards and the exuberance that followed it; we steadily grew from 63.5% in 1996 to 69.2% by the end of 2004, and incredible pace and with all that exuberance came a rise in prices that was simply due to monetary facility not pure economic values. The U.S. Median Home Prices as a gauge moved from $129K to $229K, that's $100K increase in Home Values in about 8 years; meanwhile wages for Teachers, Nurses, Police Officers, Fire Fighters, etc… did not budge at all; in fact they shrunk when inflation adjusted. This exuberant irrational expansion has been well documented and has given us the 2008 and 2009 major recession. 
From the peak of 69.2% at the beginning of 2005 we slid, quite precipitously to 62.9% in the 2nd quarter of 2016 - that bottom brought us back all the way to the 1965 rate of Homeownership. These are not just numbers; these are families struggling to have proper housing to raise their families. The good news, at least for now, we have hit bottom in 2016 and a slow methodical expansion is occurring. We are currently at 64.8% Homeownership, and with Home Prices not budging we may meander around the 65 % in the new decade.  
Let me explain why we may get stuck and meander around the 65% Homeownership Rate; two forces are at play: During the housing recession Median Home Prices dropped from $229K to $208K in Q1 of 2009 then started climbing to  the $330K range, that's a 58% increase in a decade and wages have barely climbed. The second force is a typical U.S. family is looking for the elusive affordable 3 bedroom 2 bath around $225K but builders can only build 1.1 Million Units a year around the $350K and up; for some families this simply means becoming renters for life.  
I share all these statistics with you Real Estate Professionals so you can become savvy about the market; a good realtor knows their Statistics; but Not just the National type - the local kind. Take seriously studying your local Real Estate Statistics and track them properly. Get in the habit of generating Market Reports Quarterly and spend time understanding them; this will make you valuable in the Marketplace. 
This coming week, Tuesday December 10th through Thursday the 12th, is my Week of Training with all of you on Live Interactive. #LiveTrainingRE - The three 3-Hours Workshops on the i-FAStTRAC Real Estate Training Program will focus on three topics: Social Media Engagement, Video Marketing, and Search Advertising. 
During the Social Media Class on Tuesday we will design a Strategic Plan to create more engagements and interactions; and Yes it is a Plan with deliberate implementation. The next day we will tackle the BIG Topic of Video Marketing, and it is a big one - during the session we will build the right tools for the right platforms and start using Videos for Education and Validation. We will then follow Video with Pay-per-Click Marketing on Thursday; some call it Internet Advertising, others Search Engine Ads, and yet another way of calling it is Cost per Click Marketing with Keywords and Landing Pages. 
This will be a jam-packed week of Inbound Marketing Strategies for Real Estate Agents and Brokers so you can generate more leads and work with more consumers - Let's not forget that the hard work you do must lead to appointments; the magic of the Sale happens at the Appointment! 
Our Training Program is Live and Interactive; all sessions are 3-Hours long over Live Video Conferencing in each office training room, with Webcams and Special Microphones, and start at 1pm Eastern - Don't forget to download your Handout Booklets and see you all in Class: https://www.liveinteractivetraining.com/  - #RealEstateSuccess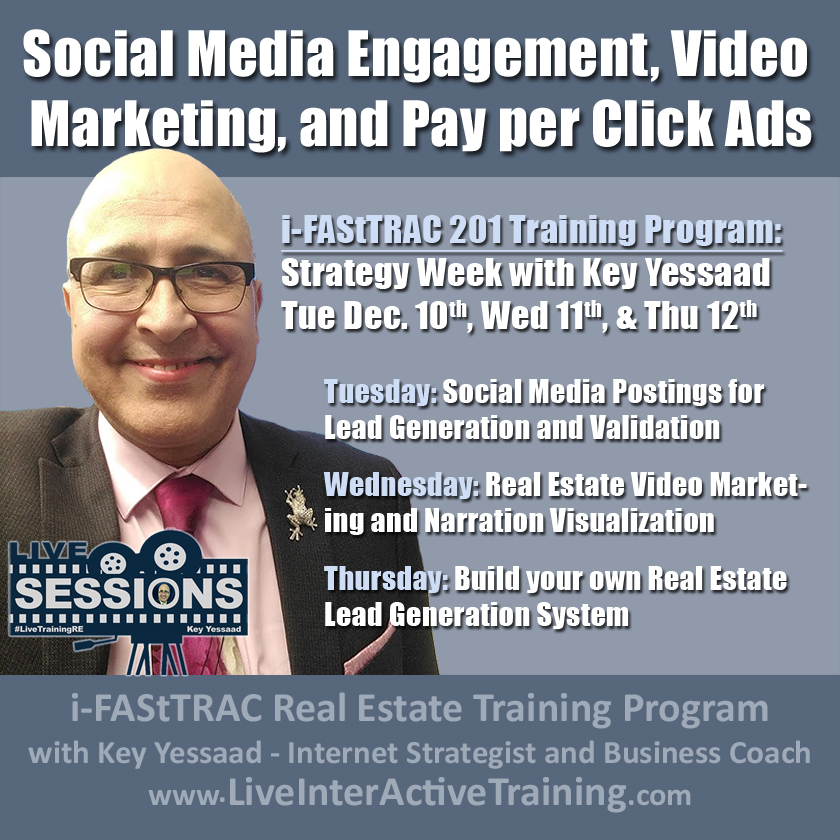 Written and Shared by Key Yessaad, Master Real Estate Strategist, Veteran Real Estate Trainer, Boot-Camp Instructor, Expert SEO Consultant, Internet Marketing Specialist, and Business Mentor/Coach. (910) 538-6610 - https://www.realestatewebtrainer.com/  
Related HashTags: #SocialMedia #VideoMarketing #PPCMarketing #RealEstateLeads #20in20 #RealEstate #Marketing #Realtor #RealEstateMarketing #Success #Motivation #Entrepreneur #RealEstateSEO #RealEstateTraining #RealEstateCoaching #RealEstateSuccess #KeySuccessTraining
Categories: i-FAStTRAC Training, Real Estate Business, Real Estate Trainings