One of the biggest challenges of being Real Estate Professionals is how you recover from dips and setbacks; this is also true of all Entrepreneurs. #8WeekSuccess - Let's examine what happens and the dynamics at play. As an entrepreneur you are the Boss, the ultimate Decision Maker, the Time Manager, the Project Manager, and the Implementer of your Business Plan. Implementer is fancy way of saying that you work for yourself for free. As you know as an entrepreneur there is no paycheck at the end of the week, and the exciting part is there is no set limit to your earning potential. 
Why then do Real Estate Agents experience dips? Well when you are in the People Business and certain deals become messy, and many a times to no fault of yours. Think about it, for a Real estate Deal to be consummated you have to involve the Buyers and Sellers; the two agents and the brokerages involved; Home Inspectors; Mortgage Companies; Appraisers; Insurance companies; Tax offices; Stagers; Photographers; Real Estate Lawyers; not to forget the closing coordinators; the marketing of the deals; the family members of the Buyers and Sellers; and you know I can go on and on… to keep all of these people in check is a real skill; and what is worse, you the agent, are the last person to get paid and everything is usually blamed on you if it doesn't work out. One more layer of agony - it is not like all these entities are working in unison, each one of them has their own agenda; their own time-table; and their own priorities. Deals do fall apart and you have to remain strong being fully aware that all that effort amounts to no income, and at times negative income. 
There is another aspect of Entrepreneurship that is rarely discussed and it is the fact that we are emotional beings; meaning that you, I, and others feel things. Whether you do a good job hiding it or not, Real Estate has an emotional toll on you, and learning to recover from these highs and lows, is another important skill to develop. We are a society that does not appreciate that "Emotional Resilience" should be part of every Business Endeavor - we think that having feelings is equated with weakness; when it is absolutely the opposite.  
There is a healing process that needs to take place and it starts with your Mind; more precisely downloading your mind - which is simply the process of grabbing each work week and squeezing it of its floating activities and grabbing the juiciest part of it and strengthening it; and accepting the challenges that occurred without having to go into weeks of feeling dejected. There is a Vigilance that agents must keep in the forefront: "Momentum of Good Habits is easy to Lose and very Hard to re-establish; Momentum of Bad Habits is Hard to Stop but very easy to Indulge." 
Preparation and Planning are your friends in your Real Estate Career; during Week 5 of the #8WeekSuccess Real Estate Boot-Camp, we will learn confront the Dips that occur in the Real Estate Industry and learn to shield ourselves from wallowing too long in that pain. We will also learn how to hold a proper Buyer's Counseling first Appointment, and then spend the rest of our class learning how to Close-Out the Week. What are the few activities that a Realtor or broker can schedule that offer the best follow-up systems? What are the necessary activities that will help you download your mind and create the proper steps for more Lead Conversion?  
The #8WeekSuccess Boot-Camp is an intensive course that 24 to 30 agents qualify in at a time. It was designed for those who are or plan to be Full-Time in Real Estate and earn no less than $100K in Gross Commission. Measured in time the course spans 3 months and is meant to build the Business of Real Estate Success from the ground Up!  #WeeklyPlanning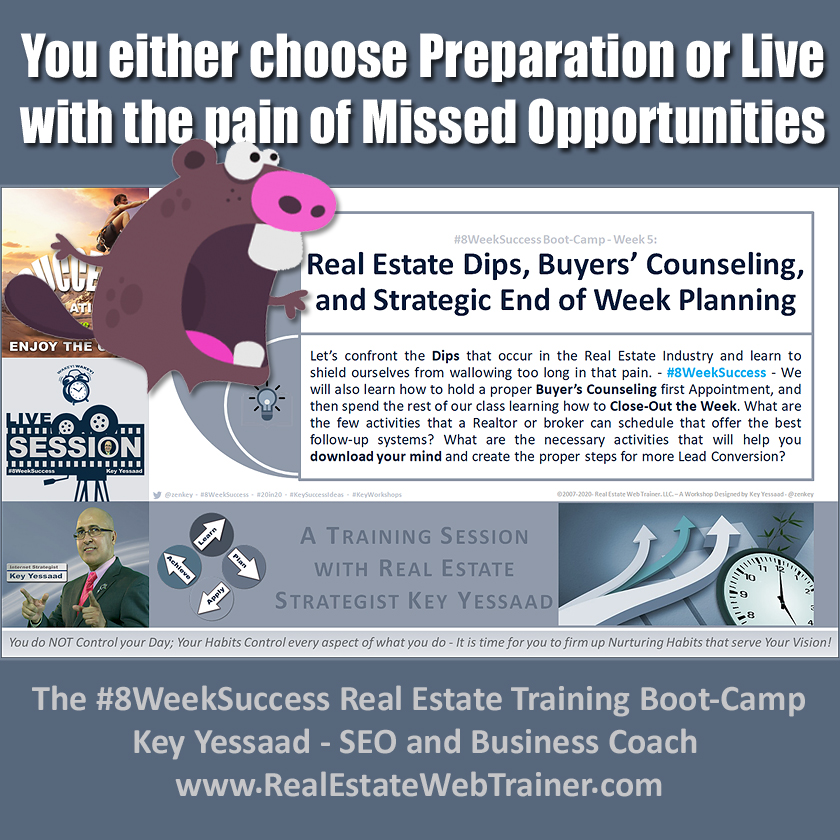 Written and Shared by Key Yessaad, Master Real Estate Strategist, Veteran Real Estate Trainer, Boot-Camp Instructor, Expert SEO Consultant, Internet Marketing Specialist, and Business Mentor/Coach. (910) 538-6610 - https://www.realestatewebtrainer.com/ 
Related Hashtags: #RealEstateDips #RealEstateBuyers #BuyersCounseling #WeeklyPlanning #MindDownload #Entrepreneur #KeyWorkshops #20in20 #RealEstateBootCamp #Inspiration #Success #RealEstateSEO - #KeySuccessIdeas #RealEstateMentoring #RealEstateCoaching #Motivation #RealEstateTraining #KeySuccessTraining #Agents #RealEstateMotivation #Realtor
Categories: #8WeekSuccess Boot-Camp, Real Estate Business, Time Blocking