What is Real Estate Farming? In its simplest form it is the process of finding the 5 or 7 Homeowners out of a hundred who every year look to sell their properties and move. #LiveTrainingRE - That's right, in most areas of the United States the turnover of Homeowners is between 5 to 7%. Some like California hover around the 3% and others near DC around 8%. Most of these Homeowners who are moving are not always making simply a financial decision, life is happening and they are reacting to it. 
For example Marriage causes many to move out of renting to potentially purchasing; a job promotion does that to; others lose their job and have to sell and move to another state or area to find gainful employment; and of course we can't forget the effects of divorce, aging, illness, death, and birth. All of these Life Happenings cause us to move or at least consider moving. 
A Good Farming Agent becomes very knowledgeable about 2 to 3 neighborhoods for a total of about 5,000 to 10,000 homes in order to work with 250 to 700 Homeowners who are going to sell and move out of those neighborhoods. If you study your Real Estate Statistics this phenomenon has been happening and continues happen every year. 
In the Real Estate Business there is a formula that tends to be forgotten by many Professionals: Sellers make the Market and Buyers are the consumers of the offerings of the Market. Seen in different light it goes like this: Before Buyers have choices of Properties Sellers must decide to sell. Unfortunately many of our professionals lean too heavily on the Buyers' equation and don't develop the Marketing Prowess to work with Future Sellers. Becoming a Local Farming Agent is a Plan that is executed daily, weekly, monthly, quarterly, and yearly – it si not whimsical and combines local Mailers; Internet Solutions; and door to door canvassing.    
The other advantage of becoming a Good Listing Agent is that you are working locally and you choose the areas where you can nurture Future Sellers; Buyers come from everywhere - whereas Sellers are fixed in Place. Your Future Listings come from your local neighbors, and we must learn to market to them properly using Direct Response Marketing. This includes local Real Estate Seminars; Canvassing; Open Houses; Postcards; Market Reports; Mailers; and even local Billboards.
During Session 9 of the i-FAStTRAC 201 Real Estate Training Program I will be focusing our Agents on the Ingredients of Good Internet Marketing Direct Response Campaigns. We will also address the following questions: What are examples of Marketing pieces, once properly integrated, that generate inquiries for appointments? What do Sellers want from the Internet? And finally we will learn to Role of Squeeze Pages and Lead Capture. 
Our Training Program is Live and Interactive; all sessions are 3-Hours long over Live Video Conferencing in each office training room, with Webcams and Special Microphones, and start at 1pm Eastern - Don't forget to download your Handout Booklets and see you all in Class: https://www.liveinteractivetraining.com/  - #DirectResponseMarketing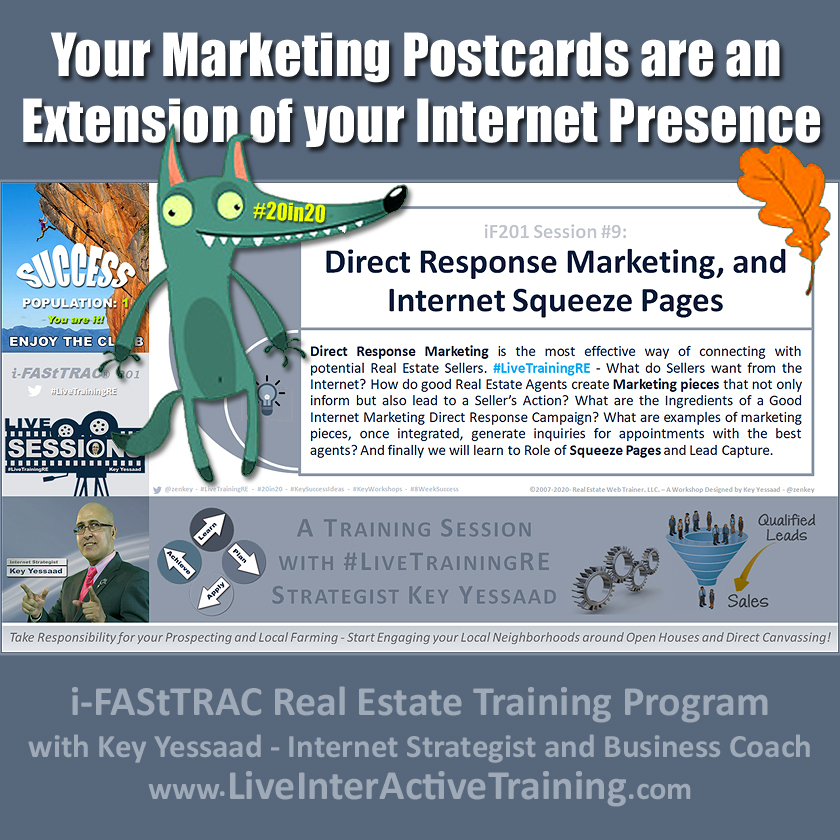 Written and Shared by Key Yessaad, Master Real Estate Strategist, Veteran Real Estate Trainer, Boot-Camp Instructor, Expert SEO Consultant, Internet Marketing Specialist, and Business Mentor/Coach. (910) 538-6610 - https://www.realestatewebtrainer.com/  
Related HashTags: #Farming #Prospecting #DirectResponse #SqueezePages #FormPages #RealEstateSellers #RealEstateLeads #20in20 #RealEstate #Marketing #Realtor #RealEstateMarketing #Success #Motivation #Entrepreneur #RealEstateSEO #RealEstateTraining #RealEstateCoaching #RealEstateSuccess #KeySuccessTraining
Categories: i-FAStTRAC Training, Real Estate Prospecting, Real Estate Trainings