Marketing and Internet Marketing are no longer activities that should be separated as real world and web-based; it all Marketing and Branding, and all of the Channels are intertwined. #LiveTrainingRE - You hear brands talk about Social Media, Instagram, LinkedIn, influencers, but most forget the bedrock of Marketing - it is Storytelling. Yes, tell me a story that relates to what you do and where you do it; and these stories must be anchored in our own websites. The best vehicles for shaping these stories are our own Blog Platforms. Let me put it another way - there should me more stories about what we do in our container than in Social Media, but most agents and brokers have almost none in their websites; and tons of it on Facebook - it is totally upside down. 
Start thinking of Social Media as Micro-Blogging in someone else's platform controlled by their advertising, and at the mercy of their algorithm. Yes Social Media plays a role in your Big Marketing Plan, but it should not be at the mercy of your own blogging in your website - it should enhance and expand your Local Real Estate Stories. Blog about your Agents and Accomplishments; Blog about your events; Blog about your Listings; Blog about the training sessions in your office; Blog about the local businesses in your Town; Blog about the Schools; there are no limits to the stories that relate to your business that you can share in your Blog Platform. 
At the heart of educating consumers on their needs for Real Estate is Storytelling; in fact good Real Estate Professionals are good storyteller; unfortunately most of them are "Voice Storytellers" and NOT Writers of said stories. Why you ask this is unfortunate? Well it has to do with Search-ability, Visibility, and Ranking. Since Consumers are using the Internet to narrow their Searches if there aren't any stories written by you, you will not have the interactions even if you are the best in your field.  
Blogging, or more precisely writing Blog Posts, is the best vehicle of Storytelling on the internet. Real Estate Marketers are not embracing it enough because they want interactions; but they fail to understand that being found for your Local Keywords comes first. Think of it this way - we write so we can pepper our keywords and eventually become rank-able. If you took the time to understand the magic of your websites you would understand that you build them to solve problems for others, and that you have a set of skills and unique approaches that must be expressed in your website. Do not outsource your identity to Social Media and end up with a hollow website that is simply a Glorified Business Card. 
In Session 8 of the i-FAStTRAC 201 Real Estate Training Program we will learn not only how to blog, but also where to blog; what topics to blog about; How to insert Strategic Links; How to put together a Proper Blog Signature; and How often to Blog. 
Our Training Program is Live and Interactive; all sessions are 3-Hours long over Live Video Conferencing in each office training room, with Webcams and Special Microphones, and start at 1pm Eastern - Don't forget to download your Handout Booklets and see you all in Class: https://www.liveinteractivetraining.com/  - #RealEstateBlogs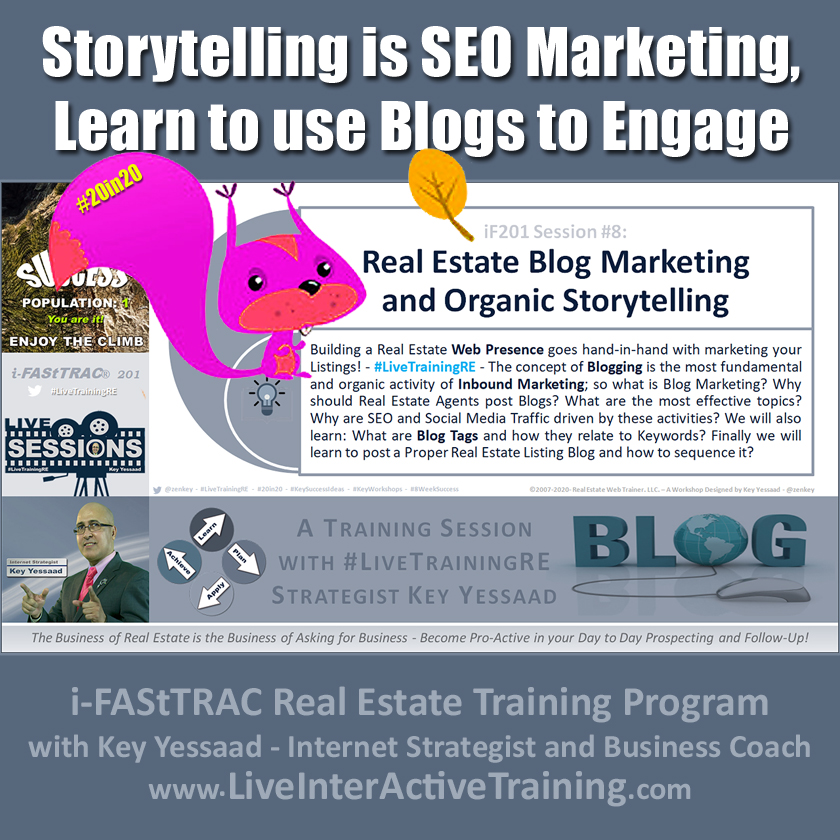 Written and Shared by Key Yessaad, Master Real Estate Strategist, Veteran Real Estate Trainer, Boot-Camp Instructor, Expert SEO Consultant, Internet Marketing Specialist, and Business Mentor/Coach. (910) 538-6610 - https://www.realestatewebtrainer.com/  
Related HashTags: #BlogMarketing #Blogs #RealEstateBlogging #RealEstateLeads #20in20 #RealEstate #Marketing #Realtor #RealEstateMarketing #Success #Motivation #Entrepreneur #RealEstateSEO #RealEstateTraining #RealEstateCoaching #RealEstateSuccess #KeySuccessTraining
Categories: i-FAStTRAC Training, Real Estate Websites, Real Estate Business