What are Landing Pages? Well in the context of Websites, Landing Pages are Web Pages that are created to help visitors land on them. #LiveTrainingRE - I am sure this is not a very satisfying definition - let's try this definition in the context Real Estate Websites: Landing Pages are Web Pages populated by Properties for Sale or for Rent that match the intended Search Criteria of Web Visitors. This simply means that if a visitor is Searching for Single Family Homes in Myrtle Beach between $200K and $250K a Web Page populated with these types of properties and NOT others if offered for the visitor so they can narrow the properties to the ones they wish to view in person. 
The reason Real Estate Marketers would create Landing Pages and also offer Search Modules for their clients is ranking, more precisely SEO Targeted Keywords Ranking. You must think of Search as happening on multiple levels; consumers who are already on your website are your most valuable; problem is you need a lot of them to be on your website; most of them start with Search Engines like Google and Bing; in fact 85% start with Google - What we want as marketers if to have them hop from a Google Search to our Website Real Estate Search; and Landing Pages, because they are Keywords rich and highly targeted, are our SEO Buildings blocks. 
Session 7 of the i-FAStTRAC Real Estate Training Program focuses exclusively of Real Estate Landing Pages, sometimes called Saved Search Pages. We will learn why we should bother creating them; How to stack Landing Pages in the Navigation; How to create Search Blocks; and drill down to all the varieties of Landing Pages such as Neighborhood focused Pages; Golf Courses; Waterfront; Luxury; New Construction; Distressed Properties, and in increments of $100K properties. 
There is an important detour I must make on the concept of Median Home Prices. Most agents forget that the average price of an area is not significant, but the Median Home Price offers the affordability factor in a neighborhood. We will learn what it is; how it is calculated; and why putting together Market Reports with good Real Estate Statistics helps you become the local expert. 
I will also show you how to name Landing Pages properly; this is called Meta Tagging Web Pages - an important concept in ranking websites in Search Engines. I will then share with you how different Website vendors approach to creating Landing Pages; most of the ideas are the same but what Onjax calls them is different from iHouse and from Market Leader, etc. We will walk through several examples so the ideas become second nature and we learn to put them together based on the platform we are given.  
Our Training Program is Live and Interactive; all sessions are 3-Hours long over Live Video Conferencing in each office training room, with Webcams and Special Microphones, and start at 1pm Eastern - Don't forget to download your Handout Booklets and see you all in Class: https://www.liveinteractivetraining.com/  - #LandingPages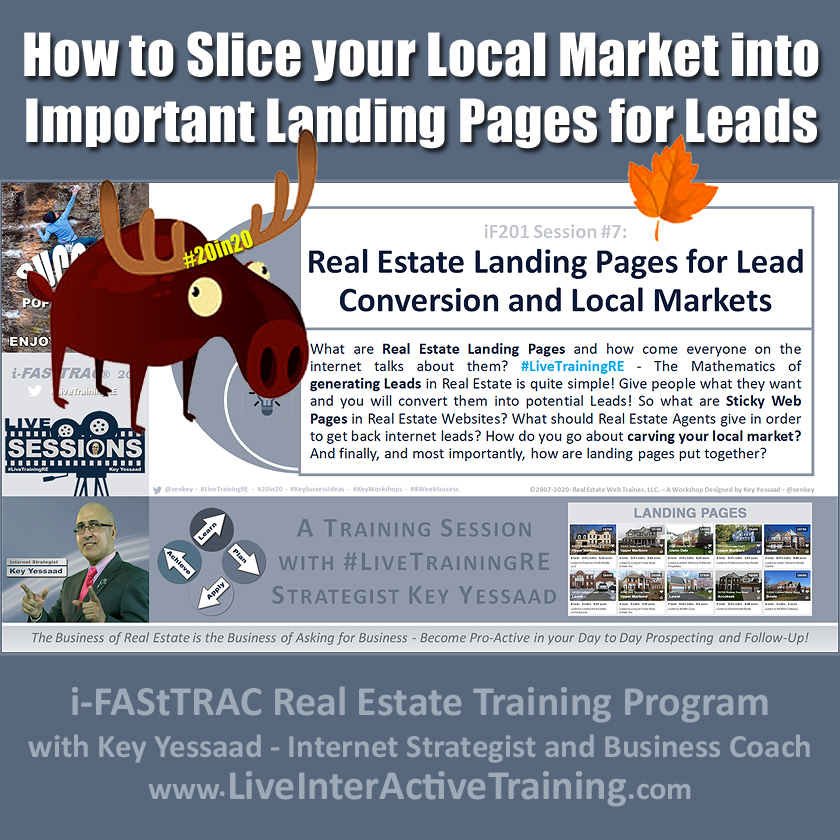 Written and Shared by Key Yessaad, Master Real Estate Strategist, Veteran Real Estate Trainer, Boot-Camp Instructor, Expert SEO Consultant, Internet Marketing Specialist, and Business Mentor/Coach. (910) 538-6610 - https://www.realestatewebtrainer.com/  
Related HashTags: #RealEstateLandingPages #RealEstateLocalSlices #RealEstateLeads #20in20 #RealEstate #Marketing #Realtor #RealEstateMarketing #Success #Motivation #Entrepreneur #RealEstateSEO #RealEstateTraining #RealEstateCoaching #RealEstateSuccess #KeySuccessTraining
Categories: i-FAStTRAC Training, Real Estate Websites, Real Estate SEO