There is a subtle demand, an unspoken requirement of you if you choose to be an Entrepreneur; and no one will check whether you fulfilled your end of it or not; it is the obligation to show up. #KeySuccessIdeas - Yes, you must show up daily in the marketplace to get your share of the Real Estate Transactions; and no one is going to do this for you. Every day, every week, every month, every quarter, every year, and every decade consumers, about 6 to 8% of the population have Real Estate on the Brain, and they are like bumper cars - your job is to let them bump into you, so you can show them the way home. Prospecting is the mindset to bumping into the people thinking about Buying or Selling – and you don't do that by over snuggling in your warm bed.  
Here is the cruelty and beauty of Real Estate; the marketplace in the United States is about $100 Billions strong or about 11 Millions Transactions strong each year - and all of this Selling and Buying takes place with or without you. Just so you can put it in perspective, on average 15,000 Homes change hands daily in the U.S. and since there is a Buyer for every Seller, there are 30,000 transactions taking place whether you sleep in or wake up early. Certain months like April, May, June, July, and August we go up as high as 32,000 transactions a day and other slower months we go down to about 27,500 a day. On a yearly basis 5.25 to 5.35 Million Homes change hands, and it is time for you to inject yourself in the marketplace of transactions.  You must show up and play your role - never become so arrogant that you start thinking that without you the Real Estate Market will halt - it never does. 
Develop the important habit of Showing Up! Get Up early, Get Dressed, Get to work, and focus on your Prospecting - Don't overindulge your excuses; especially the kind that sound good - like: It's December and with Thanksgiving and Christmas no one buys or sells during the holidays. Let me share how slow the pace goes to during the months of October, November, December, and January.  The National Pace is about 5.3 Million Units changing hands a year, so let me share the pace of last year in percentages; these are actual numbers from NAR: Sep 2018: 2% below pace; Oct 2018: 1% below pace; Nov 2018: 1% below pace; Dec 2018: 5% below pace; Jan 2019: 6.5% below pace; Feb 2019: 4% above pace; Mar 2019: 1% below pace; Apr 2019: 1% below pace; May 2019: 1.6% above pace; Jun 2019: 0.5% above pace; Jul 2019: 2.7% above pace; Aug 2019: 4% above pace; Sep 2019: 1.6% above pace; and Oct 2019: 3.5% above pace. 
These numbers should give you a reality check, yes there is a drop during the holidays and winter but never more than 7%; which simply means if a town averages 200 Sales a month during the slow months it goes down to 185 - but not to zero. There are agents getting listings and there are Buyers' Agents helping them buy. Stop running your business based on your excuses and start running it grounded in Statistics. Today is a good day to get listings; but Key it is cold and snowing - well someone else will get the listings.  - #8WeekSuccess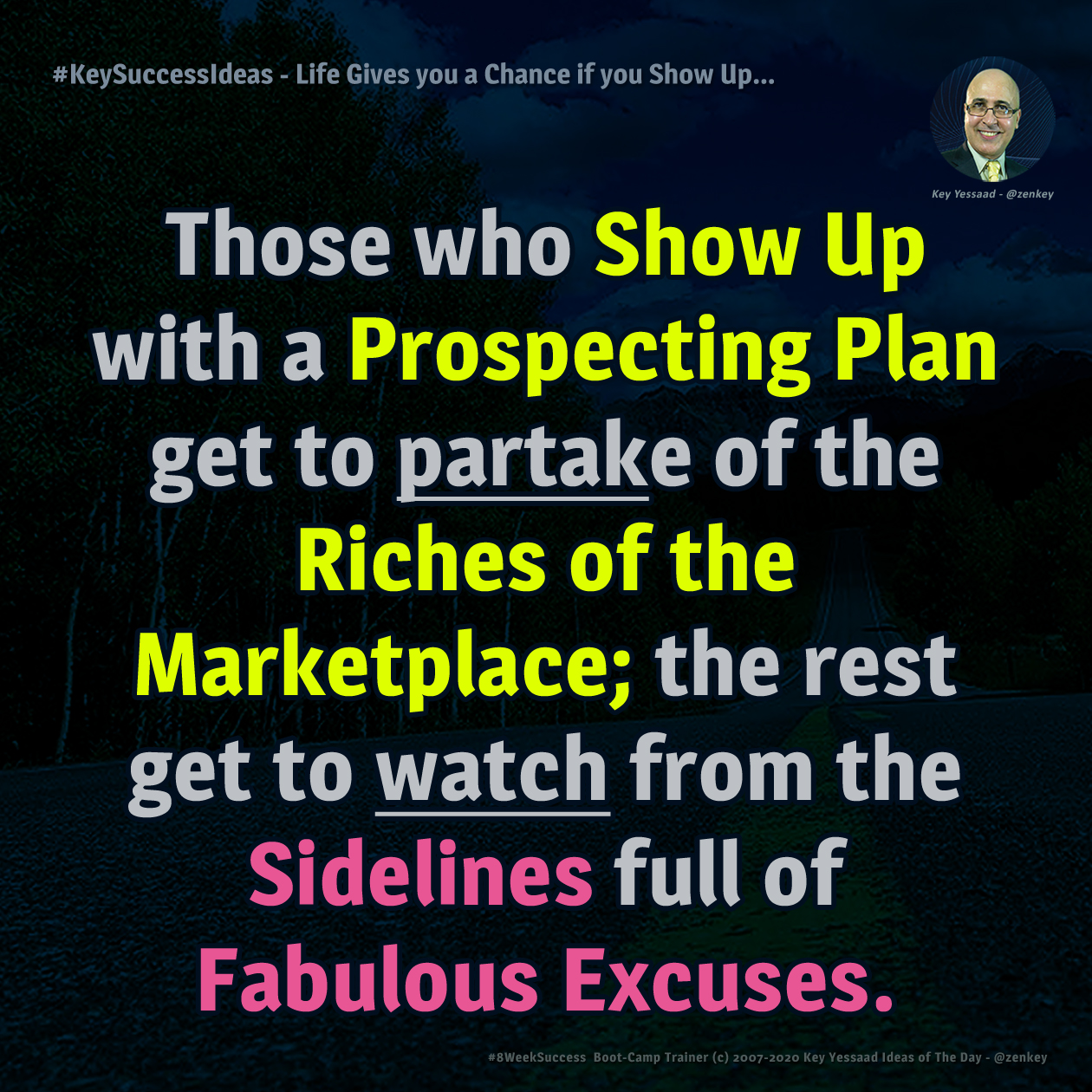 Written and Shared by Key Yessaad, Master Real Estate Strategist, Veteran Real Estate Trainer, Boot-Camp Instructor, Expert SEO Consultant, Internet Marketing Specialist, and Business Mentor/Coach. (910) 538-6610 - https://www.realestatewebtrainer.com/ 
Related Hashtags: #ShowUp #Prospect #GetToWork #Entrepreneur #KeyWorkshops #20in20 #RealEstateBootCamp #RealEstate #Inspiration #Success #RealEstateSEO - #RealEstateMentoring #RealEstateCoaching #Motivation #RealEstateTraining #KeySuccessTraining #LiveTrainingRE #Agents #RealEstateMotivation #Realtor
Categories: Key Success Ideas, Real Estate Business, Real Estate Prospecting