How do you become a writer? You start Writing. How do you get listings? You start Prospecting for Listings. #KeySuccessIdeas - How do you become a Piano Player? You start playing the Piano. Yes, all of this sounds over simplistic for many, and this is why they keep waiting for inspiration, or for a new deeper understanding, or for serendipity to cross their path and endow them with magical powers. Whatever you want to become must be attached to a series of simple actions, repeated over a significant period of time for results to show up. 
The Blog that I write daily focuses on the Real Estate Industry, and I can tell you, with absolutely certainty, that without daily prospecting activities there is little chance for a long term career filled with success. And if you observe the industry prospecting is the least talked about activity, because it is work; yes Prospecting Daily is work.  
I am going to share a video clip, which is a portion of a long interview covering the Band "The Eagles." In this interview, Glenn Frey is talking about the process of writing music he learned from observing Jackson Browne. Some of the famous songs performed by The Eagles are "Take it Easy," "Peaceful Easy Feeling," "Lyin' Eyes," "One of These Nights," "Take It to the Limit," "Take It Easy," "Desperado," and "Hotel California." 
Glenn Frey: JD and I were looking for any place to play. We heard about this guy Jackson Browne, he'd been playing the same clubs we had but we never had seen him perform. 
Jackson Browne: They (The Eagles) had a bunch of gigs, and I had a bunch of gigs and they would show up at my gigs and me at their gigs; and we became really good friends. 
Glenn Frey: We start talking about where do you live, and what's going on, Jackson said: You know, you should come down to Echo Park, rent is real cheap.  
Jackson Browne: Glenn got the apartment, next to my apartment. And this apartment costs, like $125 or something a month. And I needed to economize so I moved into the basement underneath Glenn's place which I could get into for like $35 a month. 
Glenn Frey: It only had one door. It was really just kind of an illegal place just to cubbyhole. And that's where Jackson lived with JD and I above.  
Jackson Browne: You know; that was it. There was a stereo, a piano, a bed, a guitar, you know, and a teapot. 
Glenn Frey: We slept late in those days, except around nine o'clock in the morning I hear Jackson Browne's tea pot going off with this whistle in the distance. And then I hear him playing piano. I didn't really know how to write songs.
I knew I wanted to write songs. But I didn't know exactly how to go about it. Just wait around for inspiration?, you know, what's the deal? Well; I learned through the Jackson's ceiling and my floor exactly how to write songs, because Jackson would get up, and he'd play the first verse and the first course. And he'd play it 20 times until he had it just the way he wanted it.  
And there would be silence; then I hear the teapot go off again. There will be quiet for 10 or 20 minutes. Then I hear him start to play again. And there was a second verse. So then he'd work on the second verse and he would play it 20 times. And then he'd go back to the top of the song, and he played the first verse the first course and the second verse. Another 20 times until he was really comfortable with it; and you know change a word here there. 
And I'm, I'm up there going, so that's how you do it, elbow grease, you know, time, thought, persistence. (Click on pic below to play video...) Waiting for inspiration to do anything tells you that you have not connected yet with the heart of your chosen career; it is still in the realm of dreams and hopes. Repetition of High Priority Activities is what you are seeking to develop as a habit; Success is Repetition - Repetition leads to excellence. It is good to be inspired, but your career must not depend on your mood - it must be anchored in practical daily activities.  - #8WeekSuccess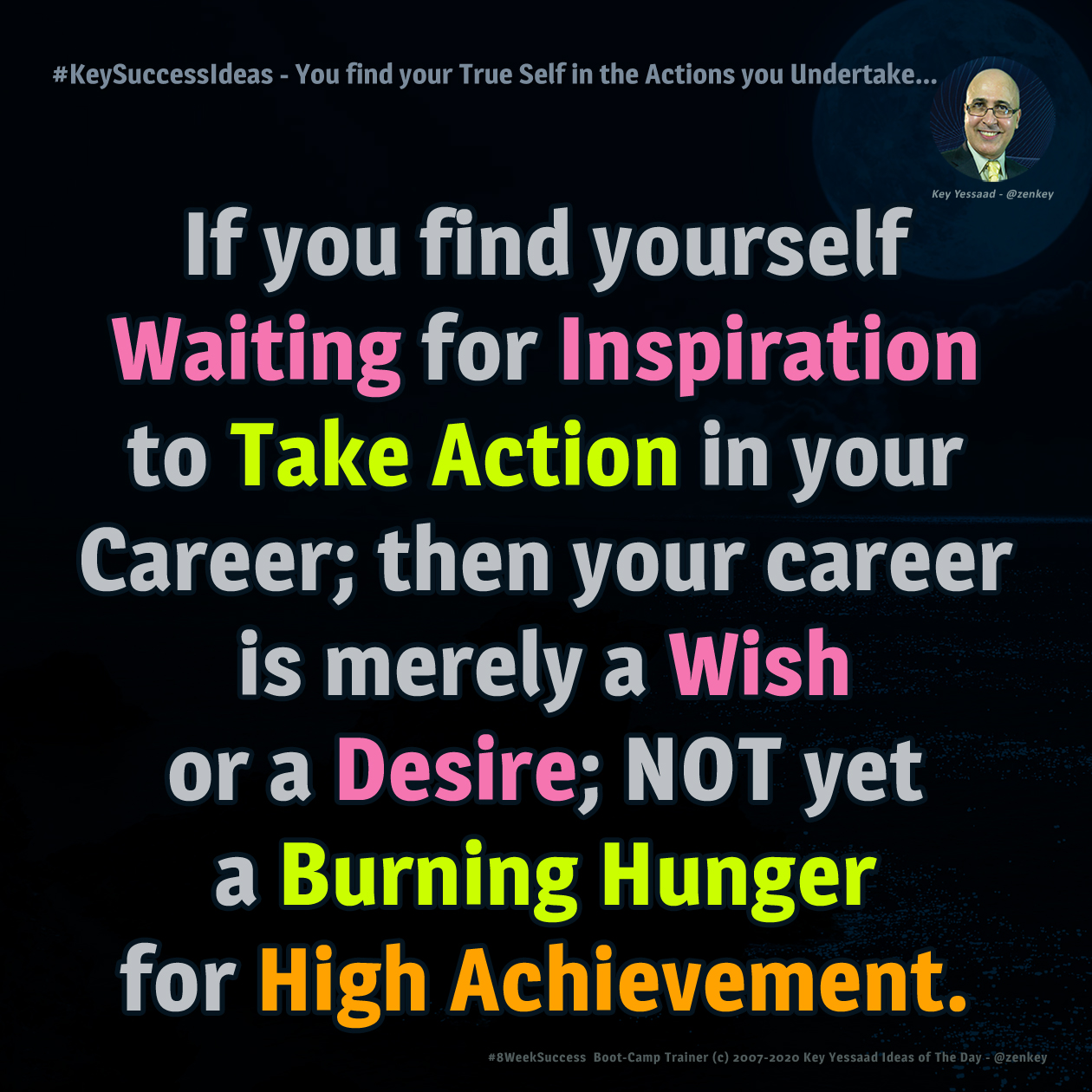 Written and Shared by Key Yessaad, Master Real Estate Strategist, Veteran Real Estate Trainer, Boot-Camp Instructor, Expert SEO Consultant, Internet Marketing Specialist, and Business Mentor/Coach. (910) 538-6610 - https://www.realestatewebtrainer.com/ 
Related Hashtags: #Repetition #TakeAction #Prospecting #Entrepreneur #KeyWorkshops #20in20 #RealEstateBootCamp #RealEstate #Inspiration #Success #RealEstateSEO - #RealEstateMentoring #RealEstateCoaching #Motivation #RealEstateTraining #KeySuccessTraining #LiveTrainingRE #Agents #RealEstateMotivation #Realtor
Categories: Key Success Ideas, Real Estate Prospecting, Real Estate Business