Leadership in business is the skill of getting those around you to perform at a high rate of productivity and working harmoniously with others in the organization. #KeySuccessIdeas - Many think that leadership requires leaders and followers, and in most situations that makes sense, but there are cases of entrepreneurship where the leader and the follower are one and the same - Real Estate is one of them. Therefore Leadership in Real Estate is the skill of getting the most out of oneself and to perform at a high rate of productivity while working harmoniously with others in the brokerage and those involved in one's transactions.  
Leadership is crucial in bringing all the players involved in the transaction to work together to make a deal happen, and you the Real Estate Professional are tasked with that leadership; so take it on cheerfully and willingly. This not about you telling people what to do; it is about opening one on one dialogs about what is expected of you and them, and how we can efficiently make it happen. Some think that you must keep your eye on what can go wrong; and there is some virtue to that - but I want you to start catching people doing something right. Get in the acknowledgment business when a step has been accomplished by a member of the transaction, as in: "Thanks Sherry for sending all the documents to the closing coordinator, the clients may not notice but I did." 
When you make an effort to be aware of the good steps other are making they become your allies and when they see something not working properly they will bring it to your attention; they no longer see you as their boss but rather as a collaborator. Consider adding this mantra to your daily life: "I will take the time to catch people doing good work!" 
But Leadership is not just about your agility in managing Transactions; the biggest test of Leadership in Real Estate is how you push yourself to implement your Prospecting Plan. Step 1: You must have a Prospecting Plan; a plan that you implement daily, weekly, monthly, quarterly, and yearly to generate new business. 80% of Real Estate Professionals either don't have one, and those who do have such a plan only work it when they feel like it. This is a failure of leadership; more precisely a failure to lead oneself to take the Prospecting Plan seriously. 
You see you are an Entrepreneur and in you must be not only the visionary who creates the big picture for the business, there must also be an implementer, which is also you - the problem you let the implementer get away with distractions, excuses, delays, and lack of discipline. This area of leadership is tough; it is you motivating you to do the necessary work that was designed in the Prospecting Plan. Remember Step 1 is meaningless if Step 2 is not activated; and you know Step 2: Implement the Prospecting Plan properly! 
Let's start with some bad news; No one is coming to implement the Prospecting Plan for you - you either step up and get to work, or you will eventually run out prospects and your career is finished. This happens to about 300,000 agents every 18 months. 
Let me share some good news: You can do this; You can prioritize a minimum of 2 hours a day to make calls, follow up, and engage would-be customers to have conversations about Real Estate with you. It all starts with conversations. Start putting together scripts and time blocks to make calls, to go door to door, and engage others at events; hold open houses, and get involved in your community. Don't become a Statistic of failure - strive for Inner Leadership of Success.  - #8WeekSuccess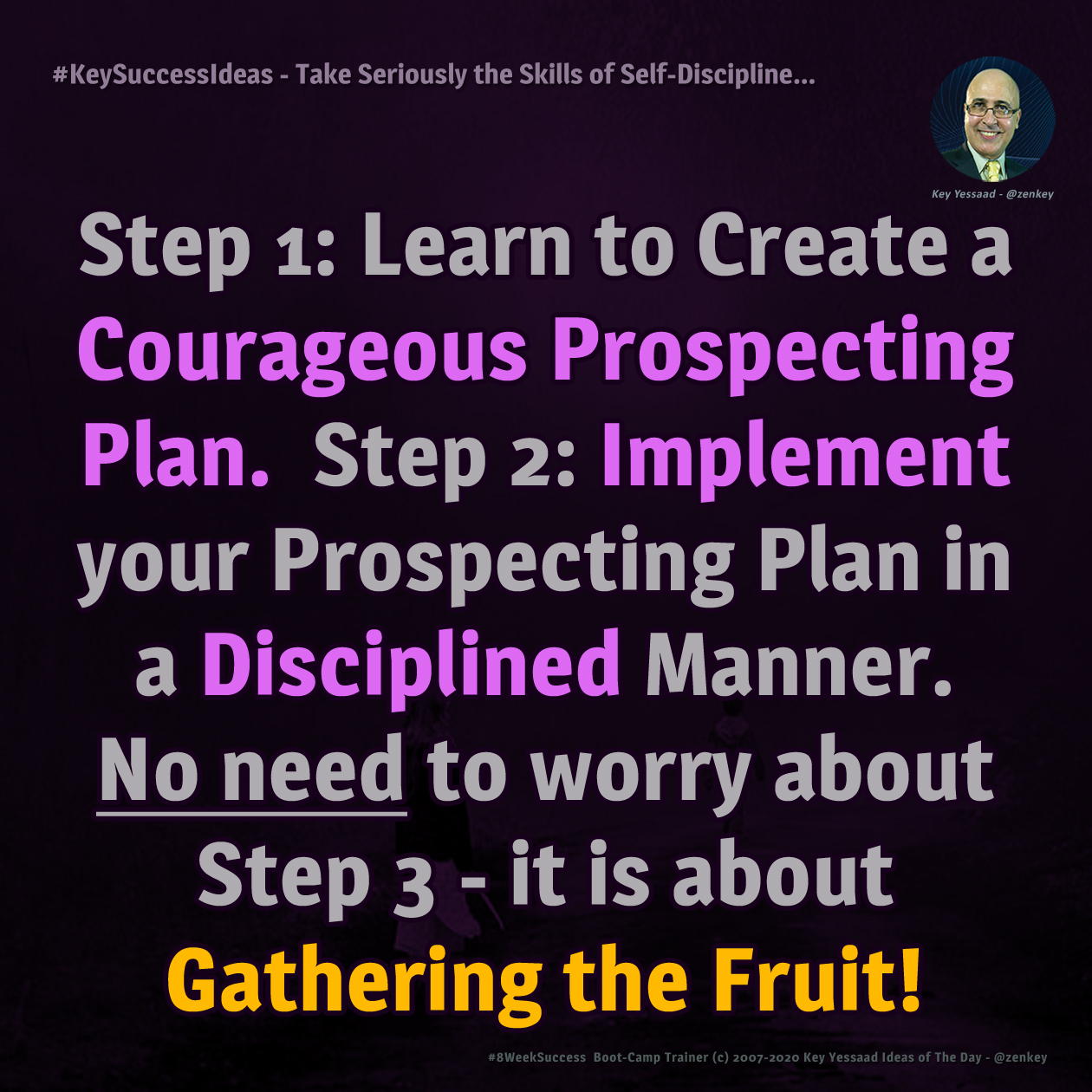 Written and Shared by Key Yessaad, Master Real Estate Strategist, Veteran Real Estate Trainer, Boot-Camp Instructor, Expert SEO Consultant, Internet Marketing Specialist, and Business Mentor/Coach. (910) 538-6610 - https://www.realestatewebtrainer.com/ 
Related Hashtags: #Leadership #SelfDiscipline #Prospecting #Entrepreneur #KeyWorkshops #20in20 #RealEstateBootCamp #RealEstate #Inspiration #Success #RealEstateSEO - #RealEstateMentoring #RealEstateCoaching #Motivation #RealEstateTraining #KeySuccessTraining #LiveTrainingRE #Agents #RealEstateMotivation #Realtor
Categories: Key Success Ideas, Real Estate Business, Real Estate Prospecting
Comments are disabled.