The ability to be present and focus on the task at hand is an unappreciated skill and those who master it have an enormous edge over their competition. #KeySuccessIdeas - So let's talk about focus and how you may bring some of it into your Business. Let's start with the good news, everyone has the ability to focus and exercises it daily, whether conscious of it or not. So it is not whether focusing is present in your life that is the debate, but whether that which you are focusing on is chosen by you or by your distractions. 
To focus or to concentrate attention or effort on a chosen task, and repeat deliberately daily is the definition of doing Good Work; and by choosing to be an Entrepreneur you are choosing to focus on priorities designed by you in order to produce Results. In Real Estate our focus is on appointments, and that means having targeted conversations and following up in order to trigger the right asks. All of you know what you need to do, but many a times avoid focusing on it, by focusing on other things - mostly distractions. 
It is high time you become Zen about your Business; think of this idea: "Be Here Now!" or Be with this Task right Now and Stay with it until completion; this takes discipline and you must learn to discipline your mind. I recommend Meditation in all its form, just pick the one that works for you, it can be as simple as: Take a 20 minute walk early in the morning around your neighborhood thinking about nothing; or simply noticing nature, shapes, birds, the environment, and mostly your breathing.  
You do not have to think about your work, your worries, your upcoming events - those things are not going away, and thinking about them while walking distracts you from being in the moment; the coolness of the air, the way air enters your lungs, the whoosh of the air when you exhale, the fluttering of leaves in the nearby trees, the sound of your footsteps, the movement of your arms, all of these happenings are taking place right now, and all you have to do is be present for them, notice them - that's all.  
This is Meditation in the now; in fact there is no such thing as Meditation in the future - when your mind runs towards your distractions bring it back and focus on your breathing, or more precisely notice your breathing; then inhale and let the air fill your lungs; then slowly exhale and notice the warmth of that air. If you discipline yourself to do this "20-minute of nothing" everyday you will start disciplining your mind, and your ability to focus on tasks for a good period of time will increase tremendously. 
I want you to go on a journey to train your mind to be focused when it needs to be, and to be unruly and playful when it is appropriate, but not both at the same time. My routine is quite simple, I wake up no later than 3:30 am, groom myself, drink a glass of water, meditate, walk, then write for 90 minutes. I tossed in the garbage the idea of writing when inspired and became a writer on demand. It took me months to get here, and it is still a process of discipline for me, but I love the way it makes me feel about my day. Writing on Demand has improved the classes I teach, my results with my participants have gone up, and my creativity has truly benefited. PS: I can hear you asking what time do you have to go to bed to wake up at 3:30am, well no later than 9pm - mostly around 8:30pm. Of course I am not advocating this; I am simply saying it works for me. I am asking you to go on a journey to discipline your mind and create your own reality. 
Let me end with this idea: "You do not get results by focusing on results; you get results by focusing on the small activities that render results inevitable."  - #8WeekSuccess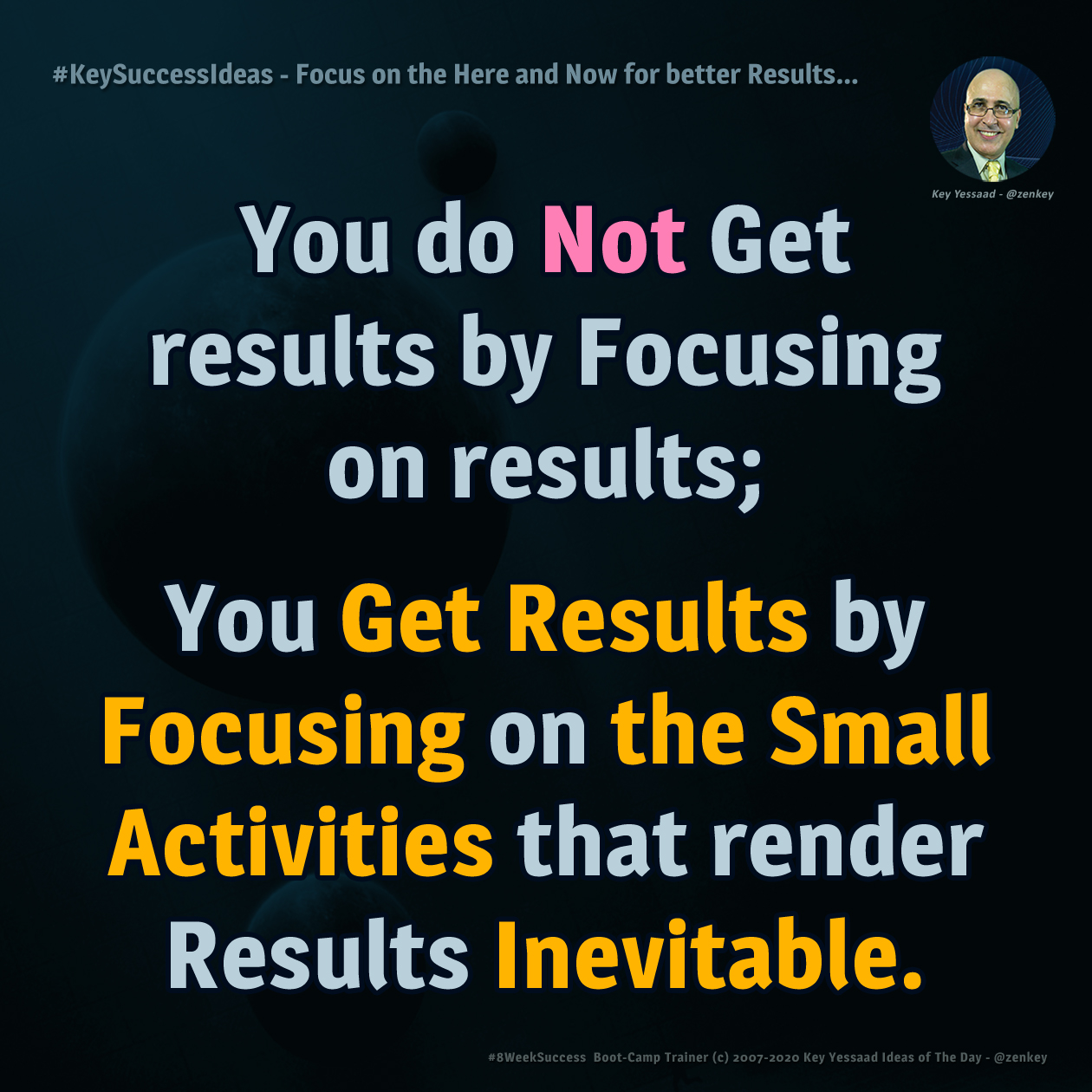 Written and Shared by Key Yessaad, Master Real Estate Strategist, Veteran Real Estate Trainer, Boot-Camp Instructor, Expert SEO Consultant, Internet Marketing Specialist, and Business Mentor/Coach. (910) 538-6610 - https://www.realestatewebtrainer.com/ 
Related Hashtags: #Focus #Meditation #BeHereNow #Entrepreneur #KeyWorkshops #20in20 #RealEstateBootCamp #RealEstate #Inspiration #Success #RealEstateSEO - #RealEstateMentoring #RealEstateCoaching #Motivation #RealEstateTraining #KeySuccessTraining #LiveTrainingRE #Agents #RealEstateMotivation #Realtor
Categories: Key Success Ideas, Entrepreneurial Reality, Real Estate Business