The Session during Week 4 of the #8WeekSuccess Real Estate Boot-Camp, is a demanding class focused on 3 major ideas: The Art of Negotiation, The Power of Landing Pages, and Storytelling using Blog Marketing. As you can tell from the description this a long session; it is in fact an all-day session with participants being in the room at 8:30am and not leaving until around 5:30pm. 
My Training Programs are neither formal lectures nor a fly by your seat events - the classes are highly structured, infused with lots of interactions, in-class assignments, Scripts, and Hands' On activities. The morning will focus on developing the mindset of a good negotiator and learning the skills of Listening, Mirroring, and proper Questioning during the Listing Presentation. This of course includes the Buyers' Consultations and how to make them really productive for all concerned. When our clients open up about their struggles and aspirations in the Buying and/or the Selling process, our agents can help them better; but it takes patience and skill to create that environment, and switching from approaching the situation as a Sale's Event to a Connection Event. 
About Midday we get onto learning what Real Estate Landing Pages really are and what role they play in Marketing. Did you know that the majority of Lead Generation Websites are simply made of Landing Pages?; if you took some time to study these websites, they are quite shallow - they simply rely on Web Pages that have been built with Properties for Sale that match a special criteria. During the session we will not just learn what they are, but also how to create them. Once we have built the confidence to build them right; we move on the building the local keywords or our markets by learning to slice the market. 
The afternoon is reserved to Storytelling, or more technically what is called Real Estate Blog Marketing. Did you know that the word Blog is made up? It is simply a contraction of the idea Web Log, drop the We and you get blog. But the idea of Blogging is so powerful, less than 3 percent of Real Estate Agents and Brokers ever truly see its beauty. Why do you think the majority of Agents spend 99% of their marketing on Facebook? Their minds can understand how Social Media works but they have never taught the power of Spiders, Keywords, and Local Blogging in their Website. We will start by learning to put together a proper Blog Signature; then learn to comprehend Internet paragraphs; then finally put together the proper sequence to blog posting. 
This insightful quote by Dr. Henry Link shines the light on this Boot-Camp: "We generate fears while we sit. We overcome them by action." Learning needs to lead to Action; it is while in action that we discover our true selves. In this program you are forced to take on activities, to work with others, and to bring out the best in you and in others. 
The #8WeekSuccess Boot-Camp is an intensive course that only 24 to 30 agents qualify in at a time. It was designed for those who are or plan to be Full-Time and earn no less than $100K in Gross Commission. Measured in time the course spans 3 months and is meant to build the Business of Real Estate Success from the ground Up!  #BlogMarketing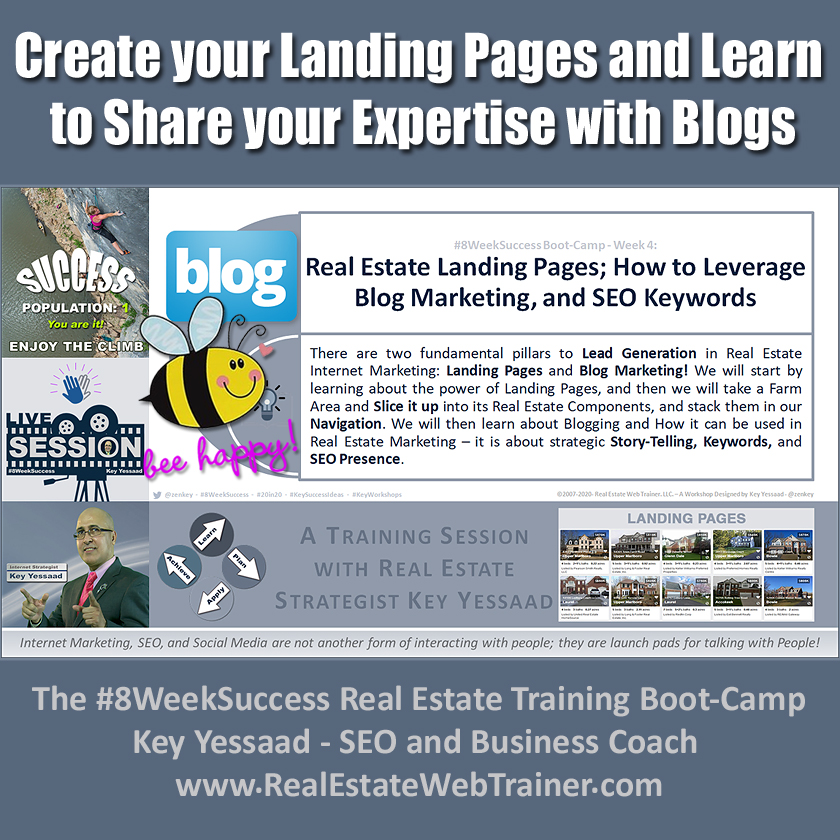 Written and Shared by Key Yessaad, Master Real Estate Strategist, Veteran Real Estate Trainer, Boot-Camp Instructor, Expert SEO Consultant, Internet Marketing Specialist, and Business Mentor/Coach. (910) 538-6610 - https://www.realestatewebtrainer.com/ 
Related Hashtags: #LandingPages #BlogMarketing #Negotiation #Entrepreneur #KeyWorkshops #20in20 #RealEstateBootCamp #RealEstate #Inspiration #Success #RealEstateSEO - #KeySuccessIdeas #RealEstateMentoring #RealEstateCoaching #Motivation #RealEstateTraining #KeySuccessTraining #Agents #RealEstateMotivation #Realtor
Categories: #8WeekSuccess Boot-Camp, Real Estate Websites, Real Estate Prospecting