What is the culprit that makes your to-do list drag all day long, never to be completed, and causing you anxiety in the process? #KeySuccessIdeas - If you truly study this phenomenon objectively you will start realizing the many profound ways we sabotage our own businesses by having terrible beliefs and lots of bad habits. Let's start with the obvious, most people who put together daily to-do lists, whether they are conscious of it or not, never over-schedule themselves - meaning that if you aggregated the amount of time all the items will take to complete, the professional has plenty of time to get them done. So it is not the amount of time required to get them done that is the culprit. But have you noticed that many people blame "Time" when the day is lost without good productivity? 
Let me share some gaffes some make when interacting with their to-do list: 
The list is not prioritized by importance and difficulty: The most important and most difficult item of the day should be scheduled as early as possible to get it out of the way. You may have heard of the concept of eating the frog, well the most important item is your ugly frog - eat it first. 
Scheduling your whole day to the minute: An overly scheduled day for an entrepreneur does not leave room for creativity and experimentation. Every Real Estate Professional must have Structure during their day, but that structure should not exceed 4 hours per day. The rest of the day is for appointments, meeting socially with clients, and connecting organically in the community. 
Distractions are eating hours of your day: The truth of the matter our phones, computers, and office gadgets come with a plethora of distractions; from Social Media, to constant Text Messages, Emails, and Phone calls. So instead of ignoring these Distractions, make time for them. Consider working in this fashion: 20 to 25 minutes on task followed by a 5 minute allowance for distractions; then another 20 to 25 minutes on task then a 10 minute allowance for distractions and bodily function; and so on. Instead of becoming puritanical and eliminating the distractions that are going to happen, you bunch them up together between important tasks. The only Caveat is when you are on task for the 20 to 25 minutes, you stay on task and you delay the gratification of the distractions. 
Forgetting the Big Picture: In Real Estate, the Professional's priority is the time they spend with their would-be Buyers and would-be Sellers; everything else is secondary. A Good To-Do List combined with the proper Calendar gets you to spend more time with your clients. So before you tackle your list ask yourself this question: Does this item facilitate my clients' priorities? If yes, it stays - if not then it should not be at the top of the list. As much as we need to learn to say Yes to things; the biggest lesson maybe learning to say No to some minor activities in life.  - #8WeekSuccess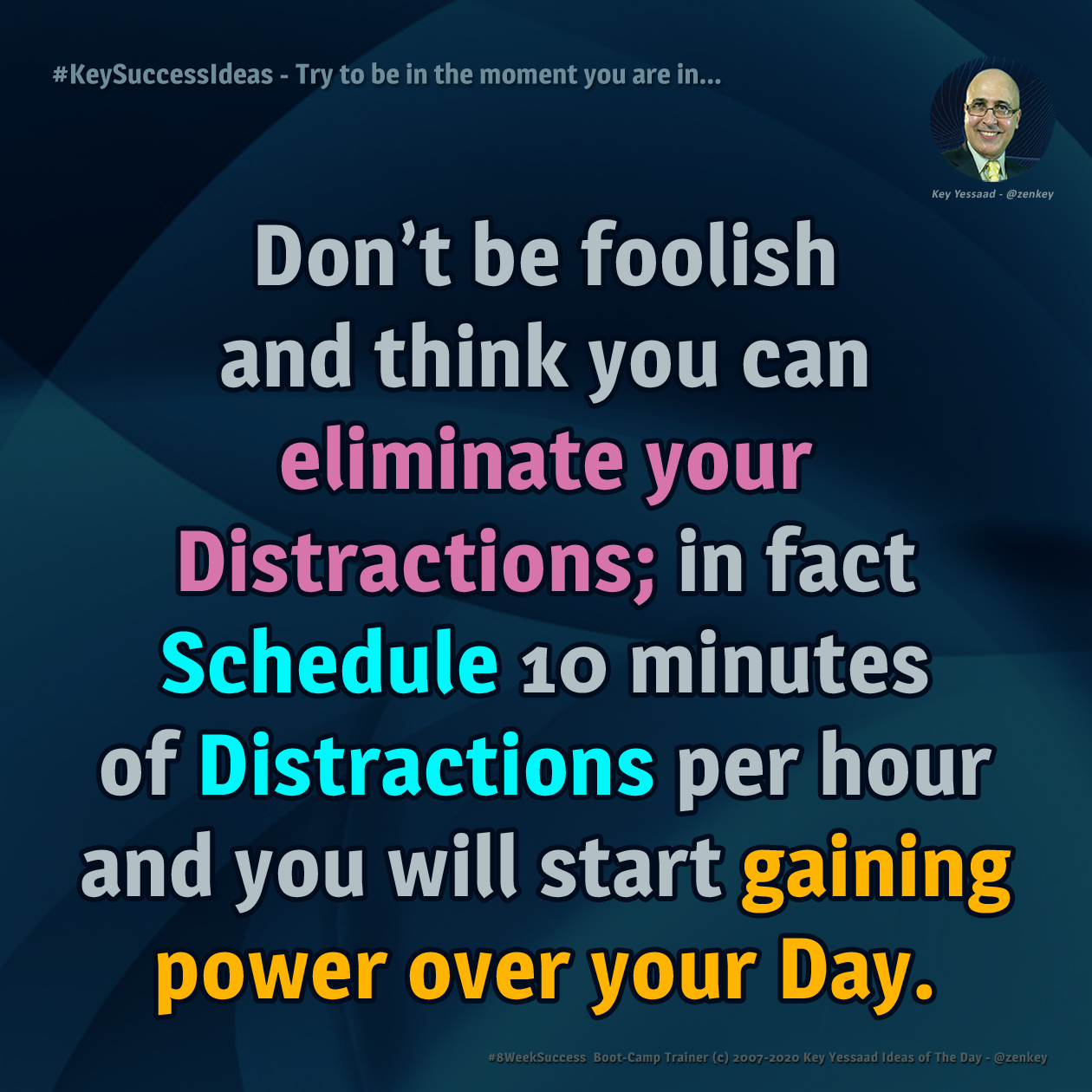 Written and Shared by Key Yessaad, Master Real Estate Strategist, Veteran Real Estate Trainer, Boot-Camp Instructor, Expert SEO Consultant, Internet Marketing Specialist, and Business Mentor/Coach. (910) 538-6610 - https://www.realestatewebtrainer.com/ 
Related Hashtags: #ToDoList #Time #Distractions #Entrepreneur #KeyWorkshops #20in20 #RealEstateBootCamp #RealEstate #Inspiration #Success #RealEstateSEO - #RealEstateMentoring #RealEstateCoaching #Motivation #RealEstateTraining #KeySuccessTraining #LiveTrainingRE #Agents #RealEstateMotivation #Realtor
Categories: Key Success Ideas, Real Estate Business, Time Blocking