Stuck, or the feeling of "being stuck" - unable to get out of the morass one gets into, happens to all Entrepreneurs and Real Estate Professionals. #KeySuccessIdeas - It is almost like a dark gray cloud decided to follow you around, and it is its mission to make everything in your life sour. You intellectually know you are stuck and a part of you is resigned to it, it is like being in the middle of the vast plains of Nebraska and the sky opens up with torrential rains and there is no shelter for miles around.  
During this period your mind turns on itself and starts blaming you for being stuck, and it interprets it by calling you lazy; slow; and worthless. It tries to remind you of all the negative things and shortcomings you experienced in the past, to make the point that you are not good enough; not courageous enough; not smart enough; that you belong in a miserable job for the rest of your life because that is your fate. This is not a good place to be in; and if you nourish it too long it can lead to depression and self-harm. This way of being is vicious cycle of negativity and as soon as you feel it you must reach out to others, even professionals if necessary. 
As a Business Coach I have encountered this situation many times, and I must tell you the persons under the throes of this affliction are good, hard working beings. They are simply stuck in a haunted house of their making, and they don't think they can get out. I want to share with you some insights that can help you tackle this predicament that has worked for many. 
Step 1: Accept that you are in a Self-Created Reality - meaning that you are the one who had a lot more say of why you are where you are. You see this is no longer about blame, this is now becoming about ownership. When you own a situation you then possess power over it, and can start moving the pieces around to get out of this negative spiral. I must admit this is not easy, so you may have to lie to yourself that you have power over it- that's ok too. 
Step 2: This part is work; start reflecting in your journal all the feelings you are experiencing; but most importantly looking to identify the triggers that cause you to feel the way you feel. Is it a person? Is it a location? Is it a Smell? All emotional Reactions have triggers, and studying the triggers gives you power. In the business world it is usually a deal that went sour and caused a lot of problems for all involved. 
In Real Estate Bad Deals will happen even if your part was done perfectly; and even then the other side of the deal looks to find fault with what you did or did not do in their mind. You need to be strong in these situations. Learn to accept that one or two deals a year will go poorly, and here and there you will make mistakes. This does not mean you throw your career away; it simply means you learn from it and move on. Learn to document every step of the transaction, so when you are asked what happened to the Home Inspection Report, you can look it up and say a copy was sent to Larry and Larry confirmed receipt; I have the email. Each action, each item, each email in a Real Estate Transaction should be properly documented and if need be retrieved. 
But there is an acceptance I want to bring to your reality - The Real Estate Transaction is necessarily adversarial; it does not have to be acrimonious, but from time to time some individuals to get something they want, look to throw you under the bus and try to take advantage of you - and sometimes they succeed. You must understand that this happens in one transaction out of thousands, it is not rampant, but if you do enough Real Estate Deals you may eventually run into it. Learn the good habits of documenting your transactions, and the moment you feel you are in a situation that is turning horrible speak to your broker, put them in your corner and don't go at it all alone. 
Step 3: Remember Motion creates Emotion. Before you got in the place you call "being stuck" you had a working routine; a morning routine; a planning routine; a workday routine, and even a sleep routine - go back to them as quickly as possible. Get back in the motion of your routines, and your emotions about your success will start returning. Action is your friend; anger and despair at home will only suck you in further. Wake up in the morning and meditate; have your breakfast or cup of coffee; get dressed for work; reflect by reading a good book and writing your thoughts; and get to work - you know what to do; go do what you know how to do. Trust your Success Routine. 
If you continue to Reflect, Write, and Go back to your Routines a few things will emerge. It could be that you made a big mistake in a deal, or with a work colleague, or in your personal life, and now you realize you have to make it right. Talk to a friend or a coach and run it by them and seek their advice; and if the advice resonates with what you also want to do to make it Right, then Take Action and let the cloud lift. 
In the case in which this feeling of "being stuck" was a victimization of you; identify what happened, then seek advice from Friends, Brokers, and Coaches - you may even need to involve a Therapist, or in extreme cases The Law. Don't wallow too long in this state of being; the person who should carry the shame is the victimizer - not you. Get your courage back by taking some the actions I shared; then trust your being and move on. 
Let me share this quote by Stephen R. Covey: "I am not a Product of my Circumstances; I am a Product of my Decisions."  - #8WeekSuccess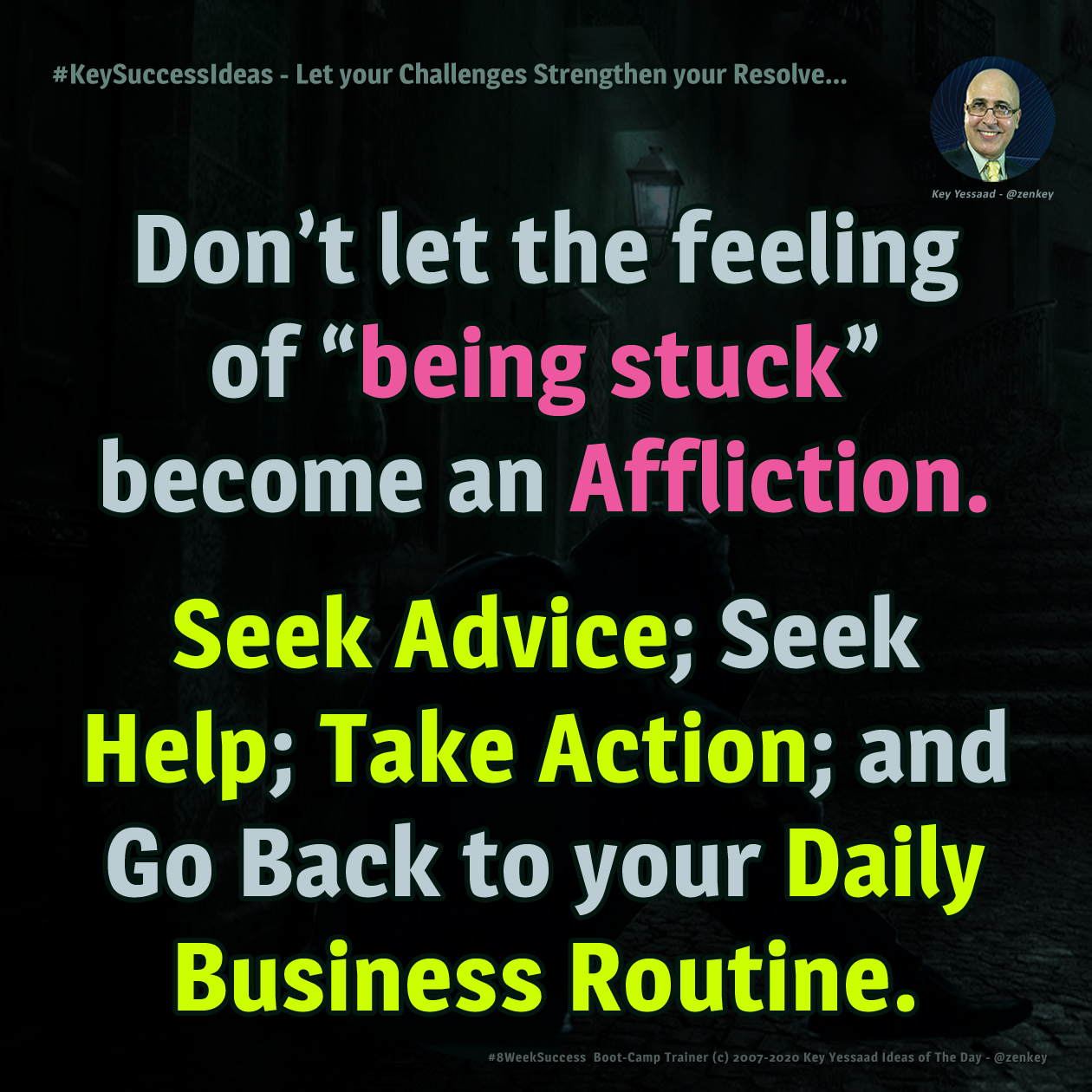 Written and Shared by Key Yessaad, Master Real Estate Strategist, Veteran Real Estate Trainer, Boot-Camp Instructor, Expert SEO Consultant, Internet Marketing Specialist, and Business Mentor/Coach. (910) 538-6610 - https://www.realestatewebtrainer.com/ 
Related Hashtags: #BeingStuck #Journal #SeekAdvice #Entrepreneur #KeyWorkshops #20in20 #RealEstateBootCamp #RealEstate #Inspiration #Success #RealEstateSEO - #RealEstateMentoring #RealEstateCoaching #Motivation #RealEstateTraining #KeySuccessTraining #LiveTrainingRE #Agents #RealEstateMotivation #Realtor
Categories: Key Success Ideas, Real Estate Business, Entrepreneurial Reality