When swimming in any Entrepreneurial Career many understand the need to build Knowledge and Systems in a deliberate way, but there is another area that should not be ignored; #KeySuccessIdeas - and some argue encompasses the previous two areas: Confidence, or more specifically Self-Confidence. Culturally Confidence is viewed as an innate trait; you are either born or not born with it; hundreds of movies relish in the mythical hero born to lead the rest of us commoners. 
Well, let me talk to the boots on the ground, the Entrepreneurs and Real Estate Professionals - Don't fall for that Narrative; Confidence and Self Confidence are skills; you develop them by working on them, and if you commit to forging them daily in your activities, they will emerge and will sustain your career for the long term. 
Notice that I talk about Confidence and Self-Confidence - they are not the same. Let's start with proper dictionary definitions: Confidence: faith or belief that one will act in a right, proper, or effective way. Self-Confidence: confidence in oneself and in one's powers and abilities. So confidence is about projecting onto the world, and more importantly, onto your clients the sense that you get the job done, and all your clients have to do is choose you as their Realtor and you will guide them properly, deliberately, correctly, and enthusiastically to the finish line. 
You must understand that you clients will not word it in that manner; they will not ask you to show them Confidence; but oh my, they are looking for signals of it; even when not spoken. When your clients say yes to you - they are not saying yes to your Real Estate License, to your Brand, or to how tall you are - they were able to sense, and hear, that with you the job will get done! This is called Projecting Confidence Outwards. 
When it comes to Self-Confidence, you simply substitute the clients for yourself; meaning that you have to look you in the mirror and be convinced that you have what it takes to earn a fantastic living as an entrepreneur. This is the most difficult exercise of all - building that conviction in yourself takes work - and I want you to take on the work; embrace that challenge for the rewards are glorious. 
Lesson 1 in Human Development: Nothing Happens Overnight; 
Lesson 2: If you commit to it, work at it, and stick to it; I don't know when but it will be there - and it will feel like it was there all along, and at the same time like it happened overnight. 
Let me share with you a couple of tips that have worked for many of my Students. Focus on making Progress NOT Perfection; remind yourself that many a times Perfection is the enemy of Progress, and the best friend of Procrastination. Be intentional and make daily progress in the areas of interacting with people, face to face and on the phone. When you make mistakes, and you will make plenty, forgive yourself and move on very quickly - don't get stuck in a whirlwind of deep self-pity; some of your mistakes are going to help you get stronger. This concept is called: Stay in the Arena and Play the Game. 
Collaborate with others and ask for help as you go along; but don't forget to offer help to others. You may not have all the answers but you have inner wisdom and strength, so share with others - as much as you seek sharing from others. Say you want to build confidence talking to people one on one at their doors, and invite them to say an Open House. First practice with a colleague what you would say and ask them to play various roles; then don't go alone Canvassing, pair up, and you do one door, the other does the other door; and if you feel disoriented you regroup, chat about it quickly and go on. This is called building Confidence in the Arena of Reality – this is good for you. 
Let me end with this gentle Christopher Robin Quote from Winnie-the-Pooh: "Always remember you are braver than you believe, stronger than you seem, and smarter than you think." I reckon it makes for a good affirmation.  - #8WeekSuccess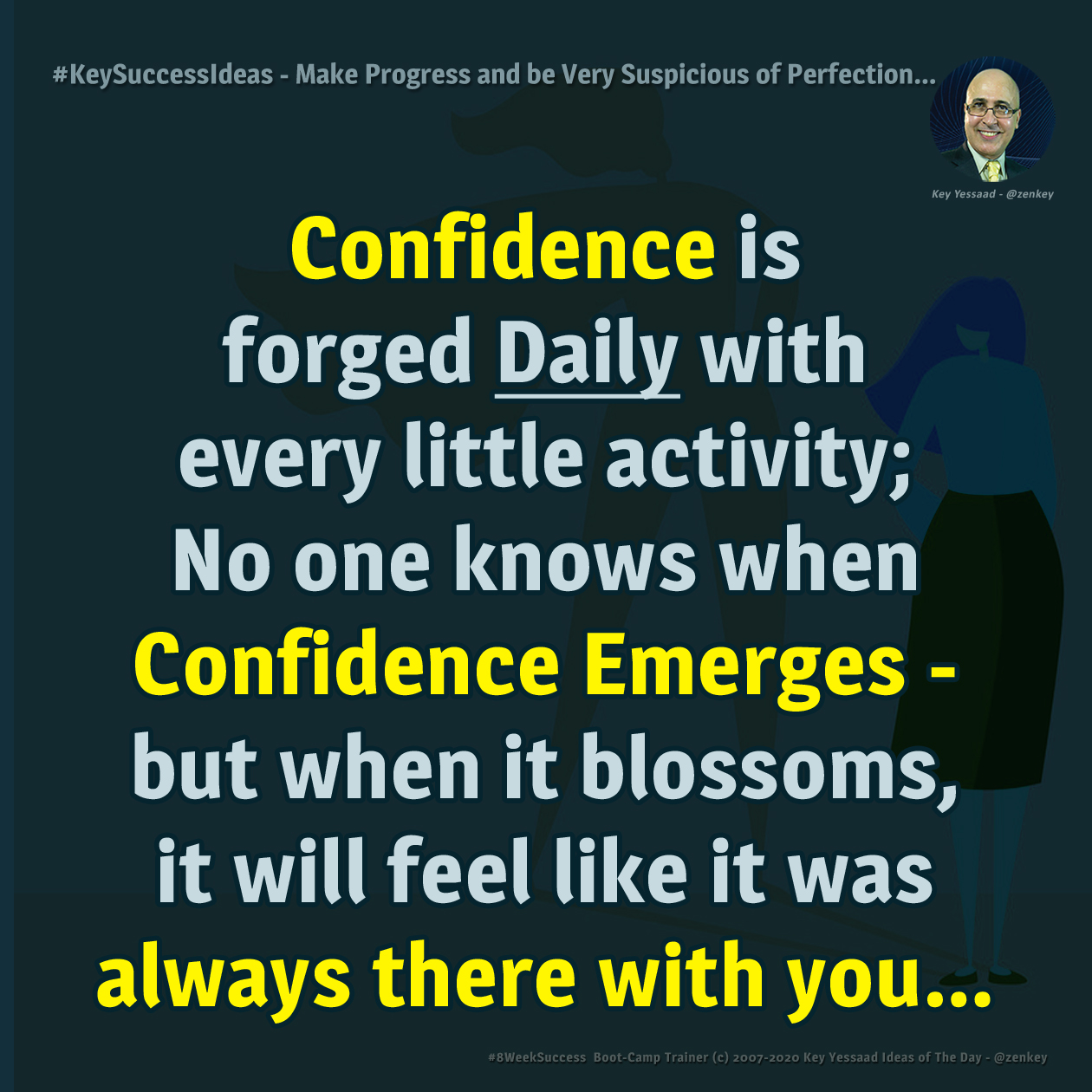 Written and Shared by Key Yessaad, Master Real Estate Strategist, Veteran Real Estate Trainer, Boot-Camp Instructor, Expert SEO Consultant, Internet Marketing Specialist, and Business Mentor/Coach. (910) 538-6610 - https://www.realestatewebtrainer.com/ 
Related Hashtags: #Confidence #Self-Confidence #TakeAction #Entrepreneur #KeyWorkshops #20in20 #RealEstateBootCamp #RealEstate #Inspiration #Success #RealEstateSEO - #RealEstateMentoring #RealEstateCoaching #Motivation #RealEstateTraining #KeySuccessTraining #LiveTrainingRE #Agents #RealEstateMotivation #Realtor
Categories: Key Success Ideas, Real Estate Business, Entrepreneurial Reality