Week 2 of the #8WeekSuccess Real Estate Training Boot-Camp focuses on two major areas of Expertise that agents and Brokers MUST conquer - Prioritized Time Blocking and Systematic Lead Conversion. Without a strong foundation in these 2 areas agents are left focusing on their distractions; and Real Estate is full of Distractions. 
Why don't I use the common moniker of Time Management? Well, that's on purpose because humans cannot manage time; time has a mind of its own, and it flows in one direction no matter what we do in life. Time is also fair to all of us; we get the same number of hours day in and day out Rich or Poor, Young or Old, Focused or Not. With the concept of Time Blocking the Activity takes precedent, not the rigid beginning and end. So if I schedule 35 minutes of Follow-Up Calls at 11am, and a client pops by to ask a quick question, I handle the interaction and when done start my 35 minutes of Follow-Up Calls at 11:15am; in essence the block was shifted, not cancelled, not ignored. 
On the surface Time Blocking seems like an easy idea to grasp, and it is - but it is how you prioritize the blocks properly that matters most - we will learn in the class the major ingredients in making Activities produce results, and how to put together an Organic not stressful work schedule conducive to the Real Estate Professional. 
In the second half of the class we will focus on Lead Conversion, or more precisely the Systems and the Mindset for converting leads in a consistent manner. The Real Estate Industry generates lots of leads, because consumers have Real Estate on the Brain whether they are ready to Buy or Not. A lot of Lead Generation Vendors call a lead an Internet Registration, which is very misleading at best – they should be calling themselves "Forced Internet Registration Websites" - what matters in the Real Estate Transaction is Motivation, NOT Curiosity. 
Proper Follow Up is where Real Estate Agents shine, but few develop the Habits, the Mindset, and the proper Checklists that produce results. How many Touches should an agent make? What are the Scripts agents should practice? When and how to contact these prospects so a conversation takes place? What is the Proper Rating Systems for Leads? What is a CRM and what should it contain so agents can get the highest value? 
Our Agents do not become great at Lead Conversion overnight; we must first train them with proper Systems; proper Scripts; proper Scheduled Follow-Up Calls, Texts, Emails, and Pop-bys; and surround them with proper Structure and Attitude. The goal of nurturing and incubating leads is about creating Appointments - it is not about Selling; the magic happens at the Appointment. 
The #8WeekSuccess Boot-Camp is an intensive course that only 24 to 30 agents qualify in at a time. It was designed for those who are or plan to be Full-Time and earn no less than $100K in Gross Commission. Measured in time the course spans 3 months and is meant to build the Business of Real Estate Success from the ground Up!  #LeadConversion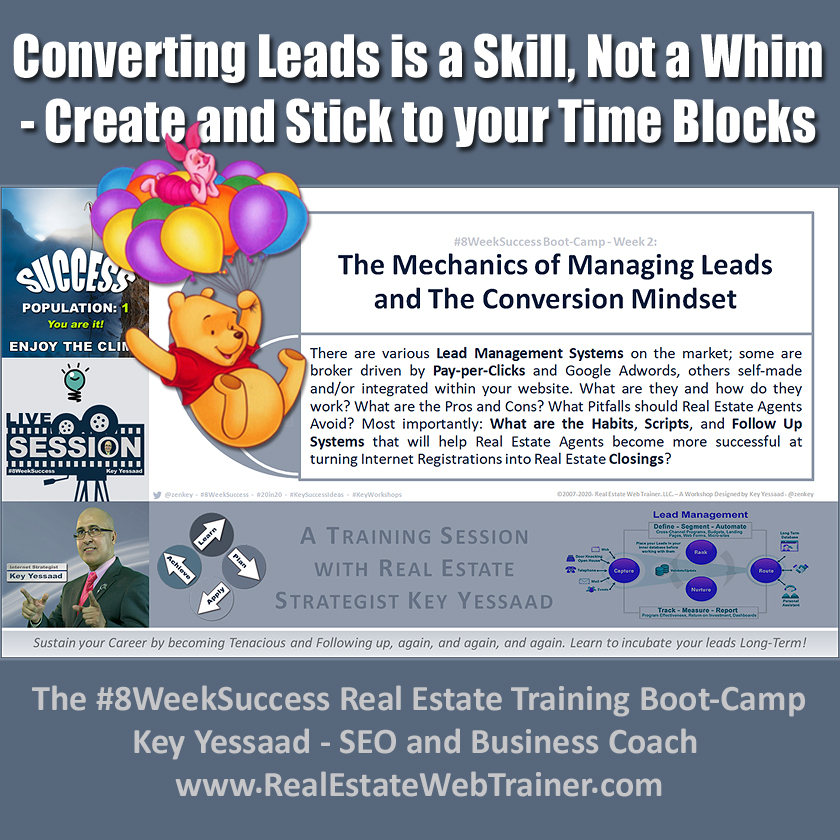 Written and Shared by Key Yessaad, Master Real Estate Strategist, Veteran Real Estate Trainer, Boot-Camp Instructor, Expert SEO Consultant, Internet Marketing Specialist, and Business Mentor/Coach. (910) 538-6610 - https://www.realestatewebtrainer.com/ 
Related Hashtags: #TimeBlocking #LeadManagement #ConvertingLeads #RealEstateLeads #Entrepreneur #KeyWorkshops #20in20 #RealEstateBootCamp #RealEstate #Inspiration #Success #RealEstateSEO - #KeySuccessIdeas #RealEstateMentoring #RealEstateCoaching #Motivation #RealEstateTraining #KeySuccessTraining #Agents #RealEstateMotivation #Realtor
Categories: #8WeekSuccess Boot-Camp, Time Blocking, Real Estate Prospecting