Learning to Shift your Attention to the present moment is not only a Skill, it is a major Liberator of Anxiety and Fear; which tend to hinder the progress of many Entrepreneurs. #KeySuccessIdeas - Anxiety over a meeting, a presentation, or simply making calls is driven either by the Fear of Rejection; or the memory of past rejections. Our Brains like to store memories of Bad Events so as to protect us from experiencing these bad feelings from the past; so if you are asked to speak to a group of people, and in the past you were either traumatized by a bad speaking engagement, or you saw someone experience such a bad experience, you body will start shaking, and your palm will start sweating - that is your mind stuck on the past trying to tell you don't do this you will experience rejection. 
You have to realize that nothing has happened yet; you were simply asked to speak to a group of people about something you know a great deal about; yet your mind is stuck in the past experiences and is trying to protect you by making you physiologically afraid and anxious. You must understand that the same Physiological fear happens if you encounter a bear, a lion, or a fearful animal. In the case of the animals the fear and the anxiety are justified, so the Fight or Flight Response kicks in so you can defend yourself. In the case of the speaking in front of the group of people about something you know a lot about, the Fight or Flight Response is overkill. Our Brains do not make the distinction - we need to teach our minds to make such a distinction. 
Choosing a career in Real Estate is about Speaking to people; you can't avoid it - if you do not plan to conquer that fear then you won't have much of a Career. I say lean into the anxiety and the fear by learning a few techniques; let me share a few of them, but before I do let me recommend an Organization, which I am sure has a chapter of professionals in your town or nearby: Toastmasters International. Let me share with you how they define themselves: "What is Toastmasters? Do you want to practice public speaking, improve your communication and build leadership skills? With Toastmasters, you can break barriers, not your budget. Learn more about the history of the organization and our methodology to help maximize your potential!" - You can find them here: https://www.toastmasters.org/ 
Here are a few techniques to help you ease anxiety; Shift your attention to the present moment, in other words Be Here Now. The fastest way is to focus on your breathing; Breath in and feel that sensation of the air entering your lungs; notice your nostrils flaring to let the air in; then gently Breath out and notice the flow of air; the warmth of your breath, the sensation on your chest. When you bring your mind back to your breathing you are disturbing your automatic Fight or Flight Response; you are bringing yourself to the here and now. When you shift your attention to the present you have more control and you are no longer "in your head." This basically stops the past fear memory script from running and causing you more anxiety. 
Don't avoid the fear; observe the fear; acknowledge its presence in a matter of fact kind of way. Fear doesn't have you when you observe - you end up owning it; which is the first step in conquering it. You hear many step on stage and quickly acknowledge that they are a bit nervous, and then they go on with what they are supposed to talk about. 
Long term Breathing Meditation is another technique that will help you master fears and anxieties. The purpose of Meditation is to learn the Art of Being Present; Being Right Here Right Now - When you are present you have Clarity of Thinking, Clarity of Observation, and Fear does not like those stages of being; Fear wants you to be confused, exasperated, worried, and disoriented. I encourage to learn to meditate by using the "Breathing Meditation Technique" - here is a link on YouTube: https://www.youtube.com/watch?v=SEfs5TJZ6Nk  - #8WeekSuccess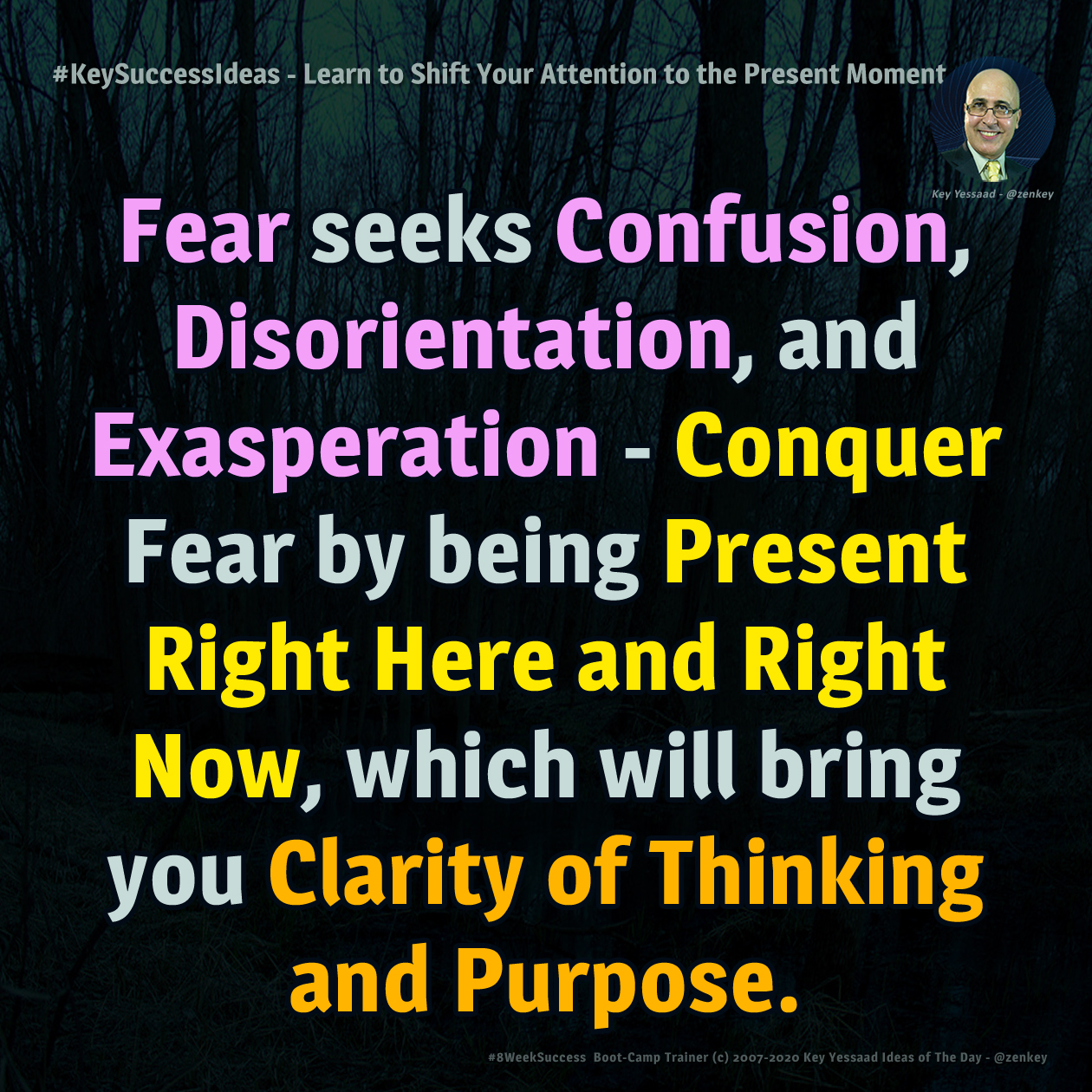 Written and Shared by Key Yessaad, Master Real Estate Strategist, Veteran Real Estate Trainer, Boot-Camp Instructor, Expert SEO Consultant, Internet Marketing Specialist, and Business Mentor/Coach. (910) 538-6610 - https://www.realestatewebtrainer.com/ 
Related Hashtags: #BeHereNow #Meditation #Anxiety #Entrepreneur #KeyWorkshops #20in20 #RealEstateBootCamp #RealEstate #Inspiration #Success #RealEstateSEO - #RealEstateMentoring #RealEstateCoaching #Motivation #RealEstateTraining #KeySuccessTraining #LiveTrainingRE #Agents #RealEstateMotivation #Realtor
Categories: Key Success Ideas, Real Estate Business, Entrepreneurial Reality