Time is the only important ingredient in Business none of us ever control; #KeySuccessIdeas - Time is so important to the life of an entrepreneur that ignoring how to flow with it can be detrimental in the long run. I can write about this unit of existence for a long time, but I would rather be strategic and invite you to develop a new relationship with the useful concept of Time Blocking. I am going to introduce you to a new definition of Time Units that hopefully will empower you and help you prioritize your activities in your Real Estate Career. 
Time Management is a much talked about concept we all read about, and I understand why we want to manage time as entrepreneurs. For workers their wages are measured by a unit of one hour, and they get paid weekly or biweekly by adding up these hours and multiplying them by their hourly wage. This model of compensation is absolutely ingrained in all of us, which for some who switch from earning wages to earning as entrepreneurs can be quite jarring. Real Estate Agents are the last ones to get paid based on the deals they put together by representing Buyers and Sellers - they may even work on a deal for 2 to 3 months to only see it fizzle away and not get a dime for their effort. The lesson is quite simple: If you are choosing to make a living as a Real Estate Professional be aware that you get paid for the Results you create NOT the time spent on putting those deals together. 
Which gets us to a definition I want to introduce you to which does not apply to wage earners, but can be quite powerful for Entrepreneurs. "A Time Block is a Unit of Time set by you the Entrepreneur to Focus on a Single-Threaded Business Activity occurring between your Distractions." I admit this is a weird definition, but let me break it down for you and it shall become very clear in a few moments. Real Estate Agents and Entrepreneurs have many distractions; their phone; their Social Media; and if they work from home their Refrigerators and TVs; Families; Friends; etc. 
The business day of an agent is full of distractions; so let up accept that they are part of the day to day running of their business. A Time Block is then what an Agent squeezes between distractions for a span of time of say 20, 25, or 35 minutes or longer. For a Time Block to be effective it cannot be shorter than 15 minutes; 20 minutes works well as a minimum unit, and 60 minutes is a bit too long for the majority of Agents. Let me run though a practical example of using Time Blocks to achieve your Goals. 
Let us take Sally; she is a Real Estate Professional, she tells herself that she needs to make an hour worth of follow-up calls to stay on top of her leads. She also knows that she can only effectively focus on a single task no longer than 20 minutes. Sally will then schedules 3 Time Blocks of 20 minutes each with 5 minutes breaks in between, and 10 minutes breaks before and after, something like this: 10 minutes Long break; 20' Follow-Up Calls; 5' Distraction Break; 20' Follow-Up Calls; 5' Distraction Break; 20' Follow-Up Calls; then finally a 10' Long Break. 
Some of you may argue that you are giving Sally too many breaks; first of all I am not doing the giving; Sally is giving herself those breaks. The reason I am proposing Sally approaches her work with this structure is in recognition that Sally will be distracted by the work around her, and will not be able to sit for an hour still doing just Follow-Up Calls - it would be torture for her. By having Sally work in chunks of focused single-threaded Time Blocks knowing that a break for distractions is soon to come; she can stay on the task and reward herself with her needed ingrained distractions. 
The 10 minute breaks that envelop the 3 short Time Blocks are meant for her to get up from her desk and move around for 5 minutes; take quick walk; hydrate properly; grab a needed quick bite of a snack; and some Social Media and Phone Distractions.  
I promise you that if Sally started working her Time Blocks in 20 minutes increment, staying on task and avoiding those distractions only when it is time for them 4 major things will occur: 1. Her Effectiveness at converting conversations to appointments will increase; 2. The number of Follow-Up calls she will make will be larger than what she is doing now; 3. Her skills on the Phone will be enhanced and become more productive; and 4. She will organically gravitate to longer Time Block Units of 25 to 35 minutes. 
I personally do not recommend anyone focus on a single task longer than 35 minutes; if a project, say putting together a Market Report, takes about an hour, break it into 2 or 3 Time Blocks with 5 minutes Distraction breaks in between; you will complete it faster and more accurately than what you are doing now.  
Let me run the definition by you again so I can emphasize another concept: "A Time Block is a Unit of Time set by you the Entrepreneur to Focus on a Single-Threaded Business Activity occurring between your Distractions." The concept is Single-Threaded: meaning to stay on a single task during the Time Block. If you find yourself seduced by the idea of Multitasking so you can get more done; realize that you not helping yourself be more effective - you are now in the realm of dabblers, which is what most agents who are desperate find themselves doing. 
Let me finish with this last idea: Make sure all of your Time-Blocks appear in your Calendar, and when you add them all up they should not constitute more 4 to 5 hours of your day. As a Real Estate Professional part of your work is to be out and about with the Public; so to structure your whole day with Time Blocks is pure insanity - 3 total hours of Time Blocks is a minimum; most agents focus on 4 to 5 hour of structured time and the rest is floating time. Obviously this Blog is meant for you to get some ideas of how you want to run your business; You are the entrepreneur and you do not work for a living; You create structure to your day so you can get more appointments, which will translate into more deals.  - #8WeekSuccess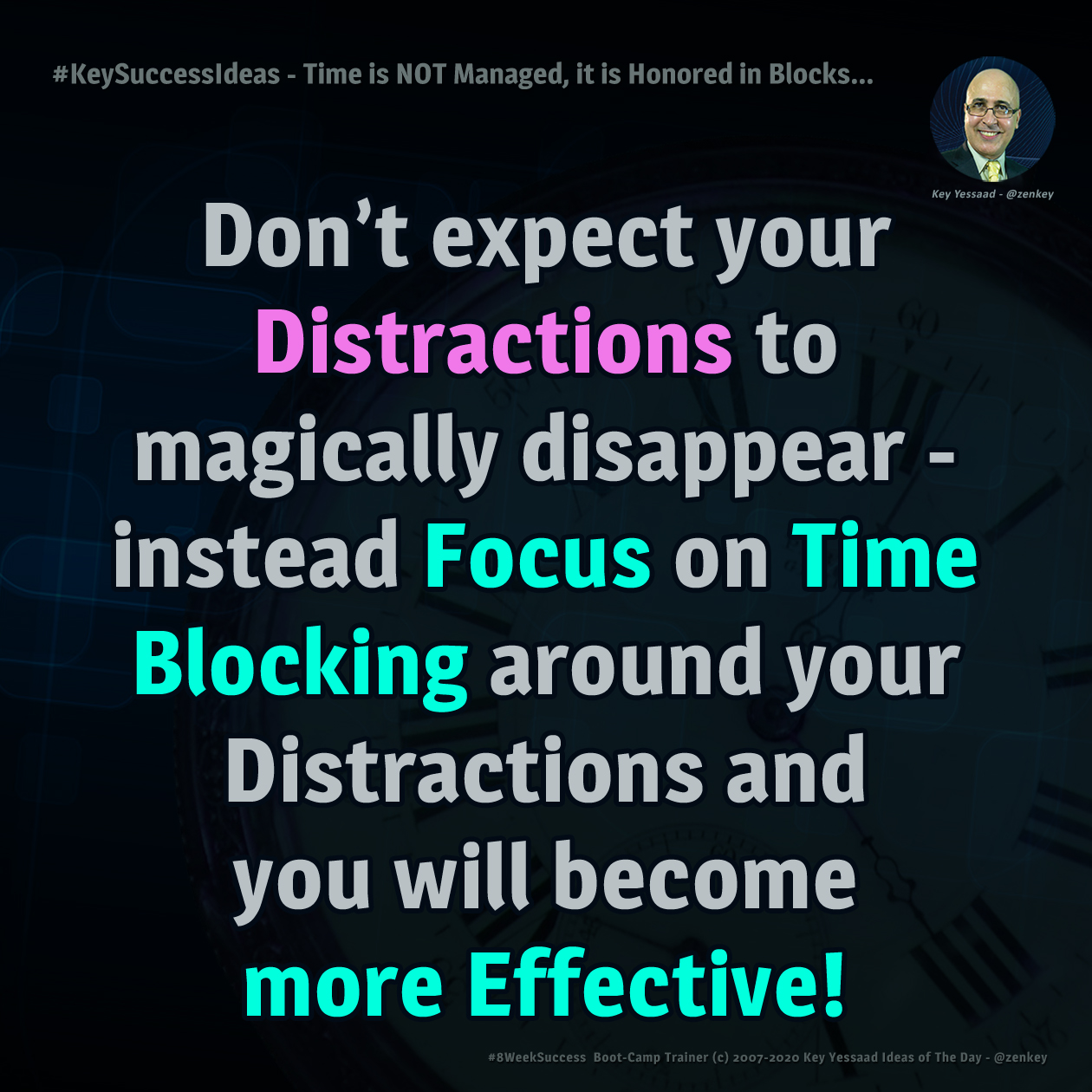 Written and Shared by Key Yessaad, Master Real Estate Strategist, Veteran Real Estate Trainer, Boot-Camp Instructor, Expert SEO Consultant, Internet Marketing Specialist, and Business Mentor/Coach. (910) 538-6610 - https://www.realestatewebtrainer.com/ 
Related Hashtags: #TimeBlock #Distractions #Structure #Entrepreneur #KeyWorkshops #20in20 #RealEstateBootCamp #RealEstate #RealEstateMentoring #Motivation #Inspiration #RealEstateBootCamp #Success #RealEstateSEO - #RealEstateCoaching #RealEstateTraining #KeySuccessTraining #LiveTrainingRE #Agents #RealEstateMotivation #Realtor
Categories: Key Success Ideas, Real Estate Business, Entrepreneurial Reality