Success is an Accumulation of Consistency… - Video… This past Friday, November 1st, during the first Session of the #8WeekSuccess Real Estate Training Boot-Camp I played a Video that resonated with many participants. The Inspirational Video focused on viewing Success as an Accumulation of Consistency in Prioritized Activities. Isn't that what we do as Real Estate Professionals? We have to bring to our daily Business Activities Consistency, Resilience, and be highly Prioritized with our Prospecting. 
I end the video with a graphic that contains these words: "Success is about Consistency! Say to Yourself: I am Determined! I am Tenacious! I am Consistent! I Overcome Fear Daily by Taking Action!" - scroll down and you will see the Graphic. 
Here are the words by the various speakers in this uplifting video - you will recognize Simon Sinek, John Maxwell, and others:
It's not about doing the occasional big things; it's about doing the consistent small things. 
If you go to the gym and you workout, and you come back and you look in the mirror, you will see nothing. If you go to the gym the next day, and you come back and you look in the mirror, you will see nothing. So clearly there's no results, can't be measured; it must not be effective. So we quit. 
Or, if you fundamentally believe that this is the right course of action and stick with it, you commit yourself to the regime, the exercise; if you stick with it consistently, I'm not exactly sure what day, but I know you'll start getting into shape. There's no event. It's an accumulation of lots and lots of little things, that any one by themselves, is innocuous and useless; but if you do it consistently, and you do it in combination with lots of other little things, it's those little innocuous things that you do over and over, and over, and over that matter the most.
When you're consistently good, when you are consistently true to your word and to your values, when what you say and what you do consistently measures up, and that there's a sense of cohesion in your thoughts, and your words, and your actions, and your questions, when all of it comes together in a consistent way, then all of a sudden that people say, I buy into that person. 
What I did yesterday got me to where I am today. But what I did yesterday is not going to help me to stay where I am today. Do you understand me? You don't get out of life what you want, you get what you earn. Here, this is an everyday gig, everyday is a Monday. Every day is a beginning, a new day, a new shot at life. An opportunity to come out of the gate like a person possessed, and attack the day without mercy. 
Every one of you in five years from now is going to arrive somewhere. Here's the thing, so many people, we just throw our lives up in the air and rely on chance, and just hope it all works out. You don't have to throw your life up to chance, t your life can be a choice. And you can choose where you want to go the next five years and beyond.
You are powerful, and you are impactful, and you are in control.  
Today, I am putting the pressure on. I'm the aggressor, I'm on the attack. And I will not stop. 
"Success is about Consistency! Say to Yourself: I am Determined! I am Tenacious! I am Consistent! I Overcome Fear Daily by Taking Action!" - #KeySuccessIdeas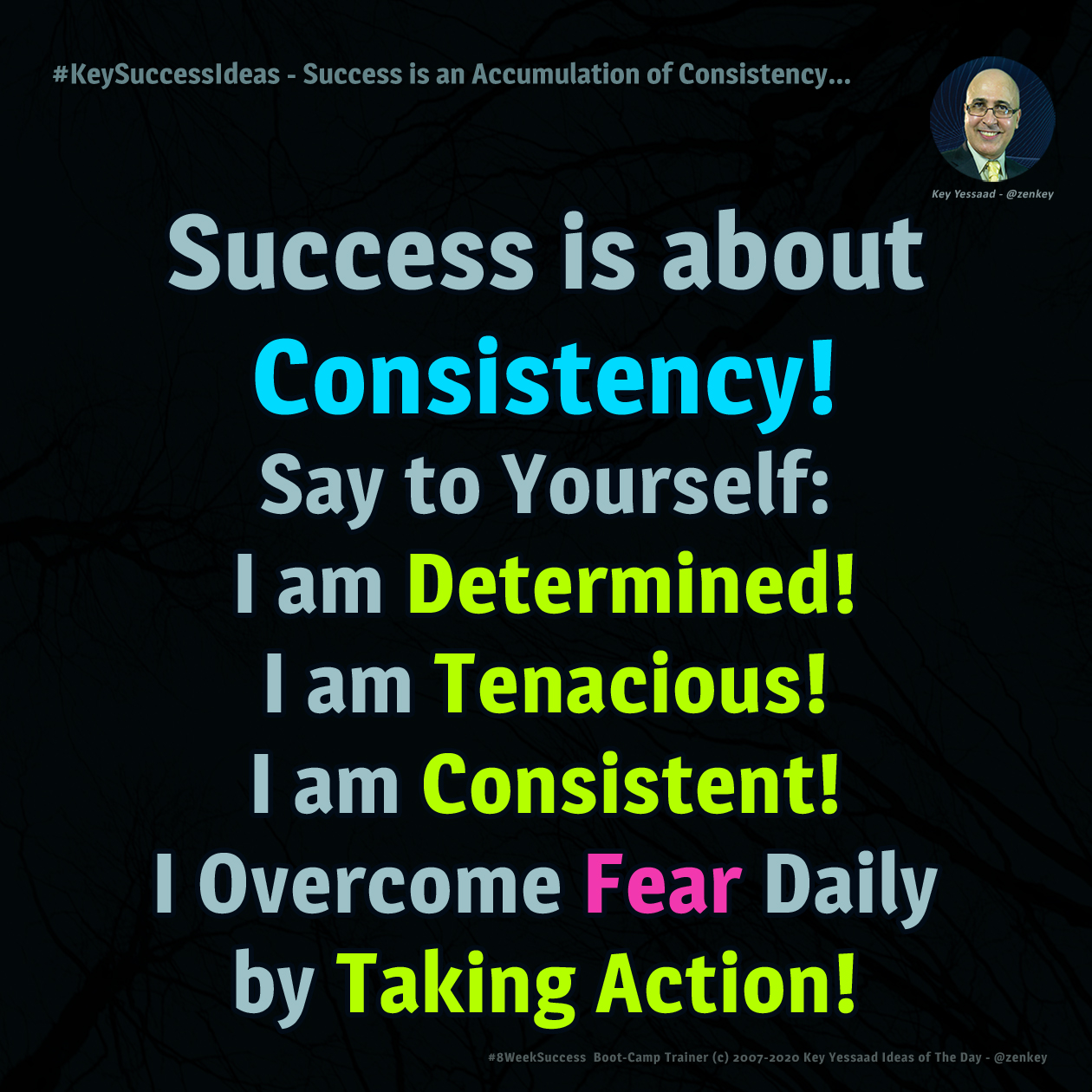 Written and Shared by Key Yessaad, Master Real Estate Strategist, Veteran Real Estate Trainer, Boot-Camp Instructor, Expert SEO Consultant, Internet Marketing Specialist, and Business Mentor/Coach. (910) 538-6610 - https://www.realestatewebtrainer.com/ 
Related Hashtags: #Consistency #Determination #TakeAction #Entrepreneur #KeyWorkshops #20in20 #RealEstateBootCamp #RealEstate #RealEstateMentoring #Motivation #Inspiration #RealEstateBootCamp #Success #RealEstateSEO - #RealEstateCoaching #RealEstateTraining #KeySuccessTraining #LiveTrainingRE #Agents #RealEstateMotivation #Realtor
Categories: #8WeekSuccess Boot-Camp, Real Estate Trainings, Real Estate Business