A significant number of Real Estate Professionals are notoriously known for being late, and they always have very good reasons; so what is it about the Real Estate Profession that causes this unhealthy habit? #KeySuccessIdeas - Maybe we should consider a different question: Does being On-Time to appointments matter in the Real Estate Transaction? After all purchasing or selling a home are a big deal, so why get bent out of shape if your realtor is late 10 to 30 minutes; what matters is the competence of said Realtor - Right?! 
To the first question: What is it about the Real Estate Profession that causes a lot of Agents to be notoriously late? Bad news, the profession has nothing to do with it. The Real Estate Industry produces many wonderful experienced agents who are not only known to be On-Time - they show up early to their appointments! The interesting correlation is between those who show up On-Time and Large Production - it is quite high; in other words being on-time is good for business. 
So why so many struggle? Well, being a Real Estate Agent is being an Entrepreneur, which means you work for yourself - YOU are the boss. You no longer have to be told what time to get to work, and what time to go home. You now get to have that privilege; and many agents develop bad habits around this freedom. This bad habit opens up Pandora's Box for "Fabulous Excuses" and agents are very good at coming up with extravagant very believable excuses. For many it has become an art form, and they think they are fooling everyone - they confuse silence for acquiescence. 
This is not to say that agents are deliberately late, a few are, but the majority of these tardy agents have yet to master Time Management, or more precisely Time Blocking. Let me share one simple tip here: Don't run a separate To-Do list from your Calendar; place all your commitments in your Calendar and make sure you sync it with your Smartphone; then schedule appropriate alarms on when to be on the road to your appointments. Many keep some appointments in their calendar and others in their head, which causes conflict. Take the few seconds necessary to update your calendar with all your commitments and trigger reminders that will help you stay on track. 
The biggest lesson successful Realtors learn is "Being On-Time is a Choice!" Better yet: "Being On-Time is a sign of Respect!" Learning to be On-Time is the skill of learning to be Early all the time. In order to earn more than $100K a year Real Estate Agents must generate 35 to 50 Good Appointments a year with Buyers and Sellers; then convert 20 to 25 of them into Contracts and Sales. You add a blemish to each appointment when you are late; you may think that the clients you are meeting care about the excuses you give them - but they don't. The fact that they are silent is because they are polite, but that late arrival with the flowery excuse is costing you deals. 
Make a commitment Right Here and Right Now that being On-Time is a Choice; that you will raise your awareness to this important Skill. I would like you to start affirming that Being On-Time is Synonymous with your Professionalism, and that it is a source of pride for you. Make being late such a rare occurrence that when it happens it shocks you! Even Shakespeare wrote about it: "Better three hours too soon than a minute too late." Try this Mantra: "I Respect Myself; I Respect My Clients; I Choose to be On Time!"  - #8WeekSuccess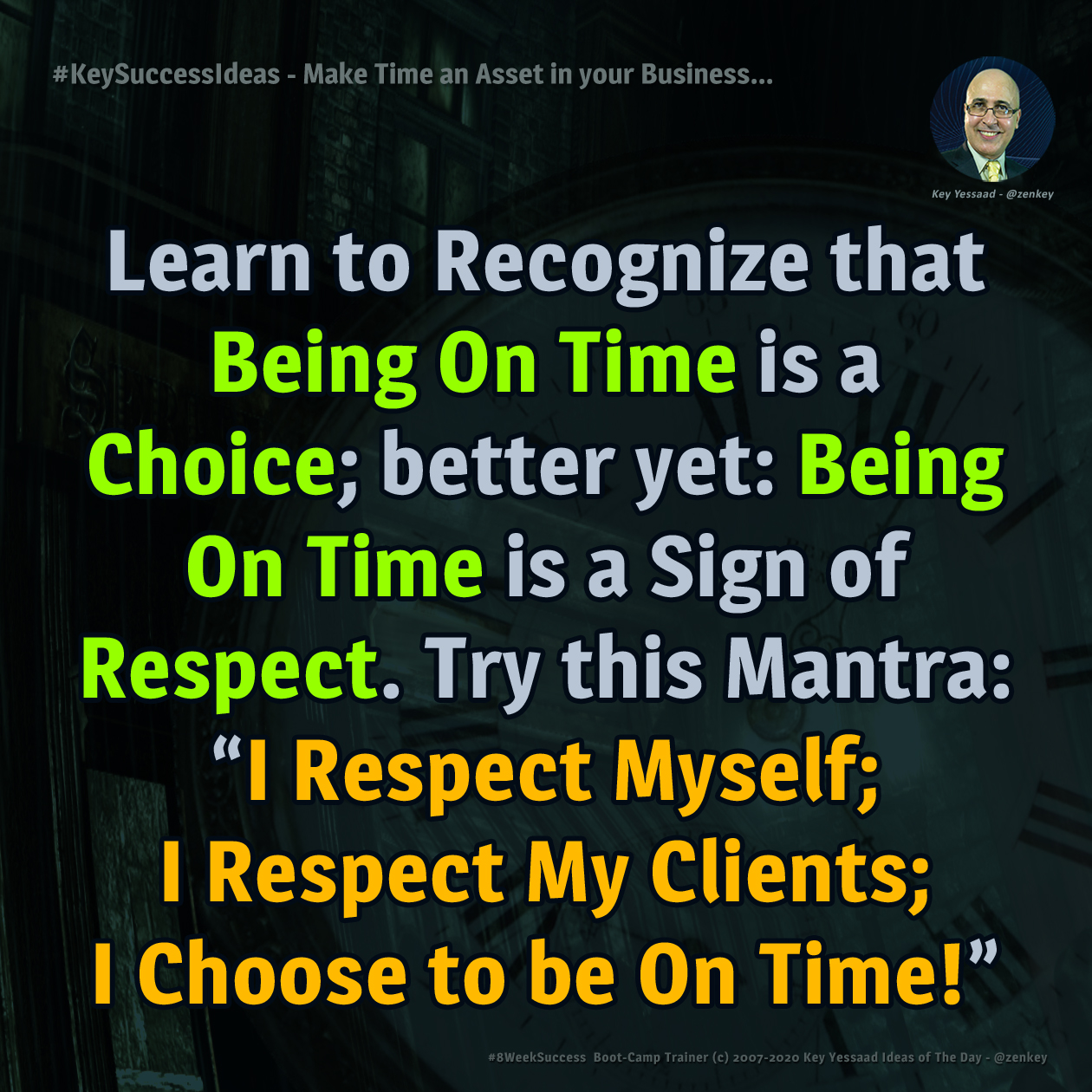 Written and Shared by Key Yessaad, Master Real Estate Strategist, Veteran Real Estate Trainer, Boot-Camp Instructor, Expert SEO Consultant, Internet Marketing Specialist, and Business Mentor/Coach. (910) 538-6610 - https://www.realestatewebtrainer.com/ 
Related Hashtags: #OnTime #NoExcuses #Respect #Entrepreneur #KeyWorkshops #20in20 #RealEstateBootCamp #RealEstate #RealEstateMentoring #Motivation #Inspiration #RealEstateBootCamp #Success #RealEstateSEO - #RealEstateCoaching #RealEstateTraining #KeySuccessTraining #LiveTrainingRE #Agents #RealEstateMotivation #Realtor
Categories: Key Success Ideas, Real Estate Business, Entrepreneurial Reality