Becoming a Real Estate Professional is not a trivial matter; a Career in Real Estate is not for everyone but if you are serious about it let me share some insights that I hope will illuminate the way. #KeySuccessIdeas - Let me first introduce you to the idea of becoming an Entrepreneur and what it means; according to Merriam-Webster Dictionary an Entrepreneur is "one who organizes, manages, and assumes the risks of a business or enterprise;" the other definition is: "a person who starts a business and is willing to risk loss in order to make money." 
These two definitions do not include the words job, salary, benefits, guarantee, wages, paid vacation, pension, etc. A Real Estate Career is not a job, it is an entrepreneurial endeavor; in other words you do not get paid for the hours you work - you get paid for the results you create. Let me add one more reality, as a real estate agent you are the last professional in the chain of the transaction to get paid; and you better be prepared for 3 to 5 deals a year to fall apart to no fault of yours - it is just the nature of the beast in Real Estate. 
Let me eliminate one more false misconception before I share some helpful thoughts; Real Estate has nothing to do with houses, land, or homes - it has to do with People: You are in the business of people who are thinking about buying or selling Real Estate; so you really are in the business of Behavior Psychology. 
Before you jump into this career reflect on the following two questions in writing; grab a journal and write down all the answers that come to mind to: "What is it that I love doing?" the other questions is: "What is it that I do not like doing?" Make sure you are very thorough in your answers, even if they seem obvious or trivial - write them down. Don't rush the process and be as detailed as you can. Don't worry at this stage whether you have the skills to be a Real Estate Professional, focus more on your heart, passions, desires, and interests. 
If you can see yourself spending your day interacting with people, listening to their Dreams of Homeownership; their challenges with moving; their fears of selling at the right or wrong time; bottom line talking to people all day long, both on the phone and face to face, then there may be a Real Estate Career for you. If you don't like that idea I truly want you to reconsider - if you love the homes, but are not into the interactions with people, then consider a career in Interior Design, Architecture, Landscape Design, Drafting, Surveyor, etc.  
The mistake that many make is pursuing a Real Estate Career for the money; and they forget that 300,000 professionals burnout from this industry every 18 months. This is not an easy gig; it is a demanding career, and doing it part-time is even more challenging. Getting your license has nothing to do with learning to become a good Realtor; my best advice for you is to find the right broker in your area - interview several before you make a final decision. The right broker can help you build a solid career that will last you decades - be humble, learn a lot, listen to the right professionals, take training classes, and engage with people daily. Real Estate is a wonderful adventure if you take it seriously.  - #8WeekSuccess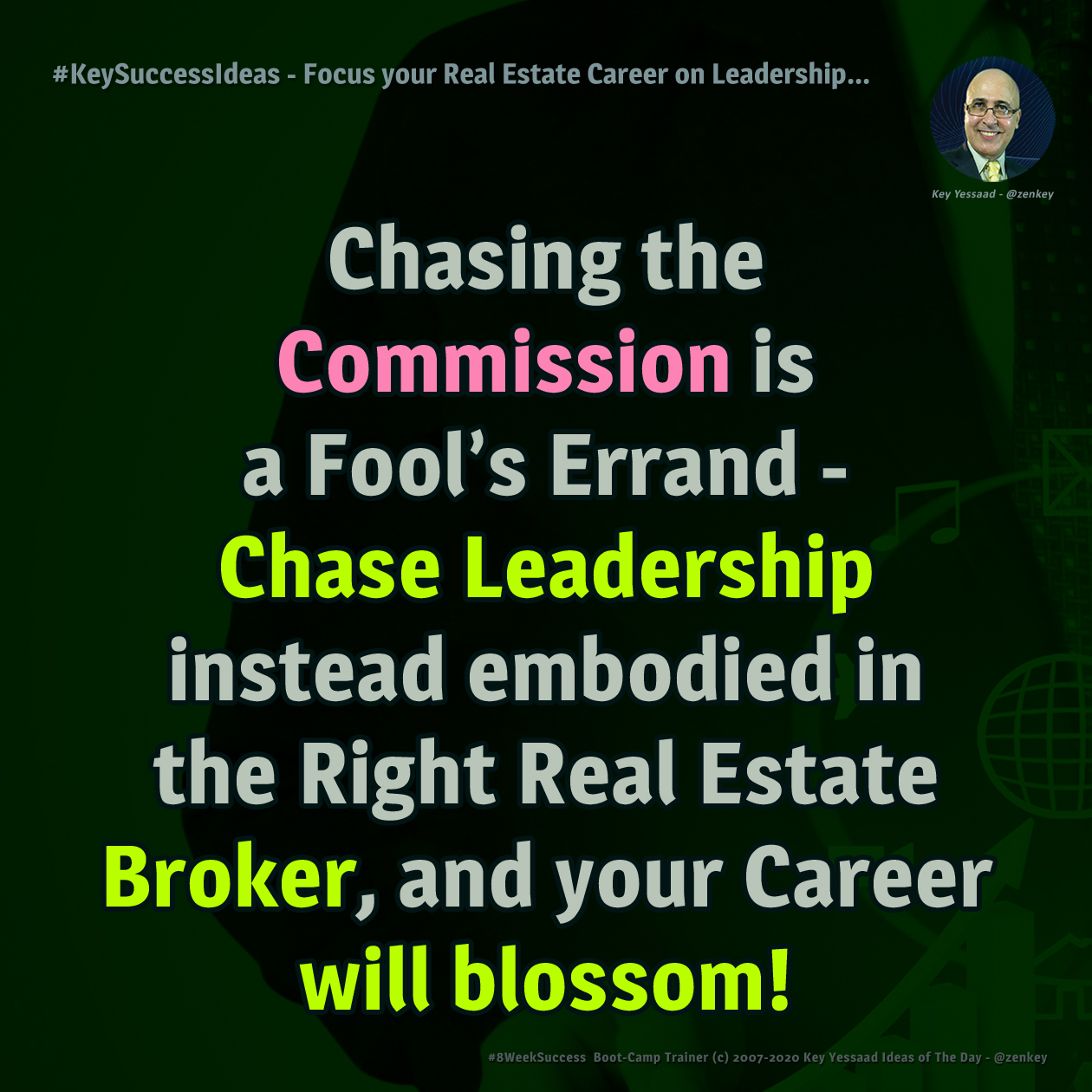 Written and Shared by Key Yessaad, Master Real Estate Strategist, Veteran Real Estate Trainer, Boot-Camp Instructor, Expert SEO Consultant, Internet Marketing Specialist, and Business Mentor/Coach. (910) 538-6610 - https://www.realestatewebtrainer.com/ 
Related Hashtags: #Career #People #Broker #Entrepreneur #KeyWorkshops #20in20 #RealEstateBootCamp #RealEstate #RealEstateMentoring #Motivation #Inspiration #RealEstateBootCamp #Success #RealEstateSEO - #RealEstateCoaching #RealEstateTraining #KeySuccessTraining #LiveTrainingRE #Agents #RealEstateMotivation #Realtor
Categories: Key Success Ideas, Real Estate Business, Entrepreneurial Reality