Running a business as an entrepreneur is liberating, fulfilling, and at times Overwhelming - #KeySuccessIdeas - after all the buck stops with you and no one can make you do or not do anything. This freedom is both a blessing and a curse; learning to master this autonomy is absolutely an ongoing process of refinement and intention. So why do we feel overwhelmed? It is definitely not a pleasant place to be - we feel the pressure in our chests, breathing, and our minds struggle to concentrate on only one thing. It feels like the world has conspired to throw at us all the difficulties of running a business all at once. What are we to do? 
The first thing we must recognize is when we are overwhelmed we see complexity; in other words we see all those things we must do and we see them as a giant bundle of knotted challenges - we fail to recognize that each complex problem is made up of simple steps we are capable of taking, and by simply breaking down each complexity to its essence, we simply have a checklist to work on, and each item on the checklist is very familiar to us. The big feeling of being overwhelmed clouds our view and makes us see only confusion, murkiness, and uncertainly. Being overwhelmed is a feeling NOT an ism - therefore it can be conquered by the laser beam of Clarity. 
When in the presence of the chest crushing feeling of being overwhelmed take a breath; control and focus on your breathing; your brain needs oxygen. Tell yourself that you can handle what is going on. "I can do this!" Grab your journal and write the thoughts that accompany what you are feeling at this exact moment. You are slowing everything down; you must remember complexity thrives on confusion - when you slow it down, rays of clarity will shimmer through the fog and help you untangle the big blob of confusion into its simple elements. At this stage of the process you are not trying to solve anything, or trying to get rid of the pressure you are under - you are simply untangling the blob of all of the things you have got to do; so just keep writing. 
If you allow yourself to trust this process, you will end up with 4 to 6 important tasks that need to be completed within a short period of time; this is why you feel so overwhelmed. This time crunch is very real, but the anxiety you feel is not helping - so keep breathing in as normal a manner as possible. Take the tasks you just untangled from the blob and prioritize them from 1 to 4 or 1 to 6. If not sure how to decide, then assign them randomly - but you must end up with a list of tasks from the highest priority to the lowest priority. Since the time you have to focus on these tasks is limited, decide on the 2 or 3 you will either delegate, call to postpone, or place in the calendar for future processing. Remember communication is your friend; call Sally and let her know lunch at 12Noon today will not work - but you'd love to reschedule.  
You should be left with 2 to 3 tasks; get to work on the highest priority one giving yourself a 5 minute break for every 30 to 35 minutes of focused work. Remember you know what to do, so go at it at your normal pace, and forget about the next task for now - Be here now with what you are doing until it is done. This is called doing your best with what you have and ignoring the crushing judgment of perfection. 
The feeling of Being Overwhelmed clouds your judgment and makes you doubt yourself; there is little power in staying in that state of being. Your mind is powerful and capable of untangling any state of confusion and complexity, and it starts with controlling your breathing, and writing down all the thoughts that conspire to bewilder you. Take seriously your business journal; it can become your most influential Clarity Companion.  - #8WeekSuccess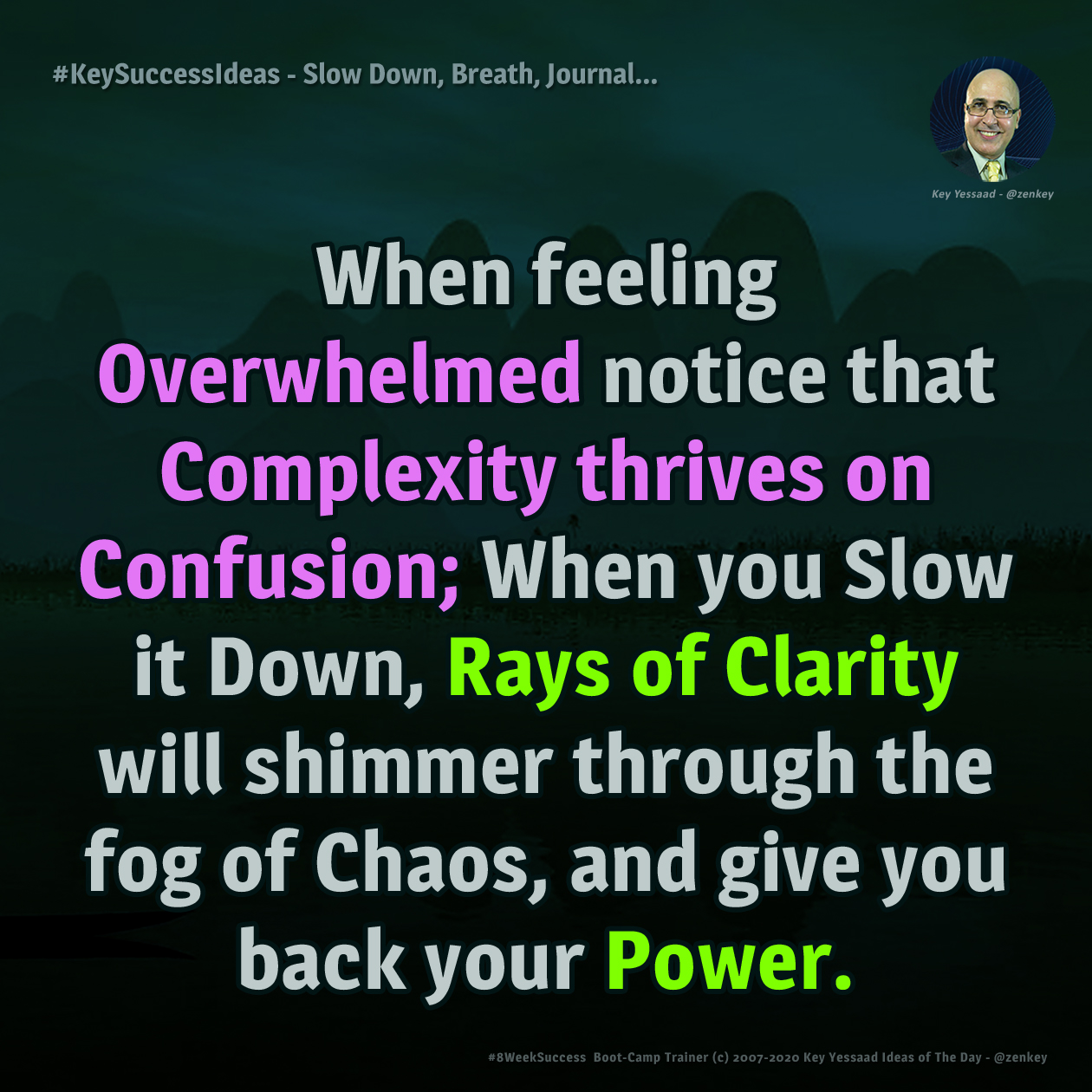 Written and Shared by Key Yessaad, Master Real Estate Strategist, Veteran Real Estate Trainer, Boot-Camp Instructor, Expert SEO Consultant, Internet Marketing Specialist, and Business Mentor/Coach. (910) 538-6610 - https://www.realestatewebtrainer.com/ 
Related Hashtags: #Breath #Clarity #Journal #Entrepreneur #KeyWorkshops #20in20 #RealEstateBootCamp #RealEstate #RealEstateMentoring #Motivation #Inspiration #RealEstateBootCamp #Success #RealEstateSEO - #RealEstateCoaching #RealEstateTraining #KeySuccessTraining #LiveTrainingRE #Agents #RealEstateMotivation #Realtor
Categories: Key Success Ideas, Entrepreneurial Reality, Real Estate Business