There are some people around you who may be unintentionally nudging you away from your goals, even though they are trying to do it with love in their heart… #KeySuccessIdeas - Why would they do that to you? They are NOT doing to you; they are filled with Limiting Beliefs and see the world around them through the lenses of those beliefs. Whatever they happen to fear they will project onto others, that's their only way to make sense of the World. An example of a Limiting Belief is: "Success is reserved to the very few who are special; and since you and I are barely average, we should keep our expectations very low." As you notice this limiting belief is not just about the person who believes it; it is about them seeing almost everyone near them afflicted with the same calamity, which in turns helps them numb their pain. 
Since being a Real Estate Professional has no guaranteed income, they see the doom of gloom of No income - they fail to see the upward potential of no limit on income. These are not bad friends, acquaintances, or family members - their view on earning and income are not entrepreneurial; they see earnings as guaranteed by top management and income doled out to the rest of the workers. Each unit of hour is rewarded with a dollar amount with guarantees and lots of Safety Nets. This Limiting Belief is not necessarily bad if they viewed it as applying only to them; it becomes harmful to you the entrepreneur when they keep questioning your chosen enterprise. Even if they see you thriving in your business and starting to make a good living at it, they will interpret it as a fluke and soon order to the world will be restored by you failing and they will be there to remind you that they were right all along. 
Limiting Beliefs cause those who nurture them to see limits around them; they even become at times righteous about them by looking for examples that validate their views. You must not be as foolish as to think you can change them; they are the only ones who can change themselves; your job is to live your life through your vision, and be loving towards them. Your energy as a Real Estate Professional is to help those dreaming of Homeownership to Buy and Sell - after all you are not a salesperson you are a Real Estate Advisor. Pick your 25, 50, or 100 clients a year and help some of them sell if they are moving, or buy if they are establishing new roots - and you will never worry about income. 
To keep yourself from being stung too badly from the Limiting beliefs of others, start affirming your "Future Self" - use Mantras and Affirmations that align with the vision you are painting for yourself. Earl Nightingale said that your mind is a field in which you can plant affirming thoughts or limiting thoughts and both will flourish. 2020 is soon to be upon us, write your goals for 2020 - don't just think about them, write them down; then go deeply into them and turn each one into a series of activities. Become very aware of the language of Limiting Beliefs from those who are very close to you, and be humble in your ability to change them. Share your Flourishing Beliefs and be enthusiastic about your future, but to do not seek their approval - it is at times a lost cause.   - #8WeekSuccess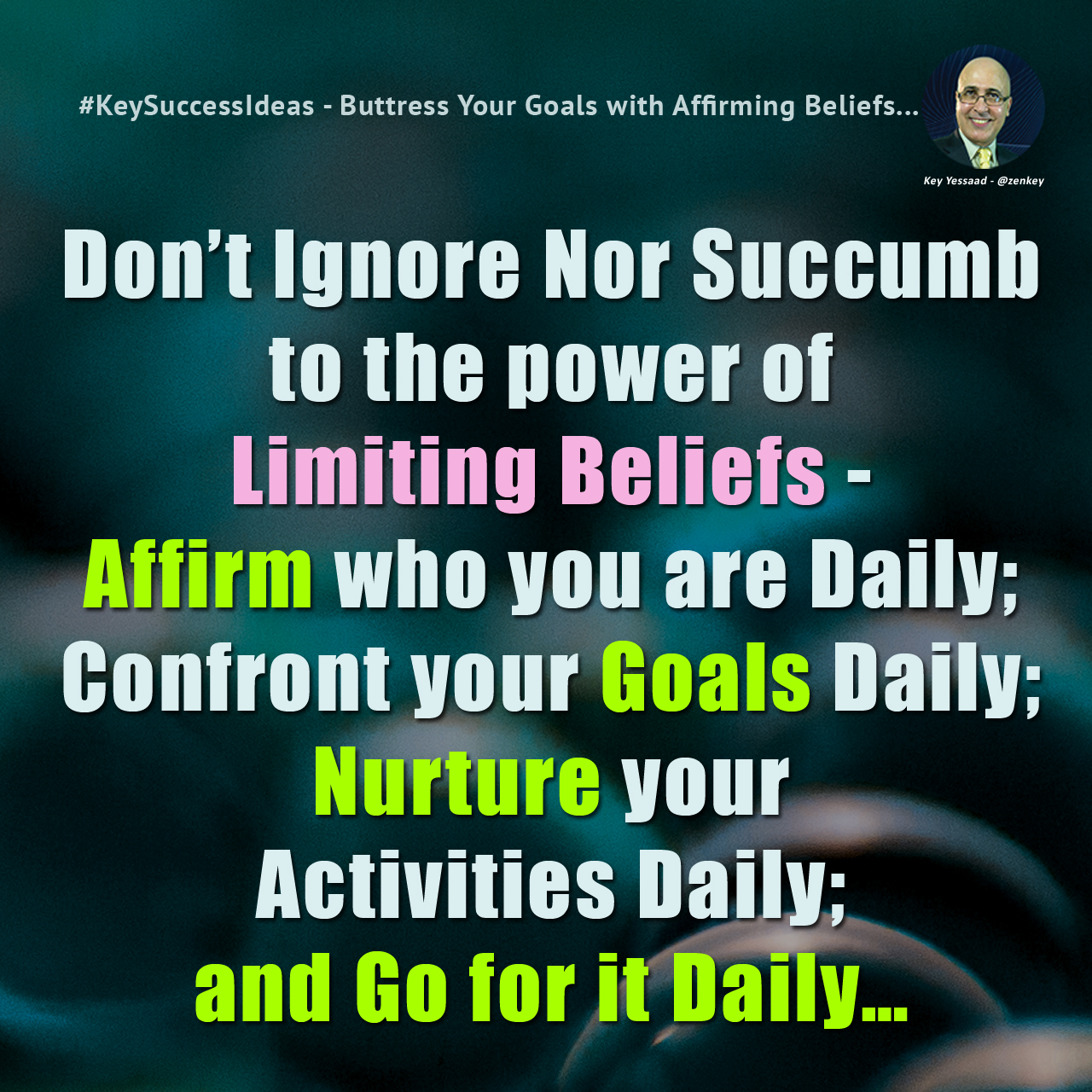 Written and Shared by Key Yessaad, Master Real Estate Strategist, Veteran Real Estate Trainer, Boot-Camp Instructor, Expert SEO Consultant, Internet Marketing Specialist, and Business Mentor/Coach. (910) 538-6610 - https://www.realestatewebtrainer.com/ 
Related Hashtags: #Goals #LimitingBeliefs #Affirmations #Entrepreneur #KeyWorkshops #20in20 #RealEstateBootCamp #RealEstate #RealEstateMentoring #Motivation #Inspiration #RealEstateBootCamp #Success #RealEstateSEO - #RealEstateCoaching #RealEstateTraining #KeySuccessTraining #LiveTrainingRE #Agents #RealEstateMotivation #Realtor
Categories: Key Success Ideas, Entrepreneurial Reality, Real Estate Business