[Article appeared in EXIT MOMENTUM - PDF]  --  The Hashtag #20in20 is really yours to interpret and use to empower you as a Real Estate Professional. #KeySuccessIdeas - If you read my earlier blog sharing the origin of the Hashtag #20in20 you would know that it stems from coaching an agent's desire to get 20 Listings in 2020; and since I am a strategist and  help agents and Brokers design strategies that lead them to their desired goals; we started saying "20 Listings in 2020" which became #20in20. 
I took that Hashtag and decided to make it my word for the year, and I want Real Estate Agents to make it their own by interpreting it in any which way they want. One Broker said she will adopt it to mean grow to 20 Agents in 2020; another said 20 New Recruits in 2020; an Agent said 20 transactions in 2020; another combined Listings, Sales, and Sponsors into a total of 20 in 2020. The number 20 is not a maximum number per se; it is a striving goal that some call a stretch goal. 
Goals in Real Estate are very important; without them agents and brokers meander day to day without a destination. But for Goals to become powerful they need to be attached to Activities, and those Activities must be tracked Daily, Weekly, Monthly, Quarterly, Semi-Annually, and Annually. Not enough of our Professionals are doing so; they are almost playing Real Estate Luck Roulette - your career is not based on luck; it ought to be anchored on Intention and Drive! 
The top 2 major activities in Real Estate are "Calling Clients" and "Meeting Clients Face to Face," all the other activities exist to serve the previous two. Whatever you do on your website, your Social Media, your Videos, your emails, your text messages, your postcards, your mailers, any other type of marketing you are involved in, must lead to "talking to people" on the phone and Face to Face. Those who are taking these activities seriously may consider the following adaptations of the #20in20 Hashtag:  
#20in20 = 20 Calls daily in 2020; or #20in20 = 20 Appointments with Buyers and Sellers per month in 2020; or #20in20 = 10 Calls daily + 10 appointments monthly in 2020; or #20in20 = 20 Listing Appointments Quarterly in 2020; or #20in20 = 20 Market Prospecting Videos in 2020; or #20in20 = 20 Door Knocks a Week in 2020; or #20in20 = #20K minimum in Gross Commission per Quarter in 2020. You see you can use your creativity to help your mind focus on Important Goals; you have to understand that your mind loves having something to focus on - if you don't give it something productive, it will then revert to worrying and making you anxious. 
This time a year is really good for planning your 2020 Goals and Aspirations, but I also encourage you to set goals for your activities, then have the courage to track those activities - this will help you catch yourself in a slump before you lose your way completely. I also encourage you to make your Broker a partner in your progress, and even seek a Success Partner, sometimes called a committed colleague, so you support each other in your progress. You never compete with your Success Partner, and you know you have a good one when your wins are their wins, and their wins are your wins. 
This quote from Walden by Henry David Thoreau truly captures the dance between Goals and Activities: "If you have built castles in the air, your work need not be lost; that is where they should be. Now put the foundations under them." The foundations of your Goals are your Daily Activities - so Go ahead and Dream of a better future anchored in Truth. 
Here are a few more quotes to inspire you to start designing goals for 2020: "If you want to live a happy life, tie it to a goal, not to people or things." - Albert Einstein. The following quote is funny but truly speaks to our aspirations: "If you don't know where you are going, you'll end up someplace else." - Yogi Berra. As to this enhanced quote, we all succumb to this during the year and must be reminded of it: "Obstacles are things People see when they take their eyes off their goals." - E. Joseph Cossman. Let me share this final quote that goals need as an ingredient, namely Courage: "Courage doesn't happen when you have all the answers. It happens when you are ready to face the questions you have been avoiding your whole life." - Shannon L. Alder. 
Let us take #20in20 as an aspiration for a good 2020 year; Let us also accept 2019 with all the good and challenges we have experienced. I have experienced setbacks, broken promises, and disappointments - but I also created new opportunities for my Boot-Camps that have truly elevated my game. I will be pursuing #20in20 in two ways - the first, and most important to me, is getting agents and brokers I coach, train, and energize to pick a #20in20 meaning that resonates with them and give them tools and training to help them achieve it. My other #20in20 business Goal is to nurture 20 Agents in 2020 to break the $100K Gross Commission, some of them are so close - 2020 will be their year. On a personal level, I will start and finish writing 20 Chapters+ of my book and have my book ready for publication by the end of 2020. 
Let me end this blog post with a request; I am building stories and collaborations around the Hashtag #20in20 in all Social Media Channels such as Facebook, Instagram, Twitter, and LinkedIn - I would like you to post the meaning for you for the Hashtag #20in20 as a Real Estate Professional even if it does not relate to Real Estate Production; it could be #20in20 = Lose 20 pounds in 2020; or #20in20 = Read 20 books in 2020; or #20in20 = Try 20 New Recipes in 2020 - You get the idea. I want us to use these posts to step outside our comfort zones and support one another in our Goals - I am hoping some of you will take me on!  - #8WeekSuccess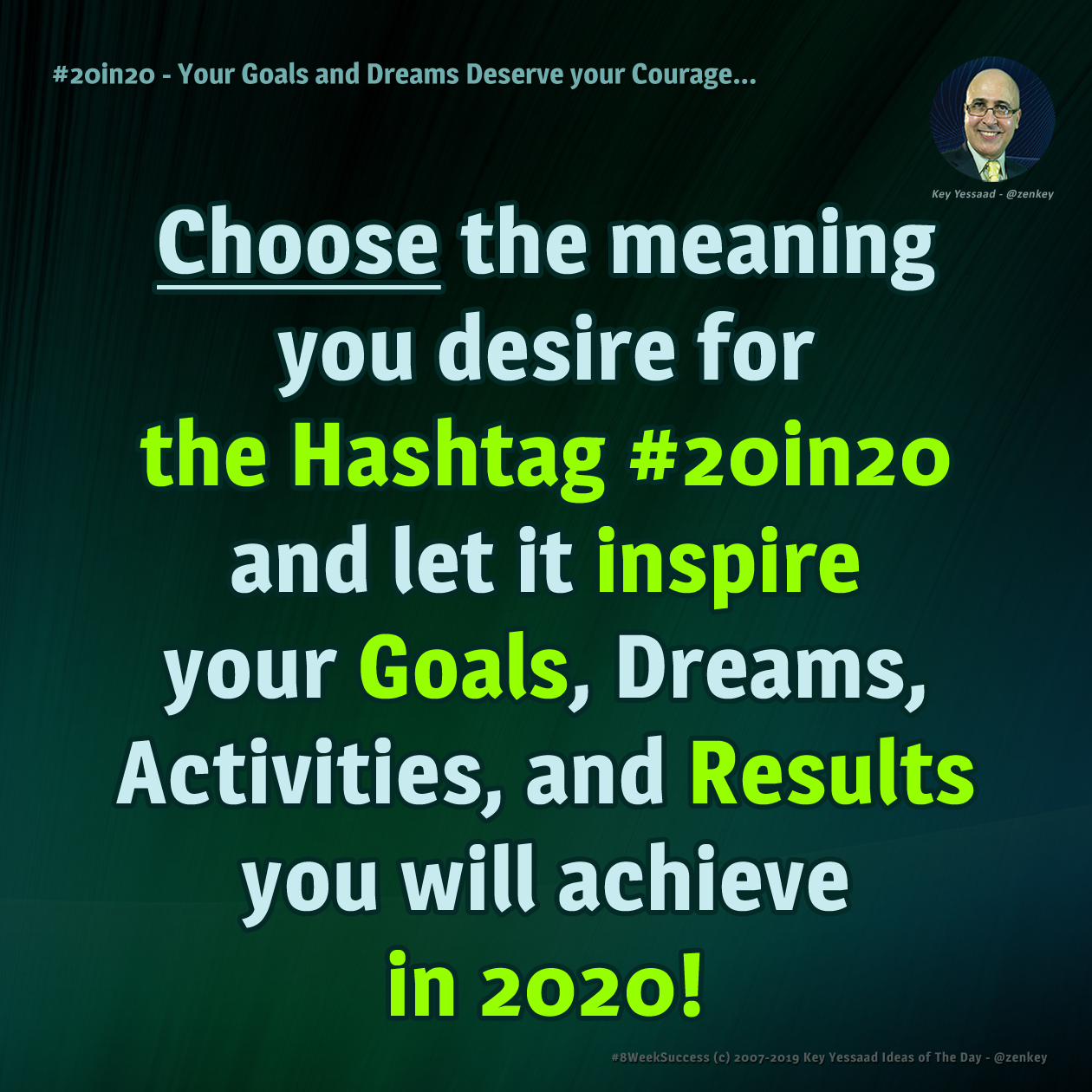 Written and Shared by Key Yessaad, Master Real Estate Strategist, Veteran Real Estate Trainer, Boot-Camp Instructor, Expert SEO Consultant, Internet Marketing Specialist, and Business Mentor/Coach. (910) 538-6610 - https://www.realestatewebtrainer.com/ 
Related Hashtags: #Goals #Activities #Dreams #Entrepreneur #KeyWorkshops #20in20 #RealEstateBootCamp #RealEstate #RealEstateMentoring #Motivation #Inspiration #RealEstateBootCamp #Success #RealEstateSEO - #RealEstateCoaching #RealEstateTraining #KeySuccessTraining #LiveTrainingRE #Agents #RealEstateMotivation #Realtor
Categories: Key Success Ideas, Real Estate Business, Real Estate Trainings
Comments are disabled.