The biggest conundrum in the Real estate Industry is this fact: The Easy Habits are the hardest to take hold, and when I say easy I mean Habits to do not require Masters' Degrees or 30 steps to implement. #LiveTrainingRE - It all stems from the freedom Agents feel since they know they truly work for themselves, and the river of Real Estate is full of events, distractions, and fun gatherings. The 20 to 25% of agents who develop the proper discipline of running their days, and do not let them be too distracted, end up gobbling 70 to 80% of the Business. 
Let me share a simple bad habit that on the surface has nothing to do with Real Estate: Taking your phone to bed with you, especially since our phones are full of apps and distractions. Getting a Good Night Sleep and leaving the phone in the Living Room quiets the Brain and helps with Decision-Making. In a practical manner this is a simple habit to establish; but our agents have developed such an attachment to their Phones, it feels like cutting off one of their limbs if they don't have it with them at all times. 
As a Boot-Camp and Strategy Trainer I help Real Estate Professionals develop Deliberate Habits that help them grow their business; I keep reminding my students that Success in Anything is Simply a Checklist - Your Job is to work the Checklist Methodically, Courageously, Deliberately, and Intentionally. 
In today's Training I will cover 3 main areas of the business of Real Estate; Email Marketing, Hyperlinks, and Closing Out your Week. Let me delve a bit more on the concept of The Weekly Closing Out Procedures; in our industry agents must create opportunities to meet clients and discuss their need to Buy or Sell; The Number of Appointments makes or breaks the career of Realtors. These Appointments do not happen out of thin Air, they are nurtured with Phones calls or events that create initial touches - it is the deliberate follow-up systems of these initial touches that lead to appointments. With some clients it only takes 2 or 3, but other may take up to 12 to 15 touches through a variety of means: Phones Calls, Texts, Emails, Social Media, Video, letters, postcards, invitations, and a combination thereof. 
The Smart Agents who understand this fundamental truth holds and End of Week Review of their Leads, and Closes Out the Week with an assessment of all their contacts, and finally prepares a follow-up checklist for the week to come to manage those touches. They are Smart enough not to rely on their Memory, but write everything down that is happening with their Leads to create the 8 to 12 touches that will lead to the important Appointment. It is this type of diligence that separates the 20% from the 80%, most of which think that Real estate is an Order-Taking Job. 
In Session 6 of the i-FAStTRAC 201 Real Estate Training Program I will focus our participants of developing good Email Marketing Habits, Learn to create Strategic Hyperlinks, and then move to the important topic of Closing-Out your Week. The underpinnings of a growing Real Estate Career are your Success Habits - we will identify them and learn to implement them properly!  
Our Training Program is Live and Interactive; all sessions are 3-Hours long over Live Video Conferencing in each office training room, with Webcams and Special Microphones, and start at 1pm Eastern - Don't forget to download your Handout Booklets and see you all in Class: https://www.liveinteractivetraining.com/  - #EmailMarketing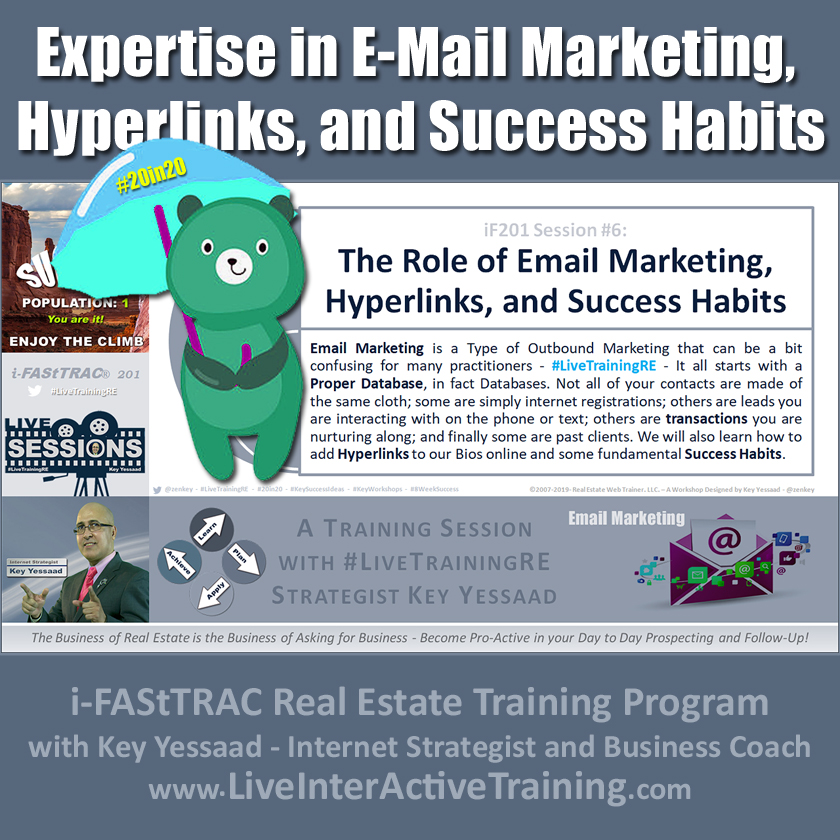 Written and Shared by Key Yessaad, Master Real Estate Strategist, Veteran Real Estate Trainer, Boot-Camp Instructor, Expert SEO Consultant, Internet Marketing Specialist, and Business Mentor/Coach. (910) 538-6610 - https://www.realestatewebtrainer.com/  
Related HashTags: #RealEstateEmails #SuccessHabits #RealEstateLinks #SeoHyperlinks #RealEstateLeads #20in20 #RealEstate #Marketing #Realtor #RealEstateMarketing #Success #Motivation #Entrepreneur #RealEstateSEO #RealEstateTraining #RealEstateCoaching #RealEstateSuccess #KeySuccessTraining
Categories: i-FAStTRAC Training, Real Estate Trainings, Real Estate Business