The word Lead in Real Estate is so overused and in fact manipulated by vendors to mean just about anything; "Get 10 Leads daily for $200" or some other scheme to get agents to spend money so they have names to work on. #LiveTrainingRE - You could just as well pick a list of names at random and you got a lead bucket. We need better definitions; so let's start with an Internet Registration; it is a person who visited a website that shows homes for sale and, at some point, a Registration Form popped up and said: Do you want to see more, give us your name phone number and email address or we won't let you proceed.  
At what point that Registration form pops up during the Search Process will dictate the Quality of the Lead - early in the Search and the quality diminishes; more patience will not generate as many leads but the quality of the registrants goes up. But whatever you call the names on these registrations forms, they are NOT Leads in the correct sense of the word. They were simply people who registered based on Real Estate Curiosity. You will notice that Lead Generation Websites will require registration very early in the process - they get paid to collect names and give them to the Broker, so they have Quantity to dole out to their agents - but this drive for more also harms the quality of leads. 
A True Lead has a Motivation and until the Real Estate Professional works it out of the Visitor there is no business to be had. Desire for Real Estate is an American Past-Time; Motivation and Wherewithal to Purchase or Sell is a whole different Ball Game. The Agents who end up doing well have systems, more precisely checklists and scripts that they deploy on a daily basis to probe for motivation and Ability to Buy or Sell from the bucket of names they get. Learning to Follow up and Converting Leads are skills, and Agents with the mindset of Order-Takers do badly in this area; whereas Pro-Active Skilled Agents generate sales simply by trusting their systems and working them daily. 
Our Agents do not become good at Lead Conversion overnight; we must first train them with proper Systems; proper Scripts; proper Scheduled Follow-Up Calls, Texts, Emails, and Pop-bys; and surround them with proper Structure and Mindset. The goal of nurturing leads is about creating Appointments - it is not about Selling; the magic happens at the Appointment.
In Session 5 of the i-FAStTRAC 201 Real Estate Training Program I start with the fundamentals of Time-Blocking and How to manage a Real Estate Workday in a balanced manner. Time Blocking is NOT Time Management, it is a mechanism of slicing the hours of your day with purposeful activities and limiting the time block to 35 to 45 minutes with lots of breaks. In hour 2 and 3 of the training workshop I do a deep dive on Lead Conversion Methodology, Tenacity, and Follow-Up Success. 
Our Training Program is Live and Interactive; all sessions are 3-Hours long over Live Video Conferencing in each office training room, with Webcams and Special Microphones, and start at 1pm Eastern - Don't forget to download your Handout Booklets and see you all in Class: https://www.liveinteractivetraining.com/  - #LeadConversion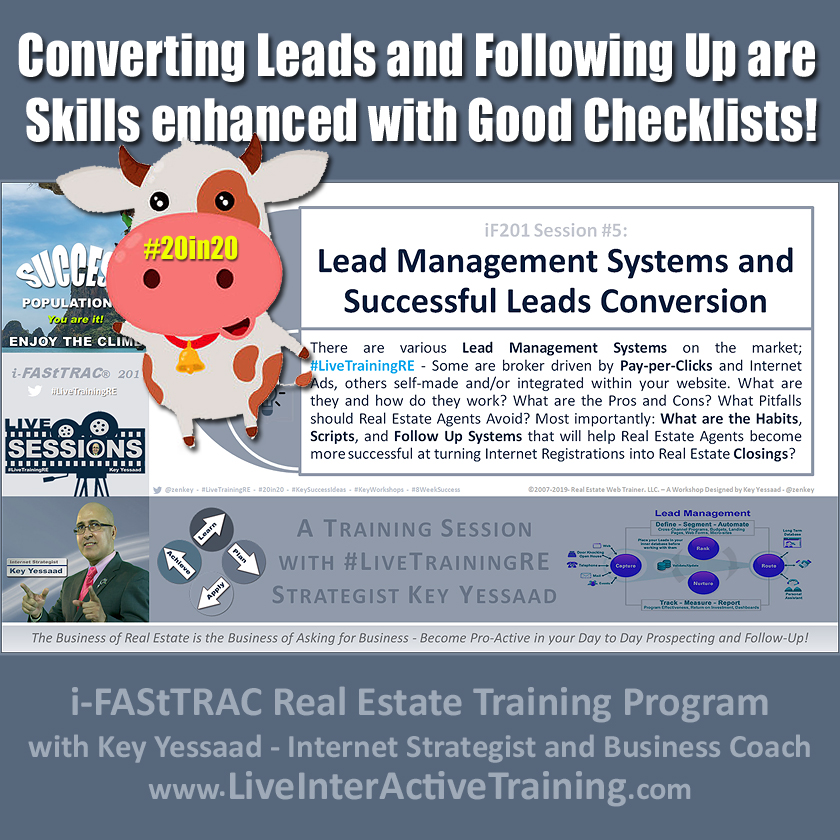 Written and Shared by Key Yessaad, Master Real Estate Strategist, Veteran Real Estate Trainer, Boot-Camp Instructor, Expert SEO Consultant, Internet Marketing Specialist, and Business Mentor/Coach. (910) 538-6610 - https://www.realestatewebtrainer.com/  
Related HashTags: #TimeBlocking #LeadManagement #ConvertingLeads #RealEstateLeads #20in20 #RealEstate #Marketing #Realtor #RealEstateMarketing #Success #Motivation #Entrepreneur #RealEstateSEO #RealEstateTraining #RealEstateCoaching #RealEstateSuccess #KeySuccessTraining
Categories: i-FAStTRAC Training, Real Estate Trainings, Time Blocking