You would think that Real Estate in the age of the internet would be abounding with proper Websites that are not only modern, and also come with proper tools and solutions, but you would be mistaken. #LiveTrainingRE - Progress in this field is barely a crawl, if not a retreat. Most agents think that their website for their business is Facebook - which is shocking. Even more shocking is vendors know that agents may not have the deep knowledge of Internet Tools, so they focus them instead on Lipstick - or more precisely the look of the website. Everyone wants a good looking website but at some point we need to look at the engine of the car, not just the paint color. 
Let us first define what a Real Estate Website should be about: The first focus in the local market in which the Real Estate Professional runs his or her business, including the inventory of the agent and the brokerage. Buyers are never the primary goal of a Website, rather the focus is first and foremost on current and future Sellers - local inventory attracts local and global Buyers. Real Estate is a Local endeavor and all the noise around Zillow and Realtor-com is simply noise; the expertise of local agents is what consumers want the most - NOT just pictures in a website.
Let's now talk about the tools that a Real Estate Website must contain; yes the website must incorporate an IDX Feed, but it must be done properly; each listing properly Meta Tag with its own URL, and updates automatically as the feed of the MLS updates. Many vendors out of shear laziness and lack of true programming would frame the feed and make it appear as though the website has a built-in Search; unfortunately those websites are not index-able by Internet Spiders and generate little to No SEO. In my class on Real Estate Web Services I show the Brokers and the agents the pitfalls of these sites and how to recognize them. 
There are 11 elements that a proper Real Estate Website must have in order to be called a Real Estate Marketing Website with good SEO, Lead Generation, and Listing Growth. I cover in details each of these elements and also show the agents and brokers why they are important, and how to use them in their business. I truly believe that our industry has done a poor job educating our agents on the tools of the internet, and this is why vendors come in making stuff up about what agents need and they end up purchasing pseudo-tools out fear of loss rather than strategy. Internet Vendors need more sunlight on their products and brokers must do a better job of due diligence.  
 Real Estate Agents and Brokers must master Marketing at every level and Websites play a big role; but they are not all manufactured the same. There is in fact a way to measure the effectiveness of a website when it comes to Marketing, SEO, Tags, Keywords, and Stickiness - your website needs the right puzzle pieces of Tools in order for it to become scale-able and Index-able. During Session 4 of the i-FAStTRAC 201 Real Estate Training Program I will cover 2 Main Concepts: "Me Time" and "Web Platforms" and complete the session with Advice on how to move forward with all the choices you face by becoming Savvy Realtors. 
Our Training Program is Live and Interactive; all sessions are 3-Hours long over Live Video Conferencing in each office training room, with Webcams and Special Microphones, and start at 1pm Eastern - Don't forget to download your Handout Booklets and see you all in Class: https://www.liveinteractivetraining.com/  - #WebPlatforms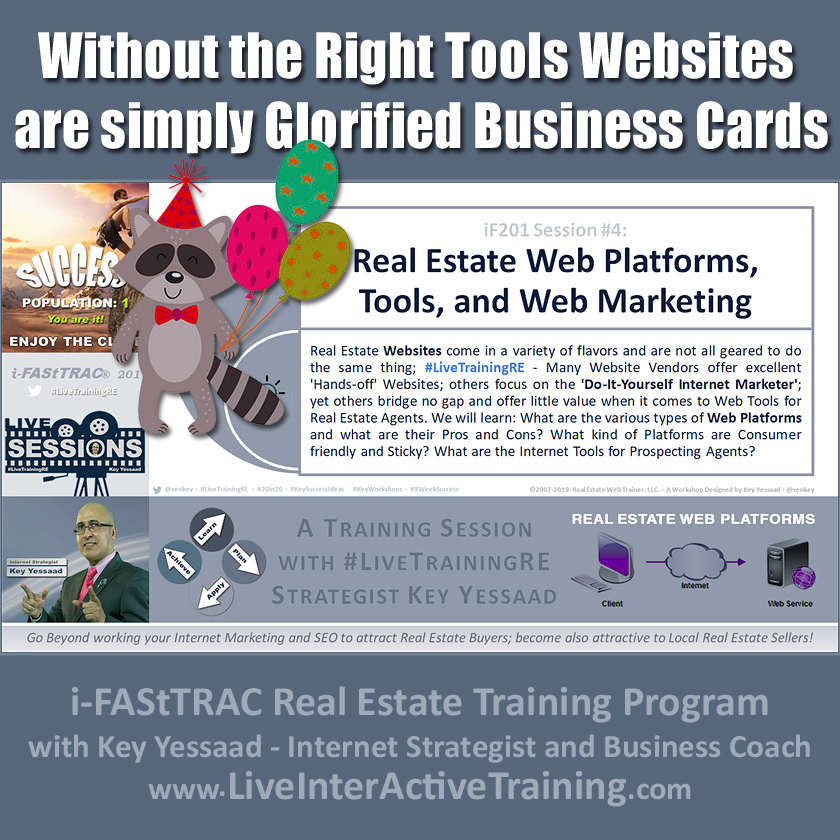 Written and Shared by Key Yessaad, Master Real Estate Strategist, Veteran Real Estate Trainer, Boot-Camp Instructor, Expert SEO Consultant, Internet Marketing Specialist, and Business Mentor/Coach. (910) 538-6610 - https://www.realestatewebtrainer.com/   
Related HashTags: #MeTime #RealEstateWebsites #MarketingWebsites #RealEstatePlatforms #20in20 #RealEstate #Marketing #Realtor #RealEstateMarketing #Success #Motivation #Entrepreneur #RealEstateSEO #RealEstateTraining #RealEstateCoaching #RealEstateSuccess #KeySuccessTraining
Categories: i-FAStTRAC Training, Real Estate Trainings, Real Estate Websites